Chokoloskee to Flamingo, Feb 8-14, 2011
If you go to the previous page and scroll down to the title
Flamingo to Chokoloskee, Jan 10-16, 2011
, you will see that we
aborted
our first Flamingo to Chokoloskee trip after 4 days of adverse winds & weather. On this trip, conditions were shaping up similarly to our first trip, so we decided to
reverse the direction—leave from Chokoloskee
. To make sure the trip would not be aborted again,
we felt we needed a mantra or slogan or motto. Something we could chant at the beginning of every day...so,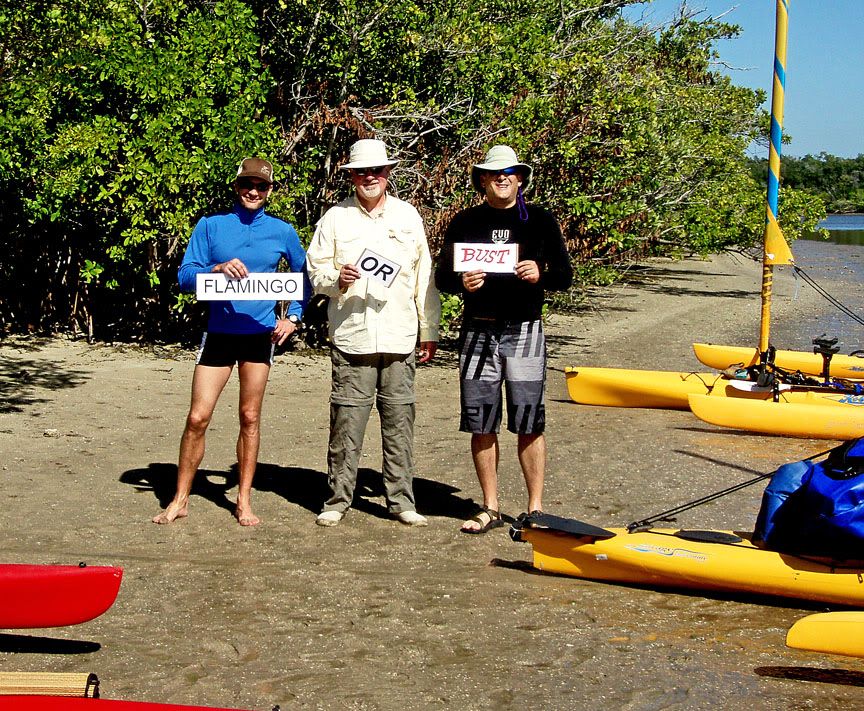 Those are also my sailing partners,
René Potvin, Rick Parks, and Jon New.
These trips are always relaxing—70 mi in 7 days—no real pressure. If necessary, we could take an extra day. We planned 2 layover days for fishing or relaxation.
This Google image shows the places we intended to camp (red underline) and the places we camped (red dots.)
Getting out of Chokoloskee Bay is never relaxing because of the myriad oyster bars and shallow water. Getting out at low tide is worse, but at least you can see many of the oyster bars.
White pelicans in the distance on their favorite, low-tide oyster bar.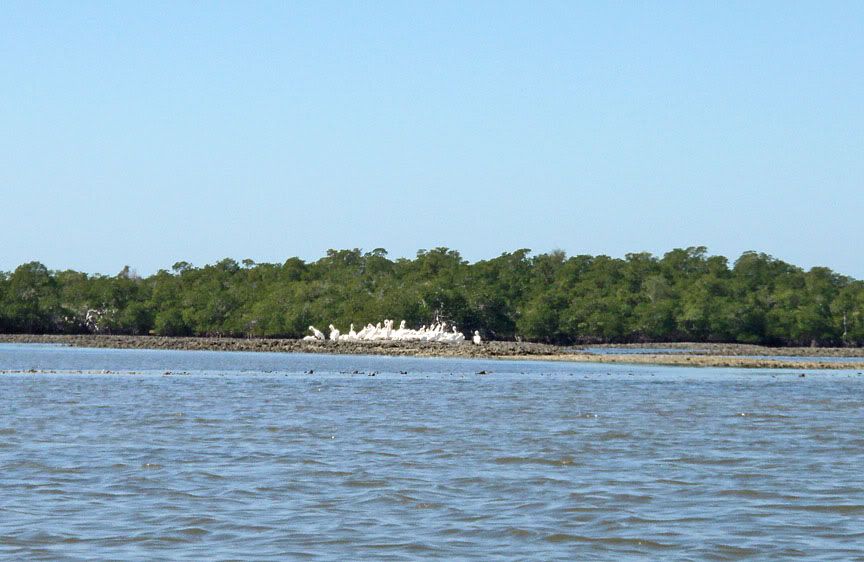 We made our way across Chokoloskee Bay and out the pass to the Gulf of Mexico. Once we reached the Gulf, the winds picked up. They were probably about 18 mph on a very broad reach—great sailing, low stress…aahh, until I broke a rudder pin. Rick Parks responded to my radio distress call, retrieved a spare pin from my rear hatch cover, and replaced the broken pin in very rough waters. As usual, I was very impressed with Rick's work.
Rick replacing my rudder pin.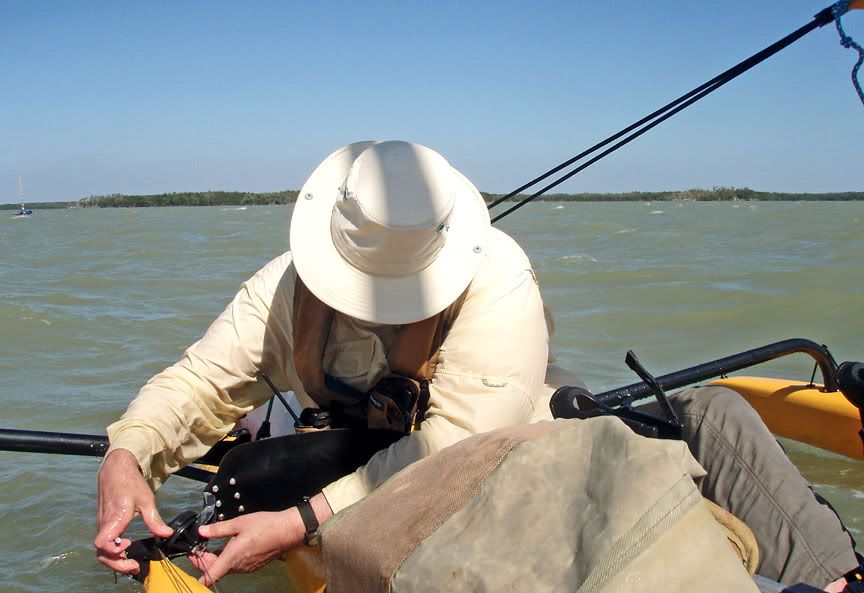 Everyone takes off as I get under sail. I literally go 200 yds and,
THUNK!
Another broken pin. This was potentially a real problem. For some reason, Rick does not respond to my VHF radio calls—my radio had been a bit flaky the last trip we did—it is toast now. My problem is serious, because, without thinking, I asked Rick to carry one of my bags at launch—
the bag: my Hobie parts/tools bag.
Dumb! Fortunately, René looked back, noticed I had again furled my sail and was not moving. He came back. After generously giving me 2 pins, he stuck with me until I paddle-ruddered to an island, and then he took off for Pavilion a few miles distant. I did have my Leatherman tool and was able to replace the pin w/o problem. This pin held the remainder of the trip. I was also carrying a backup radio and used that the rest of the trip.
Rick, Jon, and René relax on the lee side of Pavilion Key.
As usual, the Pavilion Beach Manager is hard at work
. He really likes a Hobie mast so he can get a bird's eye view of the beach. Rumor has it that he has requested a permanent flagpole for his beach management duties, but with the Federal Government's fiscal problems, a Hobie mast is probably the best he can hope for. You have to admire his work ethic.
The next day was supposed to be a layover day. Pavilion is a guaranteed "catch fish" location. However, sitting around the dinner table listening to the weather channel changed our plans. The forecast indicated winds were switching to the south overnight—that would put them on our nose for the next 2 days. So, we cancelled our layover day and instead sailed to Hog Key—13 mi south. It was not an easy sail, but it would make our 3rd day destination, Highland Beach, an easy 7 mi.
The mosquitoes were absolutely horrendous on Hog Key and very unexpected. Usually, this time of the year, the Everglades have dried out and the mosquito population drops to near zero. Personally, I was embarrassed by my own lack of preparation for this pest. We all suffered to varying degrees. Our discomfort was
not
aided by the fact that the Hog Key beach had been badly eroded this past year—
we had to set up camp amongst the mangroves
.
Setting our table on the beach near the water did little to alleviate the problem—the mosquitoes were thick after dark. I put it all down to an Everglades experience.
René, our French Canadian friend, had both a hammock and a tent. I believe he slept in
the hammock here on Hog Key
, but that was it. After that, he used the hammock to read and keep the mosquitoes at bay, but he slept in his tent.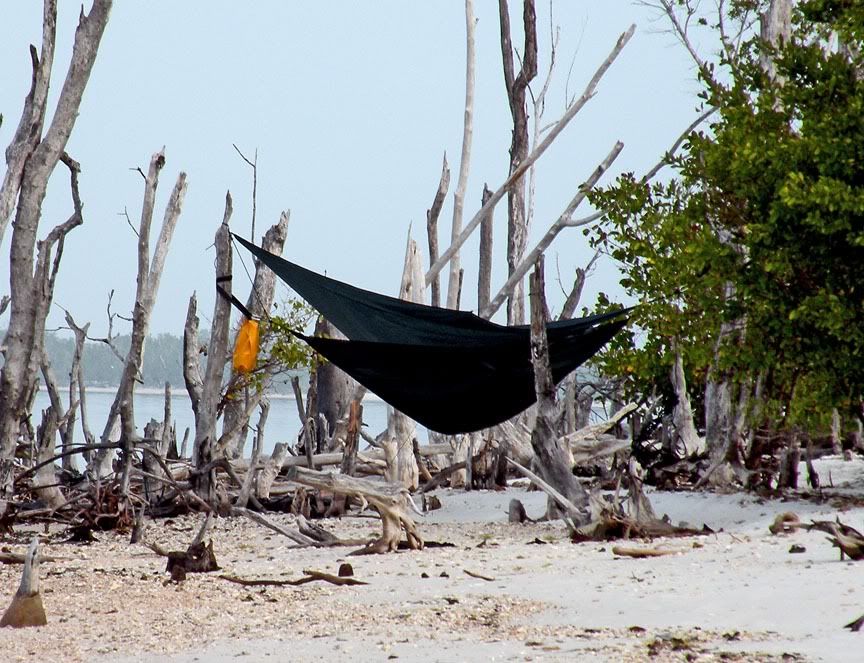 View from Hog Key to Wood Key through light fog
—there are a lot of fish near Wood Key, but we did not take time harvest them.
Leaving Hog Key
As usual, I was 15 minutes or so late leaving Hog Key, so I was behind my sailing partners by a half mile or more. The wind was on our nose for the second day in a row. The previous day I had made a number of small tacks but still fell behind Rick. For whatever reason, he sailed closer to the wind than the rest of us. He hardly did any tacks—he attributed it to his new dagger board. But, I had a new dagger board, and it did nothing for me.
Leaving Hog Key I decided to do a long port tack. In fact, it took me about 2 miles off shore—this marker became my goal.
I even wasted a little time getting this buoy picture.
You can imagine my satisfaction when, upon changing my tack and sailing back to my companions,
I had actually made up the 0.5 mi they had on me and was in the lead
—about the only time on this trip.
Two miles off shore, I was sailing with the big boys.
On my left
On my right
Arriving at Highland Beach, Jon and René, remembering the mosquitoes at Hog, set up on the beach.
Rick and I set up a little higher.
The mosquitoes were serious here too, but in the evening we had a fire. Most of my sailing and kayaking companions consider me to be the beach-fire Police. I insist that if we are going to have a fire (and some people MUST have a camp fire) that we (1) dig a fire pit below the high tide line, (2) burn all wood to ashes, and (3) fill in the pit to avoid all signs of a beach fire.
Respect our wilderness beaches—that's my motto.
The boys did very well and kept the mosquitoes at bay while they were at it.
Day 4 at Highland Beach was another fish/relaxation day—our first actually. It is great to have a beginner along. René is definitely not a beginner to fishing—he is a world class, spear fishing champion. But this type of fishing was new to him. Beginners are great because they sometimes catch the biggest fish, and, occasionally the most fish. Well, this was one of those days.
René caught the only 2 keeper sea trout.
It was enough for an excellent fish fry.
When we arrived at Highland Beach, 2 Everglades Park volunteers had been dropped off 2 hrs earlier at my favorite camp site. The male volunteer made it clear that he did not want us camping anywhere near them, so we moved about 150' down the beach—not far, but far enough. Volunteer Becky was much friendlier (and apologized for her friend's behavior.)
Becky visiting us on Highland.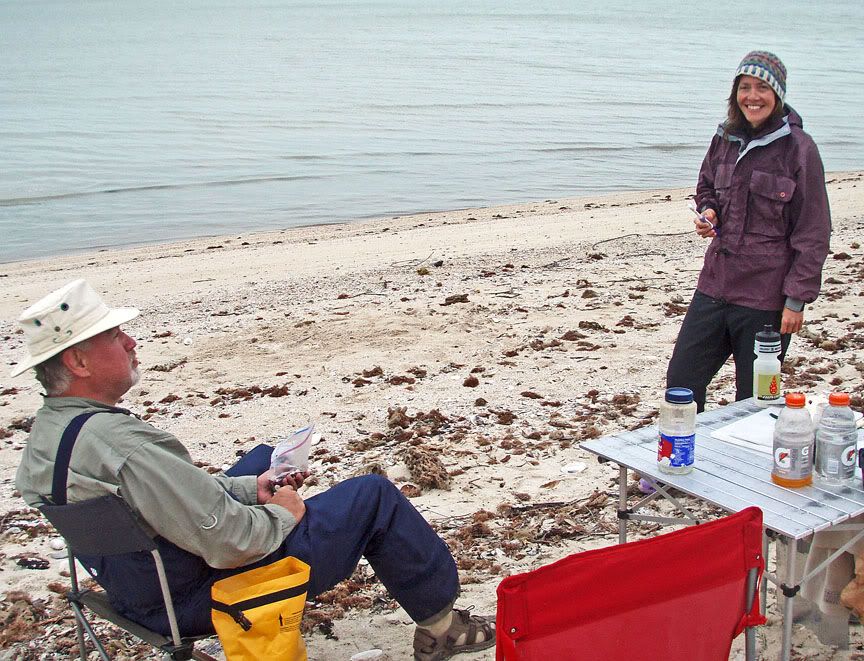 The 2 volunteers were there for 4 days on a mission to destroy an invasive, non-native plant—the Brazilian Pepper. Frankly, that amazed me. Not only did they have the best camp site on Highland Beach, but they also had an impossible task. Brazilian Pepper has been in South Florida for 150 yrs and is established in every city and village, and, of course, in every square acre of wild land.
René got this picture of Becky in her Darth Vader outfit searching out and destroying Brazilian Pepper.
René also took this shot of the friendly deer at Highland Beach.
Day 5: My friends left an hour earlier. They are supposed to fish the mouth of Harney River for our dinner. I was still chatting amicably with Becky at the breakfast table. At
normal low tide
, a flat stretches out in front of Highland Beach for at least 400 yds (400 m) and is bone dry.
As I leave Highland, it is just minutes from low tide. This is a +1 foot (+25 cm) low tide.
I tried to get into Harney River, but it was too shallow. My friends were nowhere in sight.
As I near Shark Point and Ponce de Leon bay, I'm hoping they are camped at Scorpion Beach around the point. Did they catch fish?
We have all made it to Scorpion Beach, but it is a bit low on water.
Scorpion Beach camp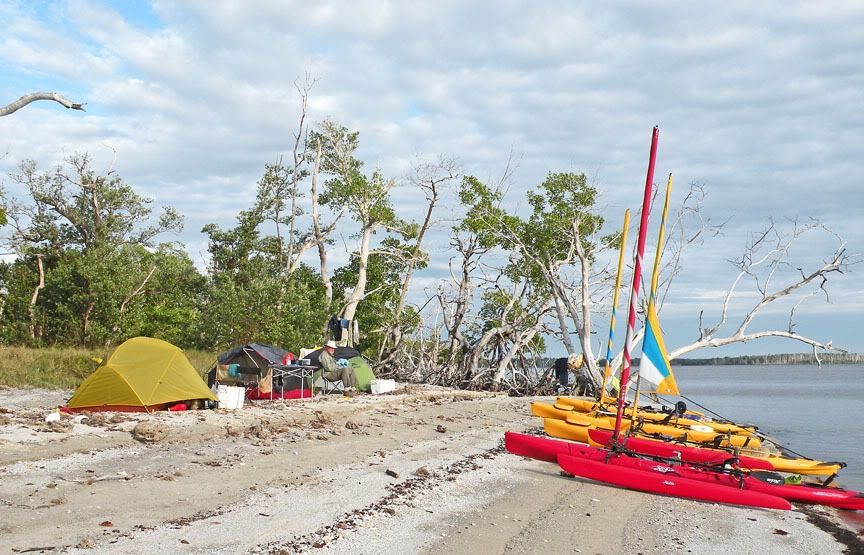 The boys caught no fish at Harney—they, too, were unable to approach the river mouth because of low tide. I made one of the soups I had promised.
It was Bear Creek Cheddar Broccoli Soup with "real" broccoli and "real" chicken chunks—I mean

real

: prepared at home and brought in my cooler.
They were happy. Noseeums/mosquitoes were minimal, which was a welcome surprise.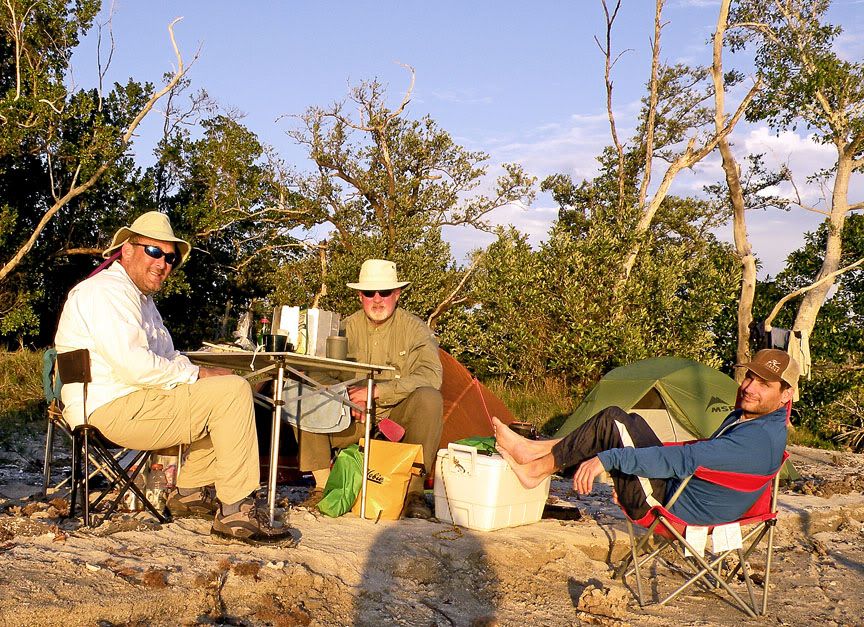 Late afternoon on Scorpion Beach
Sundown
A safe place to rest for the night
Morning, Day 6
And my friends have left, but the tide is coming in.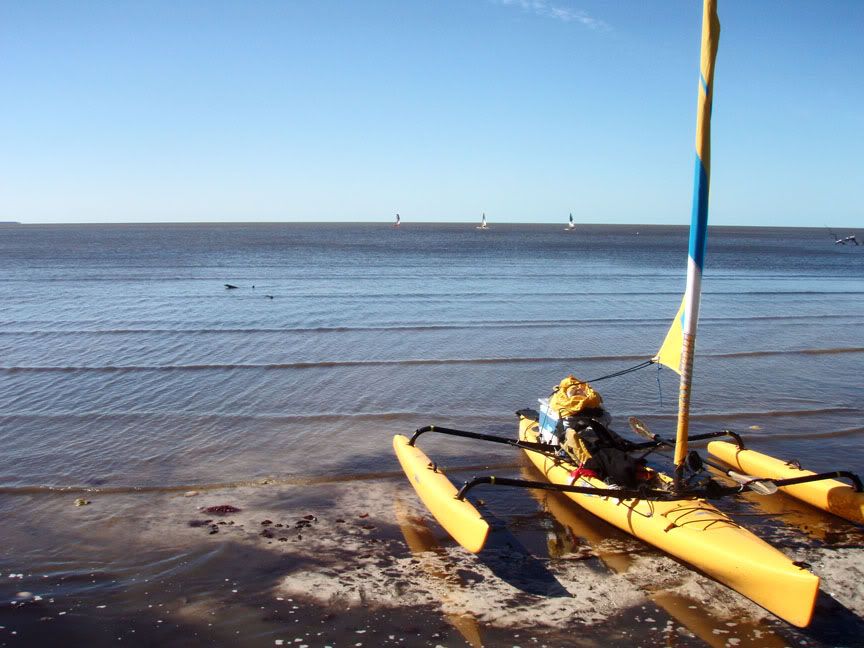 We have a good broad reach today as we make our way to Middle Cape Sable, 17 miles away. My bow is doing a little bit of diving in practice for the World AI Diving Championships this summer.
Is this great or what? I find 2 large chunks of ice upon reaching Middle Cape.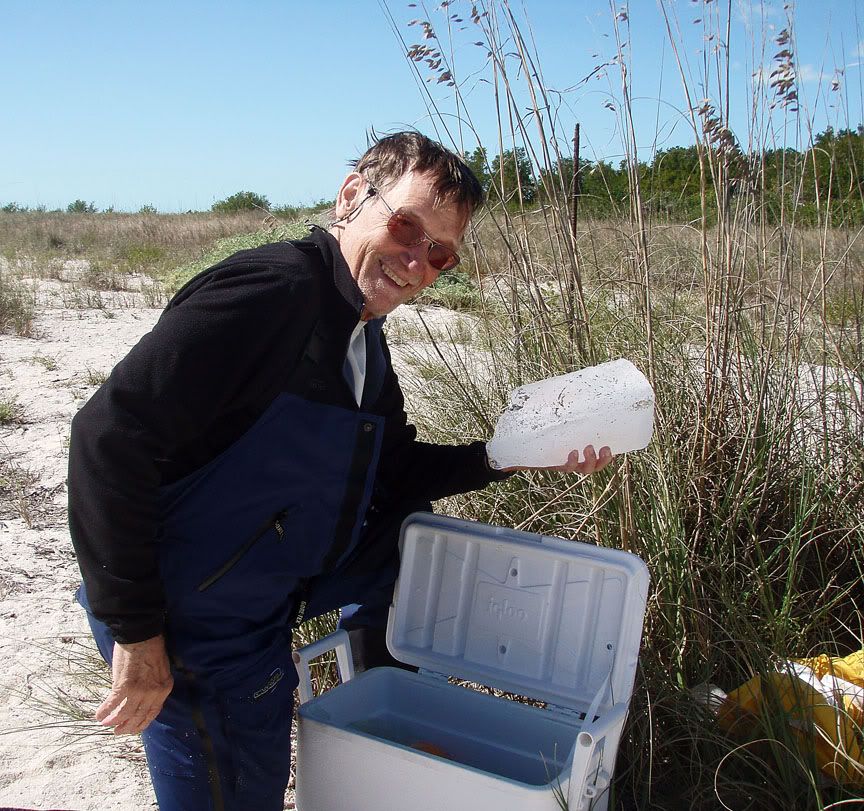 Camp on Middle Cape
René camped further out on the point, mindful of the mosquitoes at Hog Key.
A Florida Vulture—why is he hanging around camp?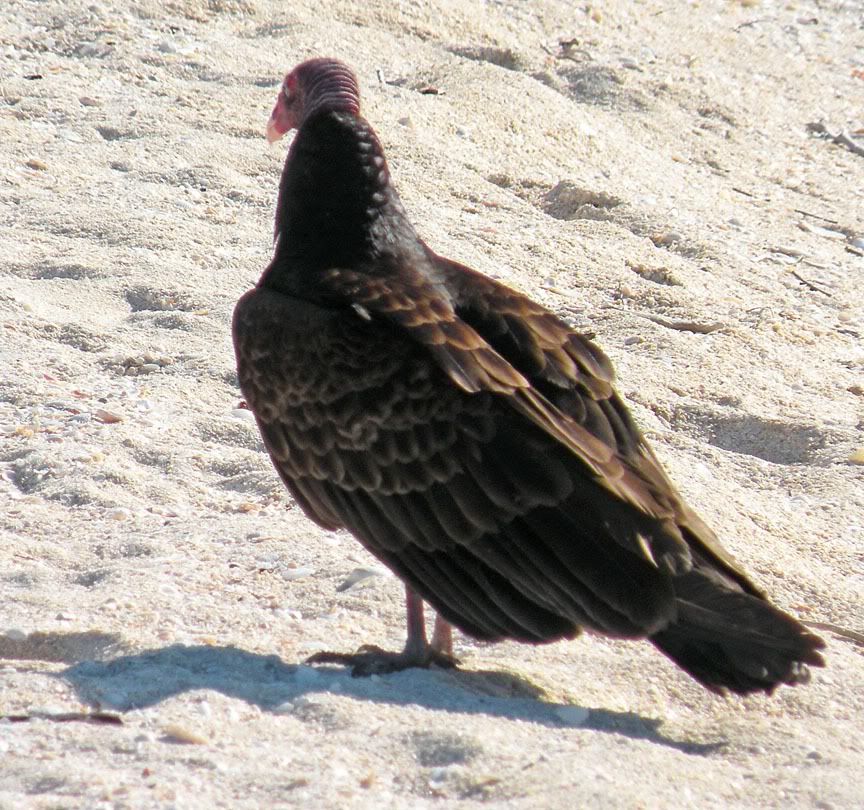 René did a lot of photography during our trip.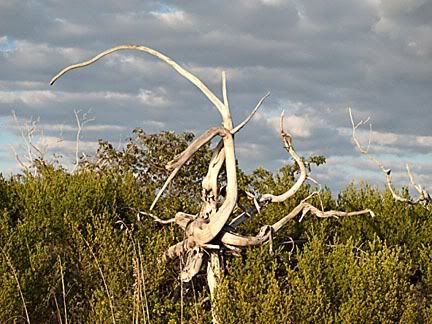 My friends have left me again.
This is the last day of the trip. We had a terrific beam reach crossing this bay—reached speeds of 8-8.5 mph. Rick suggested you could control your boat better at these high speeds and strong wind conditions by pedaling—
I tried it, and it worked
. My GPS indicated I maxed out at 9 mph, which is pretty good considering my boat was heavily loaded.
We made it on schedule.
We even had a welcoming committee at Flamingo—Janet Lineback paddles in.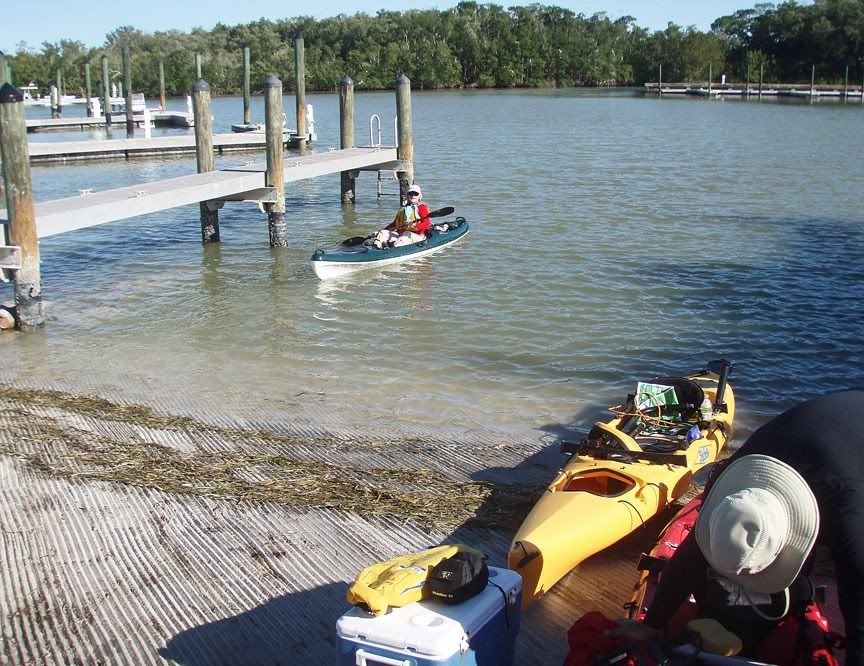 All in all, a great trip. I could not ask for better sailing and camping companions—Jon, René, and Rick were the best. Jon had sailed an AI once before. I loaned him my wife's AI, and he did a great job handling it. Other than the 2 broken rudder pins, the boats performed fine.
Keith