Being a former AI owner for 2 years and now a TI owner since May last year, I have been forced to come up with a suitable way to getting the boat around on my car rooftop, and single-handed at that. I always launch off sandy beaches usually no more than 200 metres from the car. With the AI I used an extension bar to the rack but this proved way too tricky and downright dangerous to the boat and me ( I'm 60..sigh
with a dicky back!)
After quite some reflection on how to improve the load/unload I came up with a list of features I needed ....
1) NO heavy lifting to get the hull on or off the car. Side access being my preferred method.
2) Must not in any way risk damage to ends of the hull, as was the case when using the extension bar technique, ie scraping the end corners!
3) Hull must be upside-down on the rack, the Hobie (and mine) preferred storage way.
4) The boat is easy to get right-side up or back.
5) Must be able to install my wide stance kart ( with 32cm Wheeleez tyres ) while the boat is still on the carrier. See Rule 1.
6) Must be able to open the boot ( that's the trunk to you Yanks!) with the boat on the car.
7) Mounting rails must be at least 2 metres apart to give a safe load distribution negating the need for end ropes. My car's racks are only 90cm apart, not good!
I believe I have met all these criteria, for me, on a sedan car, at least.
As I'm an just an amateur welder, construction was to be from square steel telescoping tubing. Aluminium was not an option for me, so weight vs strength was of great importance.
Two longitudinal bars bolt onto the roof racks on which the main carrier sits on top of and is hinged to one side of it.
After unstrapping the hull, 1st job is to install the horizontal and angled bars, which slide in and are pinned.
Swapping end for end twice I lift and swing the hull over to the outside.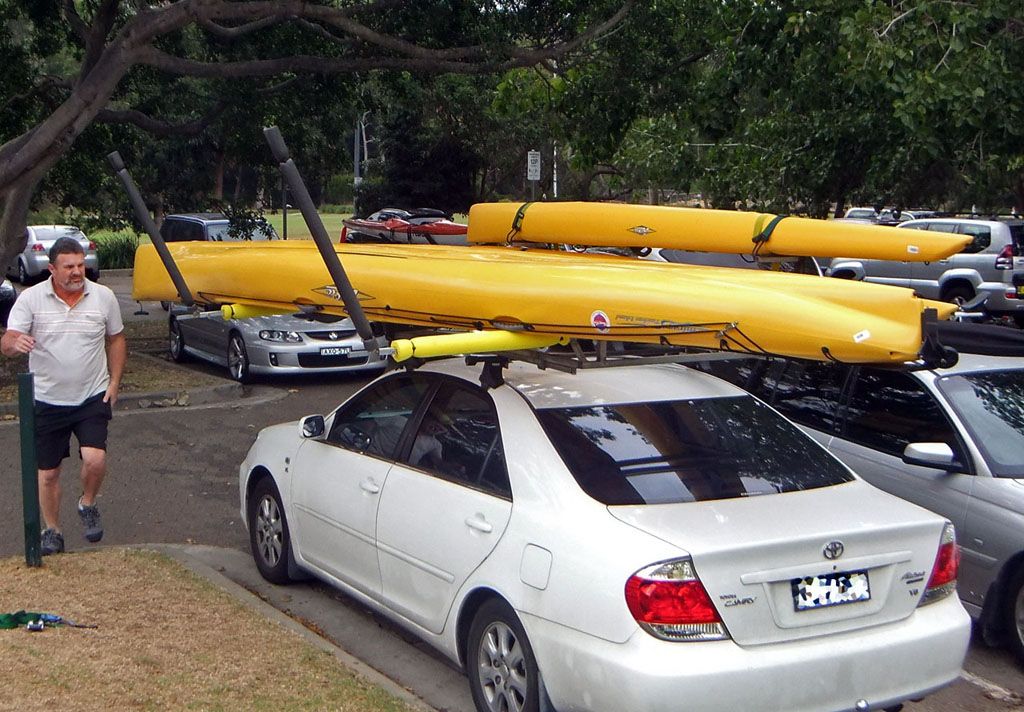 Using a specially made tube with right angled gate post hinge pieces, the frame hoisted up to the limits set by the two guy ropes. There is no weight lifting here, the amas and mast perfectly counter balance the hull!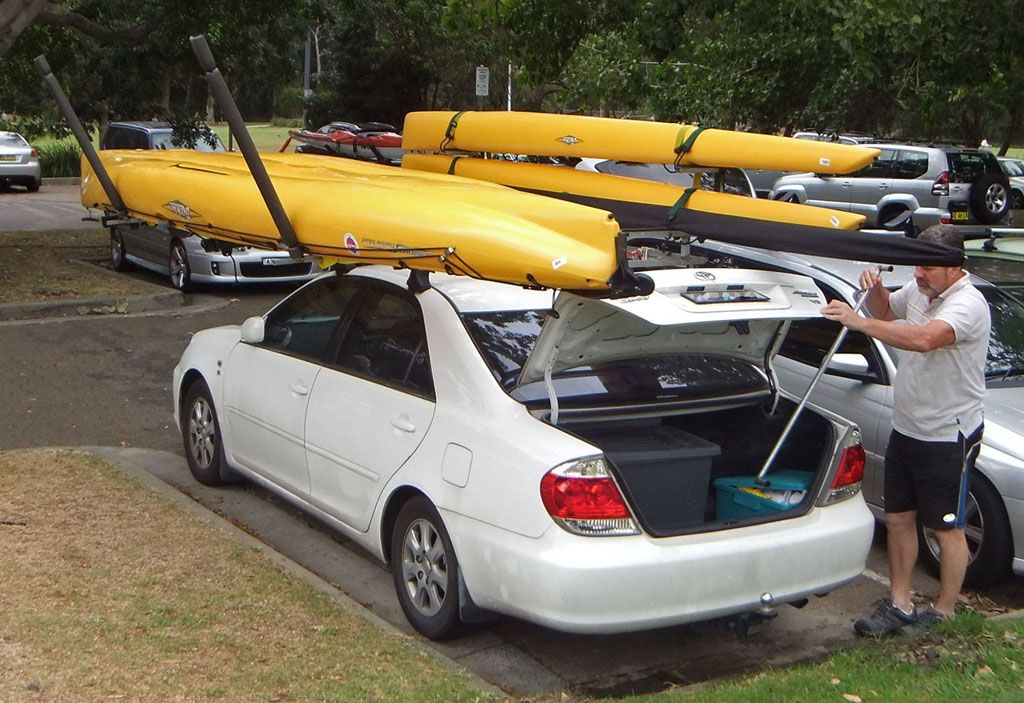 Now it is locked in place with the bar.
Now it is a simple task to just roll over the hull onto it's bottom.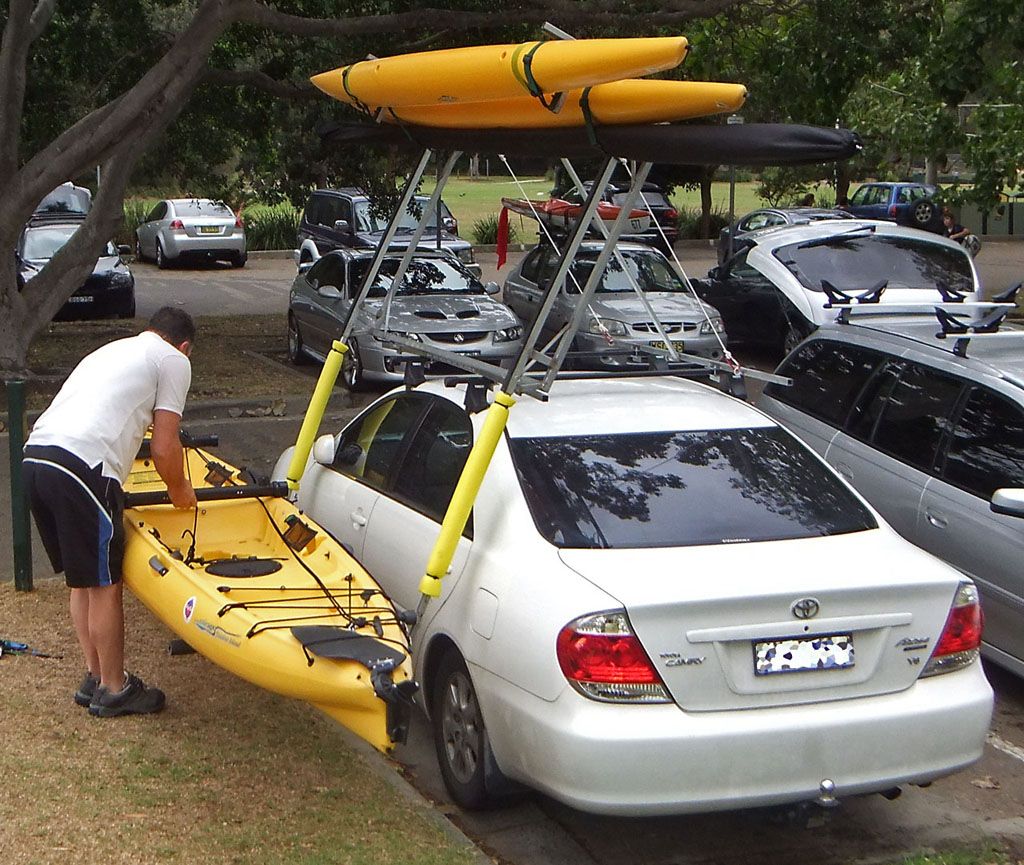 Whilst in this position I insert the Kayak Kart, pinning the posts from above to keep it attached. Then the boat is just lifted off the bar sideaways to a very short distance from the ground. Two 10Kg weights are then hung on the outside of the bars to counterbalance the amas/mast weight, and then the frame lowered to get them off.
Once assembled,
my TI is wheeled down into the water deep enough to allow me to push down on the axle bar till it drops out of the hull and bring to the side, the kart is then disassembled and put inside the front cargo hatch. Then off we go for another great day's sailing in our much loved Tandem Island, Thanks Hobie, you guys are fabulous!
_________________
If you think nobody cares if you're alive, try missing a couple of payments.
Had: Mirage Tandem, Outback, Adventure Island
Have: Tandem Island