We (Wife and I) first bought an OutBack Sport along with the sail (but no outriggers) to go with a generic sit on top kayak we've had for years so we could both get on the water together. Loved the Mirage drive but was a bit disappointed with the sailing characteristics ... and I've loved sailing small craft since a very young age. I found this site and started reading about the AI and was instantly in love ... last year I purchased a used AI and it was worth every penny I spent.
As just a kayak, although heavier, it glides through the water much easier than the OutBack or other kayak and as a sailing craft its just pure fun.
Quote:
1) Is the AI, when used as just a kayak, still good? Or is it crippled by the rigging bars?
not crippled as far as Im concerned - sure there's extra weight but Im not entering any competitions any time soon. You'll never know the sailing stuff is there once on the water
Quote:
2) How is the Adventure to upgrade to the AI? Is it easy to do? Is the end result exactly the same as an AI?
Only know what I've read here on the boards and everyone's advice was to just get the AI if you are thinking you will go that way later on
Quote:
3) How easy is it to convert the AI to just "kayak" mode and back to AI mode?
Simple - just leave alot of crap at home
Aka's, Ama's, Sail, and dagger board stay home and you are there
Quote:
4) I know people have done an AI on a car top carrier, but for all intents, is it really just best in the long term to have a trailer?
After designing and welding up a custom roof rack for my SUV (nothing offered aftermarket for my vehicle) and purchasing 2 sets of Thule's Hullivator's and using them last year ... Im currrently looking for a used JetSki trailer to convert. While in function rooftopping works fine, It has beat my truck up a bit, and I mostly put in where there isn't any fresh water for a rinse before loading ... meaning my ride gets a nice saltwater / sand bath every useage. Last year I happened to meet another AI owner at out on the water who used the same launch site and we came in together. While I was portaging first the Ama's, then the sail, then the Aka's and dagger board, then the paddles / peddles, then the gear bag and cooler, and then finally humping my AI across the 75' of sand on the cart ... he simply folded in the Aka's, put his whole rig on the cart and did it in one trip ... and skipped the saltwater / sand bath on his ride.
Even if I get a trailer, I'll keep the rooftop option as I've gone away several times with it and travelling that way is much easier (and cheaper toll wise) than dragging a trailer.
Here's an ineresting aside though - I have a classic car I trailer to several events a year, Car + Trailer = 6500 lbs dragging behind me and I was averaging 13.5- 14 mpg on-highway driving.
Driving like this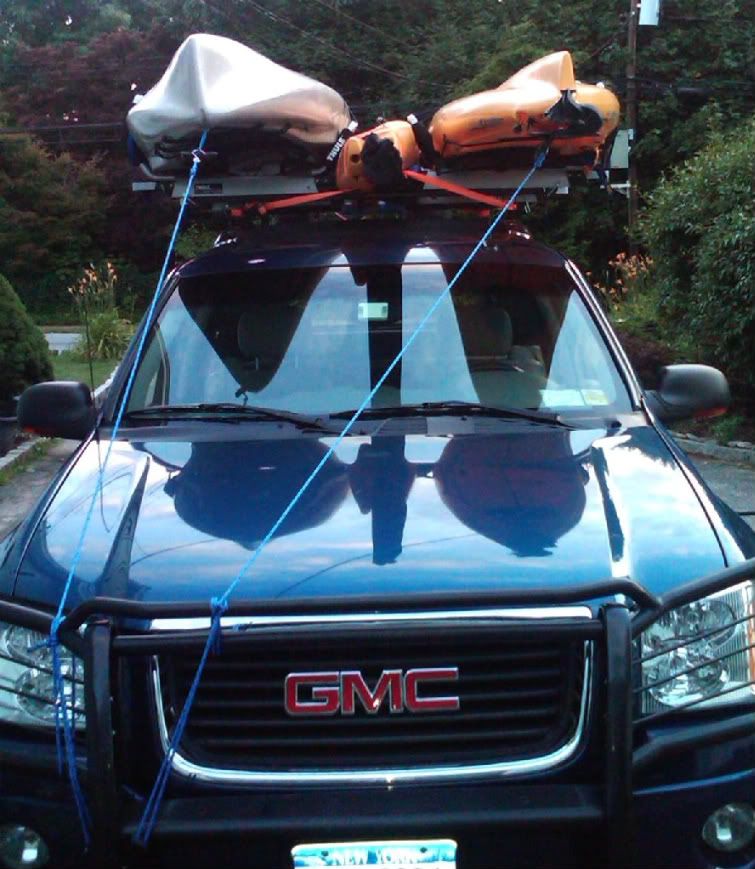 I could only get a best of 12 mpg on extended highway driving !! I was shocked how badly the rooftop stuff affected mileage (truck avg's 20-21mpg unloaded on the highway)
Quote:
5) What should I do????
BUY AN AI !!! Life is too short to live without one