Here's our TI on the Hobie [Trailex] trailer. It was assembled [at no extra charge] by the local Hobie dealer through whom we ordered it when we purchased our leftover 2010 TI.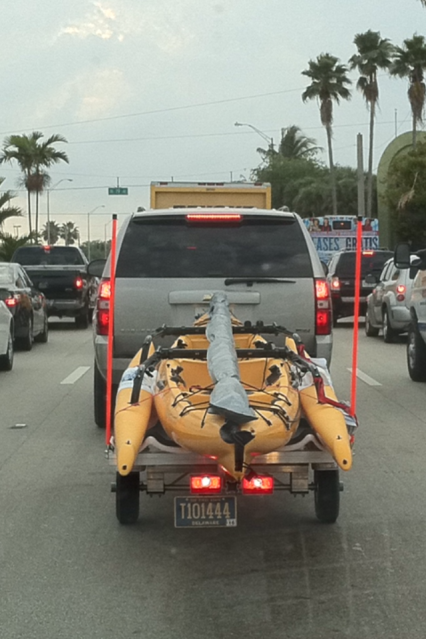 It may be a little hard to tell at this angle [we were following our son's Suburban], but the central extrusion only extends behind the rear trailer crossbar far enough to permit the tail lights to be mounted, so I can't see why a rear roller would be needed. A front roller is important, however, as it gives you a place to tie the forward part of the TI down tight to the trailer. Otherwise, there is a lot of flex in the aluminum frame and the bow of the TI will be bouncing up & down.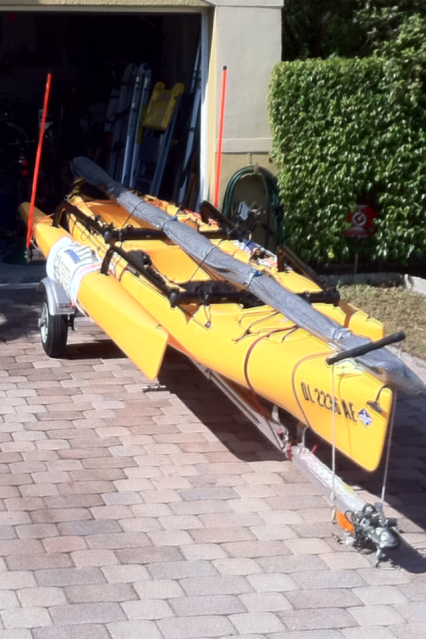 The orange "wands" mounted to the ends of the rear trailer crossbar not only make it more visible in traffic, they are essential if you want to be able to see where the TI is while backing up - at least in something as tall as the Suburban. Even behind our Grand Cherokee, the TI is nearly invisible. The "wands" are intended to be mounted on the ends of a snow plow -- our local boat trailer parts store [in Delaware] sells plow equipment also.
One important note -- if you want a smooth towing experience -- have the wheels spin balanced! Our new little unit vibrated quite annoyingly at Interstate speeds. When called, Trailex dismissed the idea of wheel imbalance being the culprit "Nobody balances those wheels, they are too small to be a problem"... instead they suggested improper tire inflation or a non-square assembly of the trailer. Well, we found a little gas station that could balance the wheels [which, in fact, are too small to be balanced by the equipment at a high-tech tire store], and Voilà - vibration cured.
Our subsequent 1200-mile tow to south Florida was smooth as silk.