Thanks for the encouraging words, mates.
I'm pleased to begin sharing the latest design mod from my close friend Kahikolu, (better known on this forum as Batman). This is a TI design concept that has been stewing in our Hawaiian sailing group for awhile. We call it the
TI3
and I hope you like it.
Following his successful work on the HYBRID AI-TI "Hapa" project, Kahikolu turned his attention to the TI, imagining an alternative seating platform for the pilot, who normally sails from the rear seat. One that provides more comfort and improved sailing positions.
It happens that our buddy "Grrr" was looking for a better sailing/fishing experience from the rear cockpit of his TI, especially when sailing solo. Those of you who sail this way realize how handy it would be to hike out and rebalance the boat when things get interesting. Hobie has not provided a way to do this, unless you sail from the front seat with tramps.
Grrr also had in mind to bring the bow up, distribute more weight in the rear of the boat, and minimize burying of the nose.
Here's what we came up with.
Notice anything different?
1. installed a third stock Aka crossbar to the rear deck,
2. Added a third set of Aka arms and second set of braces
3. Connect these bars with a custom "hobie style" brace.
4. Adapted the Akas to accept Hobie tramps or custom tramps.
5. reinforced this rear seating platform
6. Added a hiking stick for the rear tiller.
7. Improved cup holders!
Rather than graft on another batboat style wing, we were shooting for something more natural looking and modular. Something you might actually see in a Hobie catalogue. Something built mostly with Hobie parts.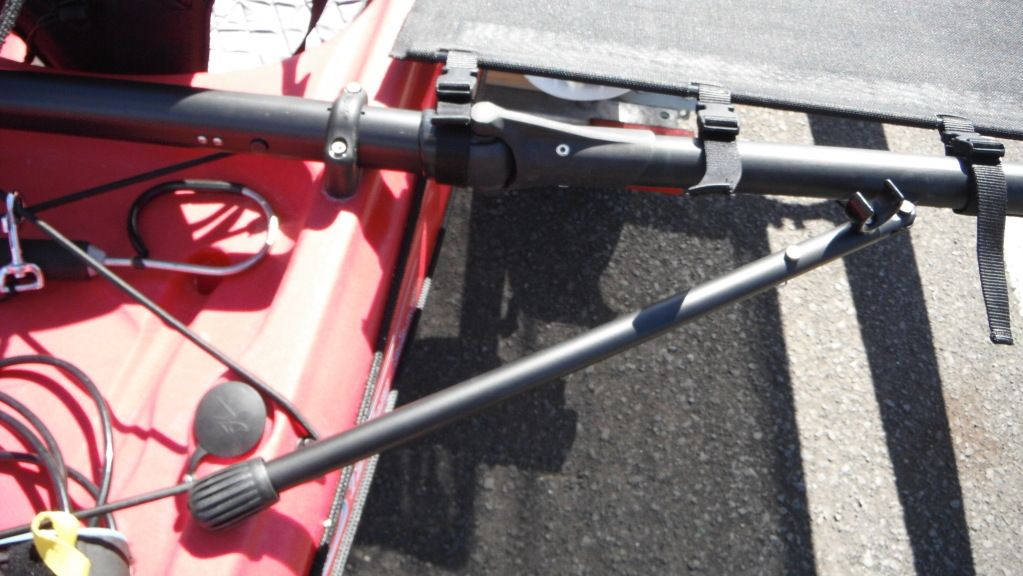 Not being complete fools, we did our first float test in sheltered water.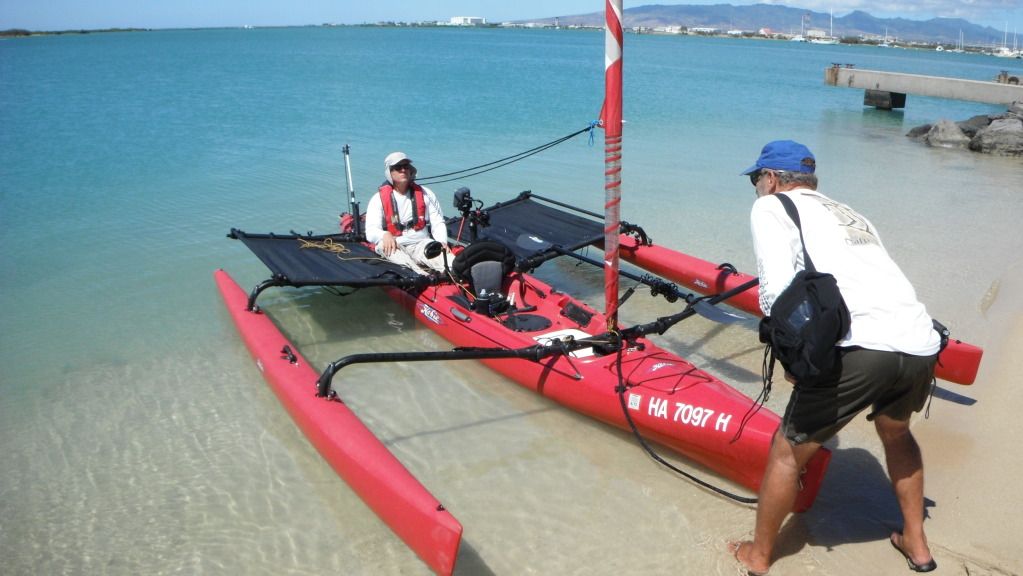 Our sail took place last week in light to moderate winds (10-15mph) with some higher gusts. Even in the lighter winds, 4-6 knots was the norm and 8+ knots was hit several times. Everything behaved.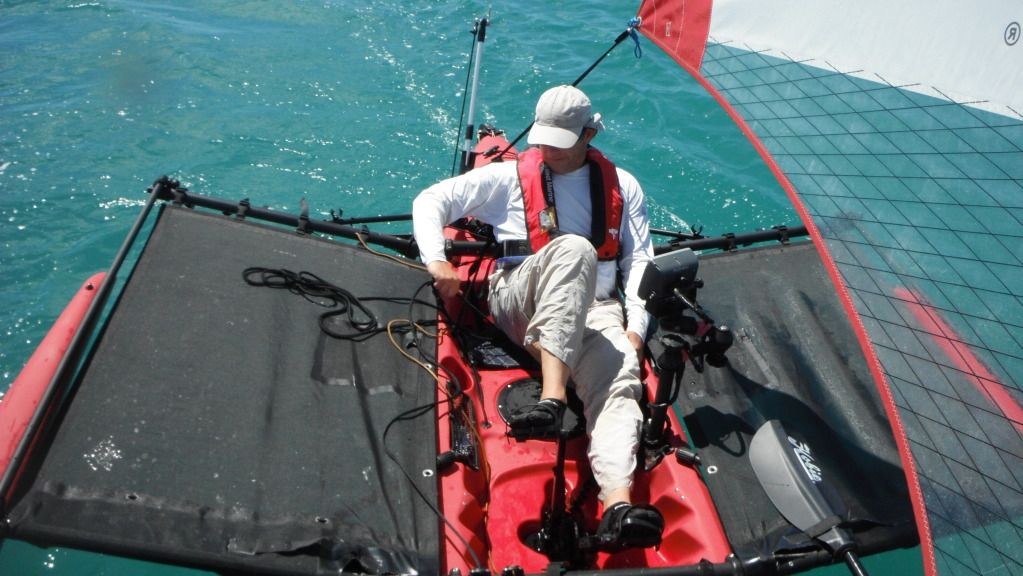 It wasn't long before the pilot assumed the position, and never wanted to leave.
As a bonus, the rear-mounted fishfinder/GPS swung out toward the tramps for perfect viewing.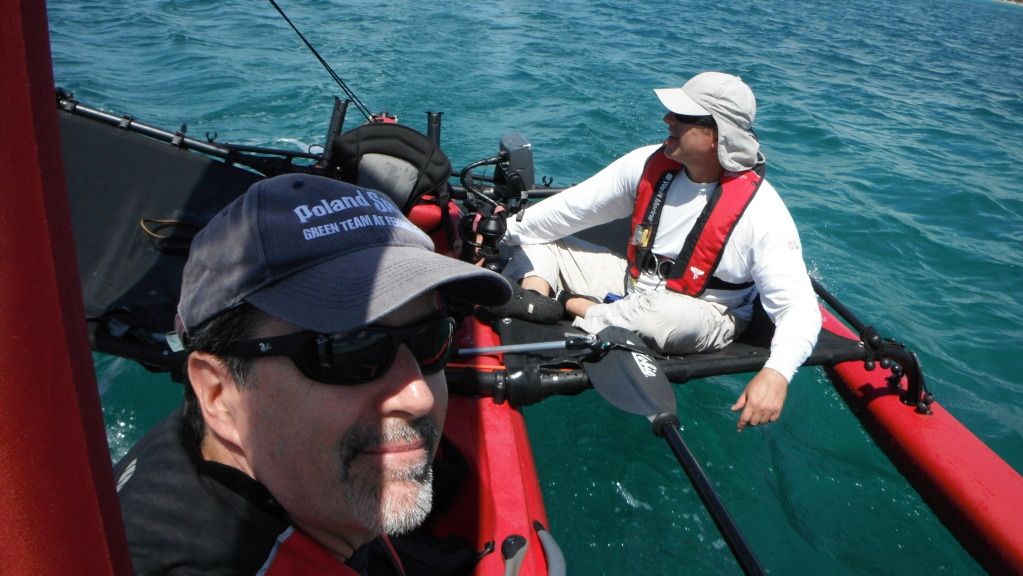 This initial test was to see if the rear Aka/tramp concept would work and if it would be sturdy enough for open ocean. After all, they do not tie into the Amas like the forward bars.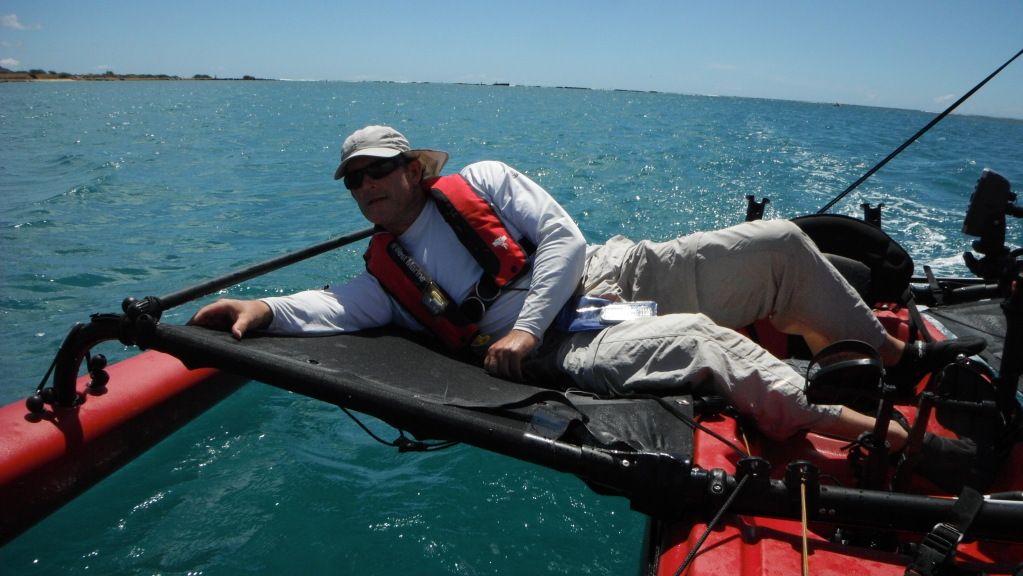 It worked great but there was more deflection and tramp sag in the back than we would like, so we have added a set of turnbuckles to stabilize the platform.
You may be asking yourself: "why hasn't someone done this already? Why hasn't Hobie?" Ultimately, it takes a special person to put his stock boat and his checkbook on the line for this kind of experimentation.
Judging by the look on the owner's face during test runs, it was worth it.
The end result takes only a few moments to clip together, can fold like a stock TI and is very trailerable. Food for thought.
Oh- yeah. The TI3 cupholders!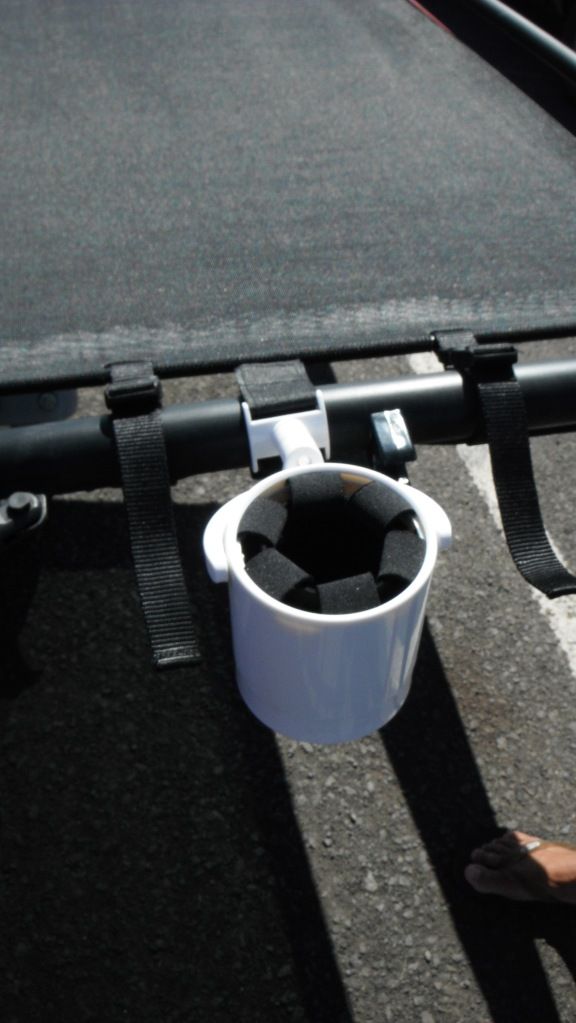 This is how Kahikolu rolls!
You can read more about our designer here:
http://www.hobiecat.com/forums/viewtopic.php?f=69&t=33992&hilit=batboat
_________________
The Wind is Your Friend...