I have to sell the Ultimate Tandem Island.
I am being tranferred for my job to Tempe Arizona, of course thats in the middle of a freeking desert and no where near any ocean (or water for that matter) so I must sell my Tandem Island. This can be someones oportunity to own what I consider the ultimate boat. I have about $9700 dollars invested in the boat (not including any of my labor designing and making all the extra sails and parts). I would like to get $6300 for everything if possible.
The hull and hardware is 2011 (replaced original 2010 hull in Spring 2011) with the new rudder systems. Replaced AKA bars and AKA cross bars in summer 2011. Replaced mast holder in summer 2011. (basically almost a new boat)
The bottom is scratched but other than that the Hull itself has no modifications or holes drilled. The boat is garage stored and very clean and everything works great.
Here is a breakdown of what I have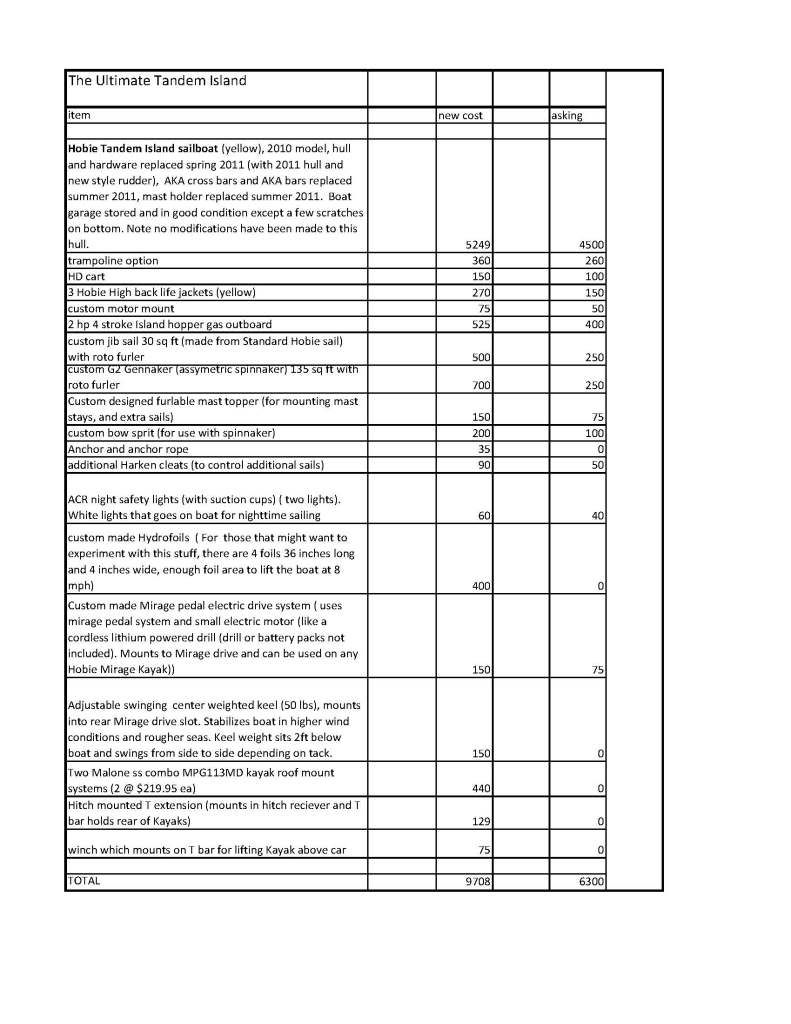 For someone to buy a new TI with tramp options, life jackets, HD cart, and safety lights and anchor the total would be around $6100 dollars, adding a 2hp gas motor (or electic trolling motor) adds another $800 so to buy new would be around $7,000 for a brand new complete ready to go Tandem Island. I am selling the whole works for $6300, the boat can be used as a regular TI (all the add ons are optional and can be left off the boat. The new owner can either keep or sell all the extras, all the extras (sail systems, motors, roof rack systems, etc) are basically free.
I'm also throwing in the Malone roof rack system ($400) (for two boats), and a Hitch extender T bar system ($150) and optional winch system ($75) with the boat. I won't be needing them anymore in the freeking desert.
So this is someones chance to own the legend (total cost to me was way over $10 grand). I will also be posting this in the for sale section. I just wanted everyone to know whats going on. I'm very bummed and sad about this (really sucks).
All the extras fit on any standard Tandem Island, If an existing TI owner wants to give me $2300 for all the extras (huge deal), I can then sell the TI basic boat (unmodified) for $4000. I would need commitments on both to break them up.
Bob