Chokoloskee to Flamingo, Jan 16-23, 2012
An Inauspicious Beginning: One Sunken AI, One Empty Bottle of Scotch
In
Pirates of the Caribbean: The Curse of the Black Pearl
, Captain Jack Sparrow sails his near sunken ship into port unfazed by his boat's buoyancy.
That is how I felt as I sailed my largely submerged AI onto the flat in front of Pavilion Key—in full view of my sailing partners who I was supposed to be leading on a weeklong trip.
Yep, I sunk my boat. It was not a cracked hull, not a stingray piercing, or a shark attack, not a croc mistaking it for a Burmese Python. No, none of those. Pure and simple
operator error.
I left the middle hatch open—the hatch cover immediately in front of me. I think this is how it happened. It was getting near low tide as we wove our way through the passes from Chokoloskee Bay out to the Gulf of Mexico. I had already run aground because I was not paying close enough attention. At one point I thought, "This is my first time loading this new boat for camping. I need to look inside to see if there is any water." I opened the hatch and everything was dry. Worrying that I might run too close to shore, I looked up as I closed the hatch. Normally, I would seat the hatch using my fist to act as a mallet. Don't know if I did that.
Around one corner of the pass was a powerboat high & dry waiting for the tide. At that corner the pass widens to about 300' across. However, in the middle is a large oyster bar. One can go aground as these boaters found out. Since the tide was still falling, these folks would have a 3-4 hr wait before they would float free. They were likely stuck there an hour already. All powerboaters staying in the channel would wave solemnly as they speed by. Embarrassing. Some of us waved as we clung close to the mangroves in a deep cut. Can you imagine the boaters' chagrin seeing 8 sail boats move smoothly past them?
Well, back to my own looming "problem." Unknown to me, I apparently did not get my hatch closed. As we reached the Gulf, winds picked up—about 14-15 mph (23 km). I do remember one gust causing the boat to heel more than usual, but it recovered quickly, and I did not give it more thought. At one point, Marc furled his sail, and I turned back to see if he had a problem. By radio, he said he was just getting a jacket out. Near Little Pavilion Key, I smartly passed my wife, Nancy. We still had a mile to go to our camp on Pavilion Key. Everyone passed on the North side of Little Pavilion except Marc. I was watching him pass to the south. Shortly after, a strong gust almost capsized my boat—that got my attention. I didn't understand why that happened. I scrambled to furl my sail. At about the same time I noticed that my cockpit was full of water, and my hatch cover was 2" below water.
Then, unbelievably, I saw my lunch sandwich in a baggie float out of the hatch.
Take a moment and try to imagine what I thought. Well, it was pretty straight forward:
"My boat is full of water!"
I tried to close the hatch, but it seemed every line and cord in the cockpit was preventing the hatch from closing—not that it made any difference. I finally got the hatch closed, and then assessed my situation. My amas were still floating nicely. My bow, while diving through waves even more than usual, was still above water. Hell, if Capt Jack Sparrow could sail into port with a half sunken ship, so could I. I unfurled my sail about one third and began to pedal.
Nancy sailed by and called over, "You are sinking," as if she were telling me something new.
By the time I reached the shallow flat off the north shore of Pavilion, people were walking the 300' toward me. One must have been carrying a pump, because we had two pumps. Charlie Fast began pumping out my front hatch. Marc joined in opposite him. An occasional wave would wash over the hatch opening and reverse the process. I spelled Charlie. I think Tom Reese pitched in. Maybe others. Marc pumped continuously and vigorously. In what seemed fairly short order, most of the water was out.
Jim Quinlan later remarked that, "There was a lot of water in the boat." Actually, it wasn't as much as it might have been, because the boat had a lot of gear in it, much in dry bags. They undoubtedly reduced the available volume in the hull and served as some floatation, although most of the "dry bags" leaked to varying degrees, as is typical when submerged. My "land" camera was in a nylon dry bag. It is the last thing I put in the front hatch—it stayed dry. My sleeping bag, not in a dry bag, but in a nylon compression bag, is placed high in the bow—it was dry. Our tent and my sleeping pad, not in dry bags, got wet but dried quickly. My ditty bag with lots of personal items was in an old "dry" bag with a poor seal. That dry bag was in an OR nylon dry bag. Both bags leaked badly and everything got wet. Fortunately, my SealLine Kodak 20 Tapered dry bag with clothes, which I place in the very front of the bow, did not leak. I had dry clothes to change into when we got my refloated boat to shore. It was one of the few times I appreciated Everglades skinny waters.
The bottom line
Capt Chekika, bowed but not broken, would push on and finish the week-long trip. Unfortunately, neither I nor anyone else took pictures. But, take my word, it happened.
Here is the group of hardy AI/TI sailors who reached Pavilion Key that first day.
From left to right, Mark Krawatsky, Tom Reese, Rick Parks (head down), Nancy, setting in front of Charlie Fast, Jim Quinlan, and Josh Morgan.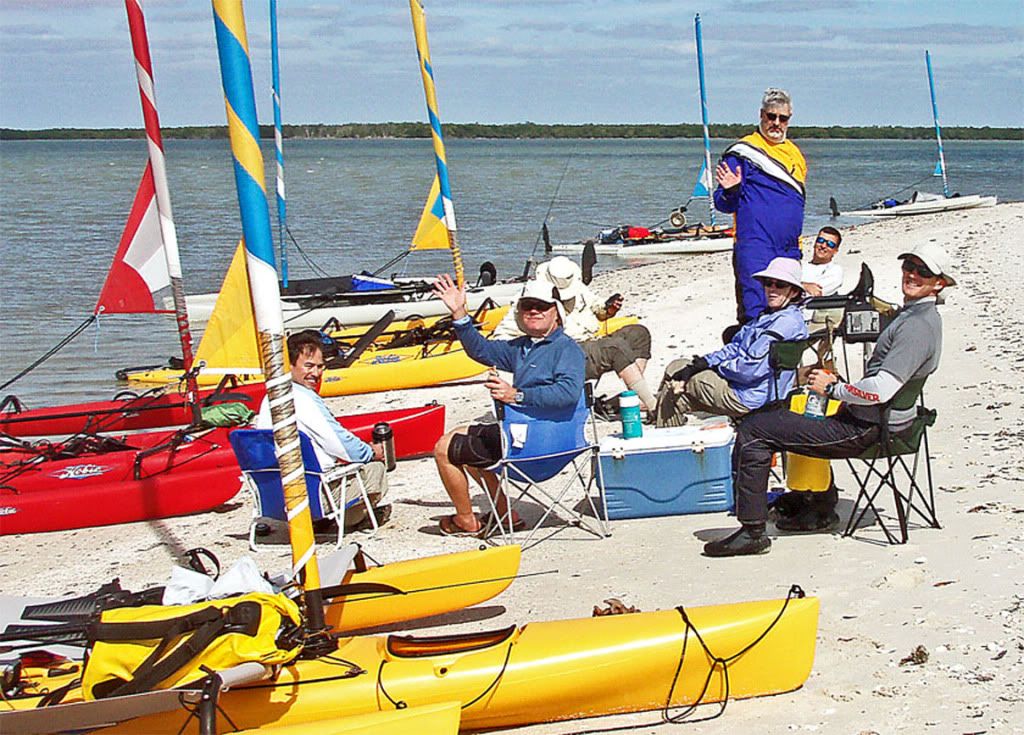 My flooded hull was not the only problem that day. Mark had a bottle of Scotch in his boat. When he opened his hatch to pack at Smallwood's Museum in Chokoloskee, he found the bottle cap had come off and its contents spilled into the hull. A bystander remarked that his boat smelled good.
Day 2 is always a fishing day on Pavilion.
Here is Marc, enjoying his first day camping out of an AI.
He is up early anticipating a spectacular fishing day.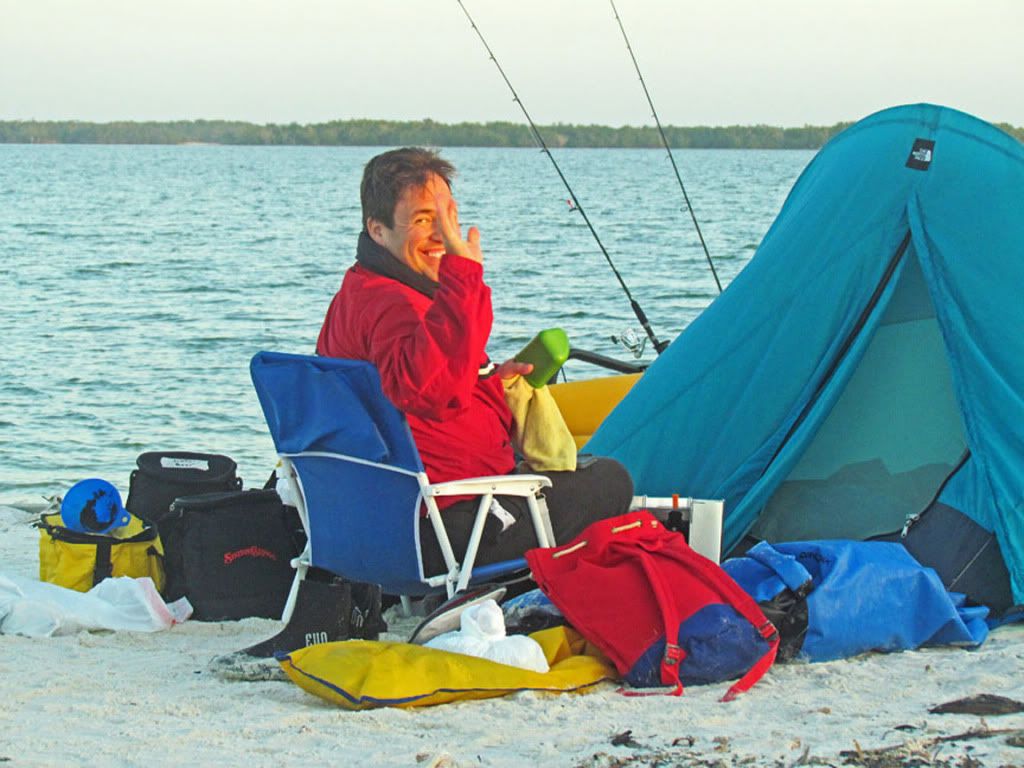 Rick is a serious fisherman.
Different ways to fish from an AI
Rewards of good day fishing.
Rick shows off his filleting skills, while Jim, Marc, Tom, and Josh look on admiringly.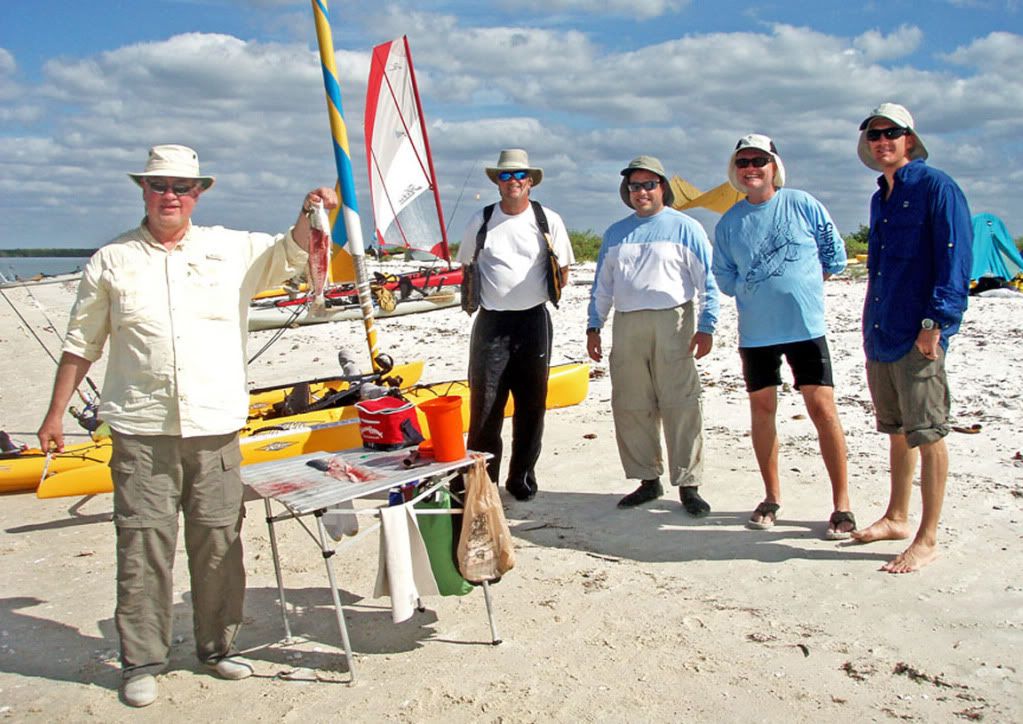 The Beach Manager struts about approvingly.
Just as sure as Day 2 is a fishing day, it is also a fish fry night.
Jim is helping Nancy with the fish fry. Tom Reese with a dish of fish, mashed potatoes, salad, sliced tomatoes.
We are now distinctly 2 groups: (1) those returning to Chokoloskee, and (2) those heading south to Flamingo, about 60 miles.
Those returning to Chokoloskee were relatively inexperienced and a bit anxious about the return. They wanted to get an early start—Charlie exemplified that group. He gives me thumbs up. Jim, having a leisurely breakfast, was typical of the group heading south. It was going to be a slow day. No hurry. Hopefully, the wind will come up as the day wears on.
Another picture showing the priority differences of the 2 groups.
They're off!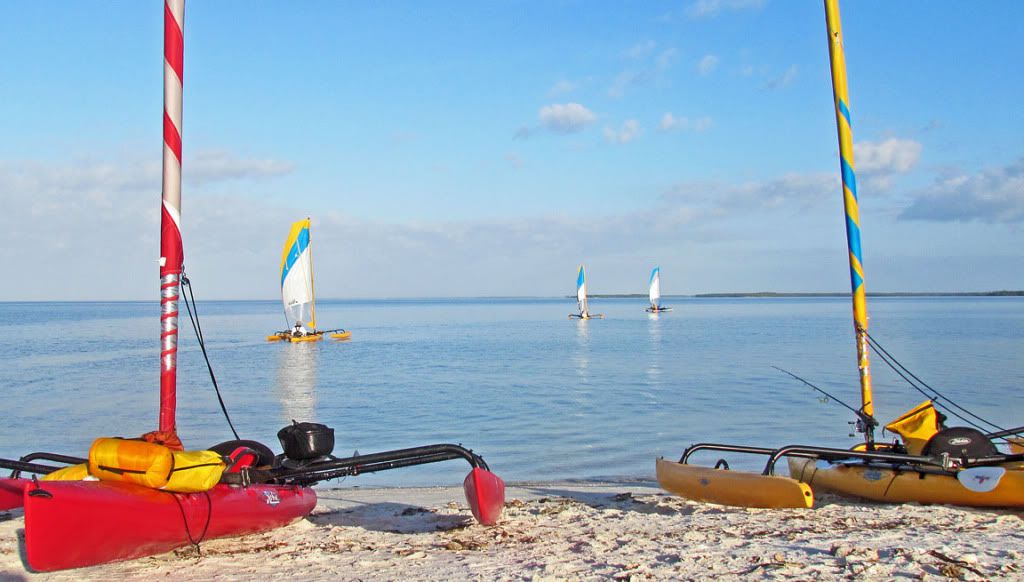 In due time, our group of Nancy, Jim, Josh, Rick, and myself head in the opposite direction.
There is no wind. Our destination is Highland Beach (20 mi, 32 km).
Capt. Chekika—A self-photo for those wondering what I look like.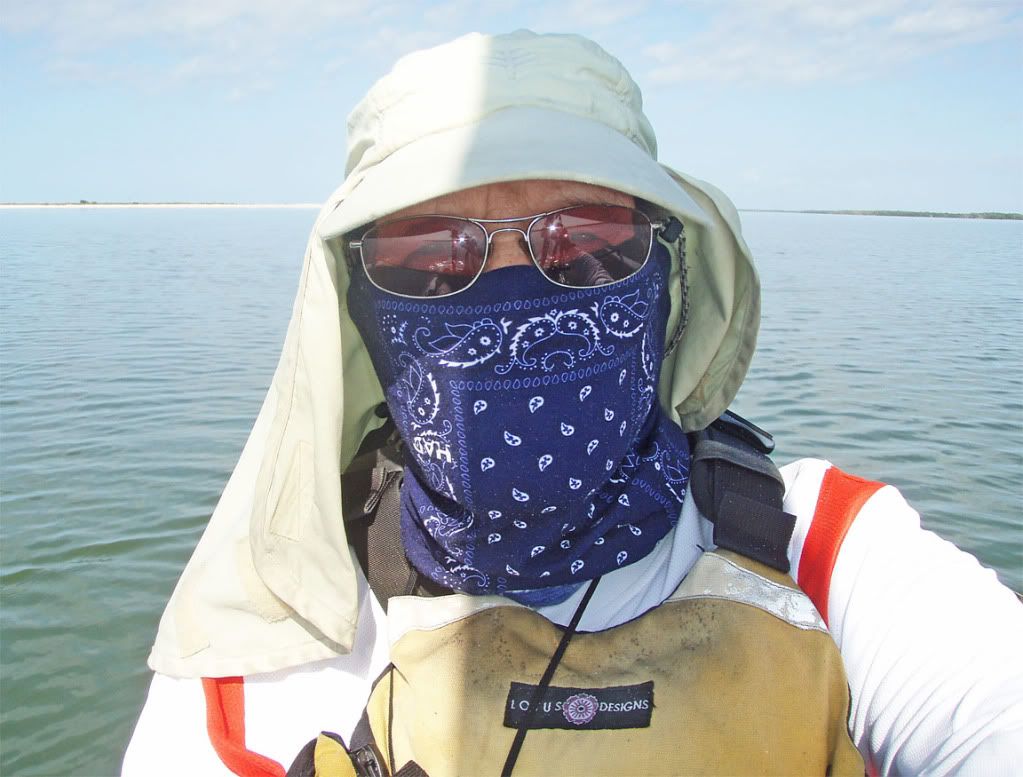 Jim seems to be rather enjoying this slow day on the water.
After several hours of mostly pedaling, we approach Hog Key, our backup destination (13 mi, 23 km).
It looks too inviting to pass; although, Rick has reservations. Last year, we stopped at Hog Key and were nearly eaten alive by mosquitoes. Rick insisted that they were actually the "hogs" that Hog Key was named after. I pointed out that "Just because we can spit and roast them, does not make them hogs—they are mosquitoes,
Everglades mosquitoes
."
Hog Key beach camp.
Last year, the tide was too high and we had to camp amongst the brush & mangroves—mosquito heaven. Rick, Jim, Nancy, Josh.
Hog Key sunset
Preparing to leave Hog Key
We only have 7 miles (11 km) to Highland Beach. We will be on schedule, because we had planned a layover day on Highland. It will be another slow day without wind. As the following pictures show, being on the water is a good way to spend a "layover" day.
Jim
Josh
Rick
Nancy
Highland Beach, 1 mi north of our campsite
At our Highland Beach camp, Josh demonstrates the "Instaflator," an ingenious device for inflating air mattresses.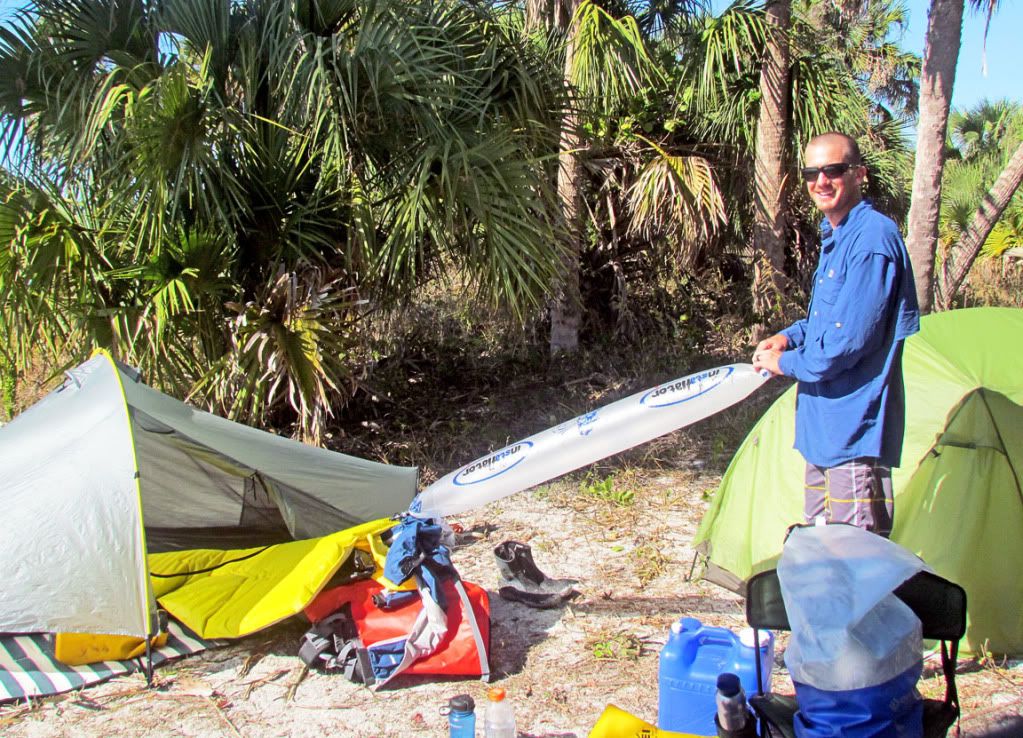 Instaflator YouTube link:
http://www.youtube.com/watch?v=yJLVYfg88TE
Highland Beach camp at sunset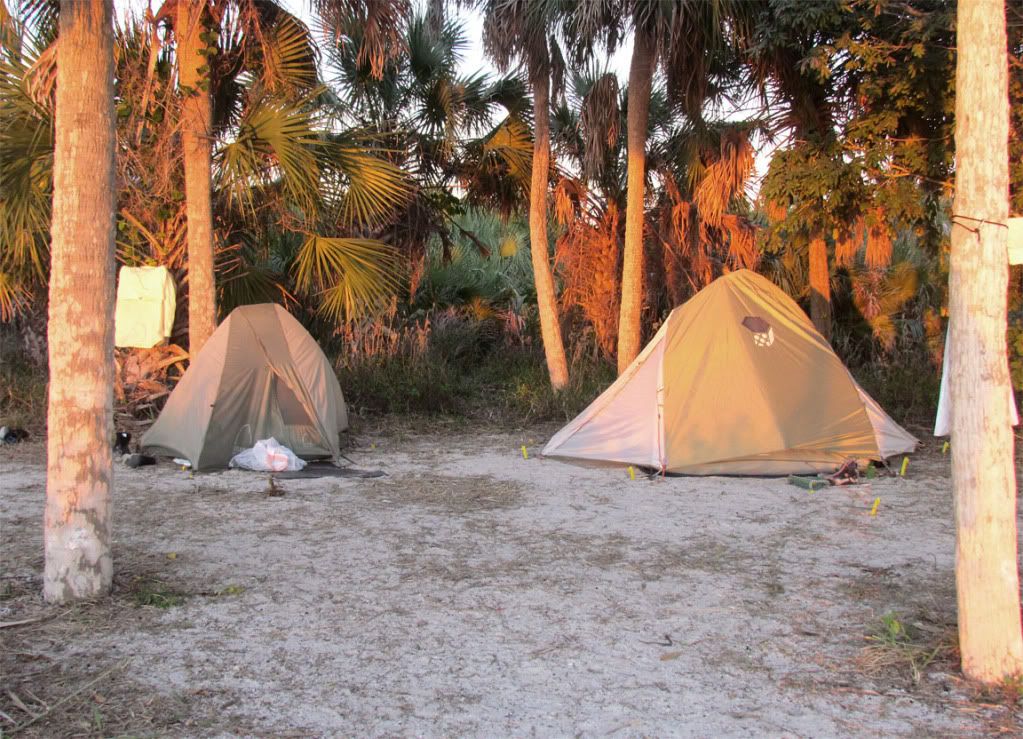 We had a campfire almost every night, thanks to Josh. Josh is literally a "fireman" in real life.
Also, thanks to Josh & Jim. For each fire, they dug a fire pit on the beach, burned the wood to ashes. Each morning, there were no signs of the previous night's fire. That is the way to treat a wilderness beach.
Ready to leave Highland
Today was another short day, about 8 mi to Graveyard. However, Rick and I would fish the mouth of the historically famous Harney River. My namesake, Chief Chekika, was killed in this area in December of 1840 by an American expedition force under the leadership of Lt. Col. William Harney. Later, the river was named after him. It was Harney's successful raid that showed that it was possible, with the aid of Indian scouts, to track the Seminole Indians to their most secret hideaways in the Everglades.
Rick and I near Shark Point.
Around the point is Graveyard camp site and beyond that, Scorpion Beach where we normally camp. At this point we have lost touch with Jim, who went exploring up Harney River. Fortunately, he had the route on his GPS and turned up later.
Nancy was already there, but, then we received a radio communication saying maybe it would be better to camp at Graveyard proper. Josh said graveyard was great, "mowed grass, table, outhouses." I'm not so sure about "mowed grass," but graveyard did have a table and outhouses—2 of them. Like many of the Everglades campsites, Graveyard is really aimed at powerboaters. It was one of our favorite campsites until 2004-2005, when it was effectively destroyed by several hurricanes passing over the area. With so many downed trees on its shoreline, it was not appealing, especially with our space-loving trimaran sail boats.
The shore line of Graveyard.
But, Josh was there, and he liked it. Nancy was down at Scorpion Beach. Here is a picture from last year.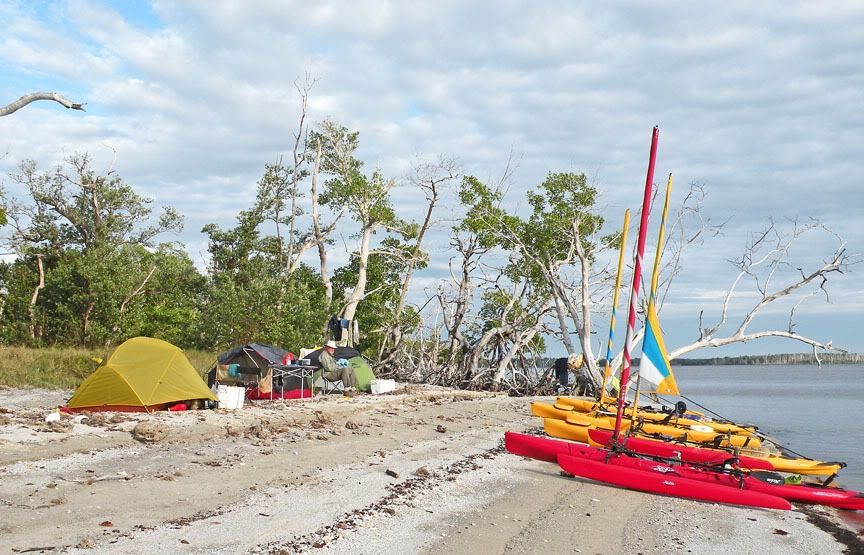 Josh was so taken with Graveyard, that he went to Scorpion Beach and helped Nancy move.
Nancy & I squeezed our boats in here.
The Table: Nancy, Jim, Josh, and Rick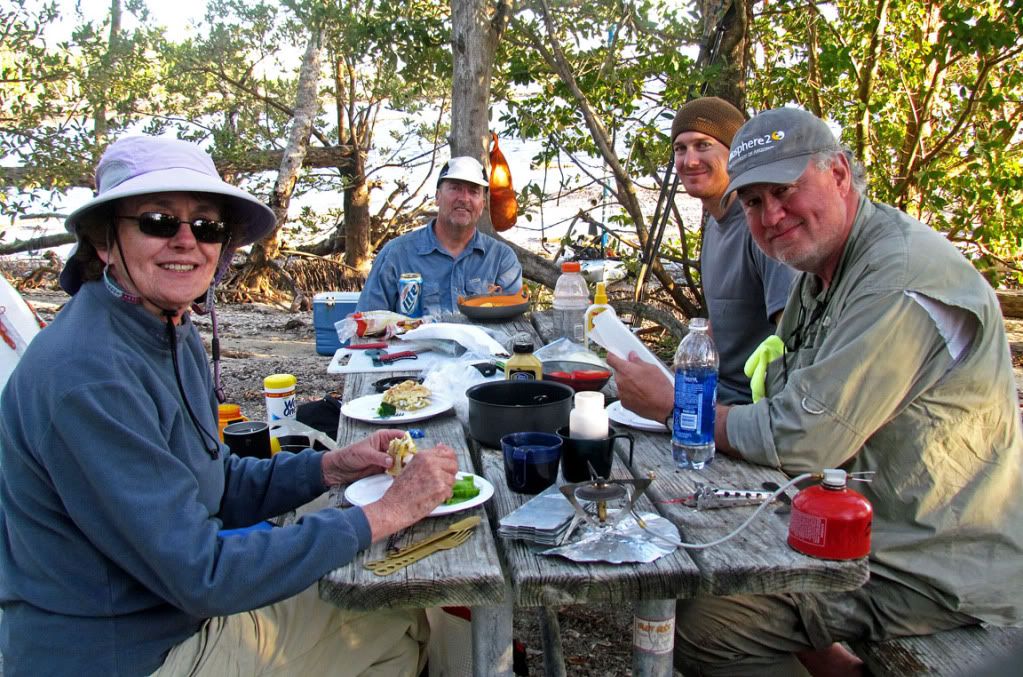 Sunset from Graveyard
Josh got this beautiful picture the next morning at sunrise as the tide runs out.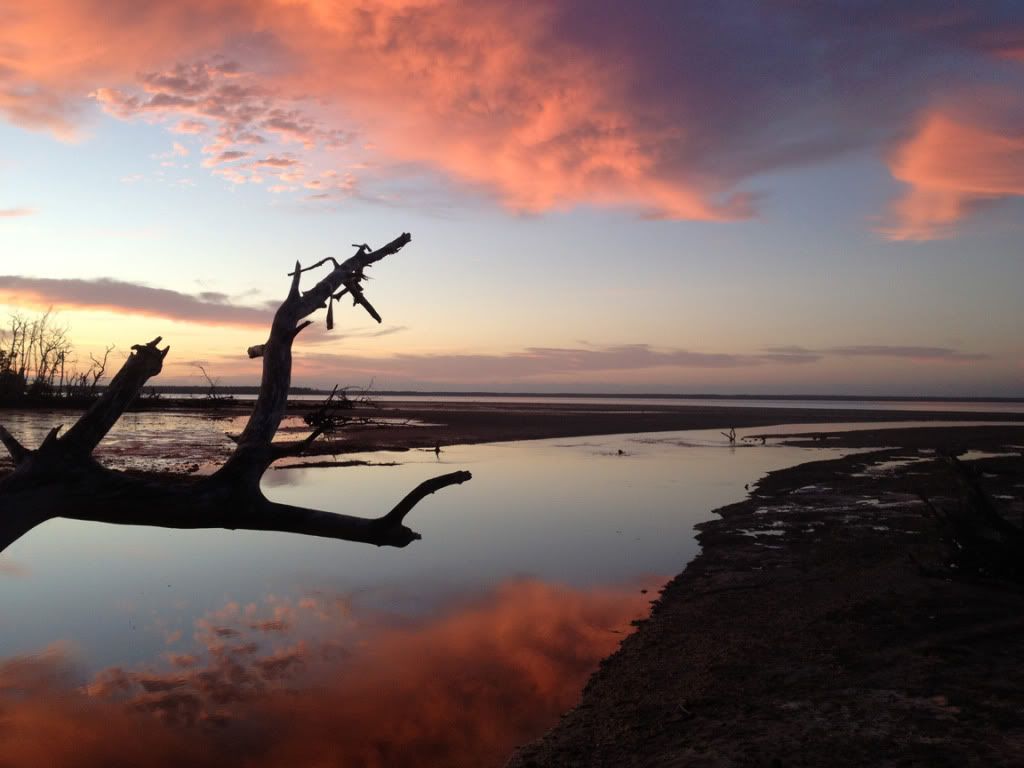 I got this picture a little later.
Clearly, Graveyard is not a place you want to arrive at low tide. Under certain conditions, Graveyard is the noseeum capital of the Universe—fortunately, bugs were relatively mild during our visit. Of course, we did have a fire in the evening, thanks to Josh.
As we left Graveyard, the raccoons were already checking out the barrel fire site
(probably another reason Josh liked Graveyard—no hole to dig and return to its natural state.) I was in such a rush to get this picture that I did not let the camera focus. Sorry.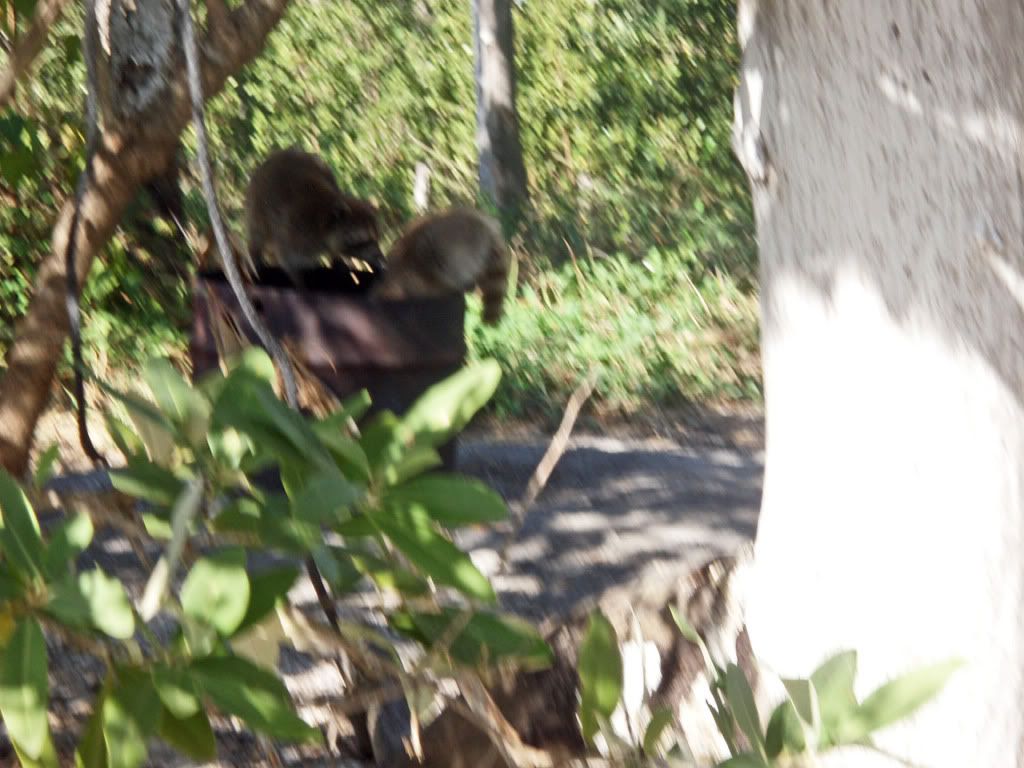 We moved on to Northwest Cape Sable (12 mi, 19 km).
Our destination was actually 4 mi further at Middle Cape, but it was another slow day on the water, and Jim, Rick, Nancy, and I were in no hurry. Perhaps the wind would be better tomorrow and we could make it up. However, Josh had to keep to our schedule because he needed to be back at work Monday. He left us and pushed on the Mid Cape. We all wished him well, by VHF radio, on the rest of his trip.
Tracks on Northwest Cape beach.
Sunset on NW Cape
On the penultimate day, we pushed on to East Cape Sable (10 mi, 19 km). We stopped about 2 pm. We could have gone on to Flamingo, another 11 mi, but we would have had to tack into a headwind of 13-14 mph (12 kts.) Then, Nancy, Rick & myself would have had to unpack our gear, load it onto my trailer (3 AIs), and drive 60 mi through urban traffic. Jim's job was only slightly easier, he loaded into his pickup truck, but he had a much longer drive. Compare that to sitting on the beach at East Cape Sable and going in at a reasonable hour the next day. It was a no-brainer.
Camp on East Cape Sable
Nancy relaxing with her Kindle
Sunset
The last preparation
The last day was still a long day. We were up about 7 am; had breakfast, broke camp, packed boats, and were on the water by 10:30 am as planned. The wind was from the ESE at about 12-14 mph—we would have to tack into the wind the 11 miles back to FLM. It took us 3½ hrs.
Nancy and my track on Google Earth image.
Rick at Flamingo ramp
All in all, another great trip with special friends. Weather-wise, it would have been a perfect trip for kayakers. Still, in our unhurried fashion, it was another Everglades adventure.
Keith
Quote:
Because of this thread length, I have made a

Table of Contents

. This

Table

is on P. 22, http://www.hobiecat.com/forums/viewtopic.php?f=70&t=7276&start=315