This is an update to my thu-the-hull installation of the Humminbird 385ci DI using the Humminbird Thru-The Hull Kayak Mounting kit.
I went out several times this weekend while the adhesive was curing for the mounting kit. I basically hung the transducer over the side to go over some areas where I knew there were certain structures (and possible fish returns).
Today I went out with the transducer installed. Going over the same areas the returned images (both regular and Down Imaging) appeared normal. I'm not seeing any loss of quality using the Humminbird kit. The Down Imaging shots looked the same.
My battery is mounted in the rear storage tray like mentioned in another thread.
Here are some shots of the installation.
I brought the cabling up the left/right front corner gaps where the tackle tray drops in. The cabling does not appear to be pinching in any way that would cause breakage in the cable.
Since I lost the temperature reading with the transducer being a thru-the-hull mount, I used the temperature probe accessory and just dropped the temperature probe thruogh the scupper hole in front of the seat.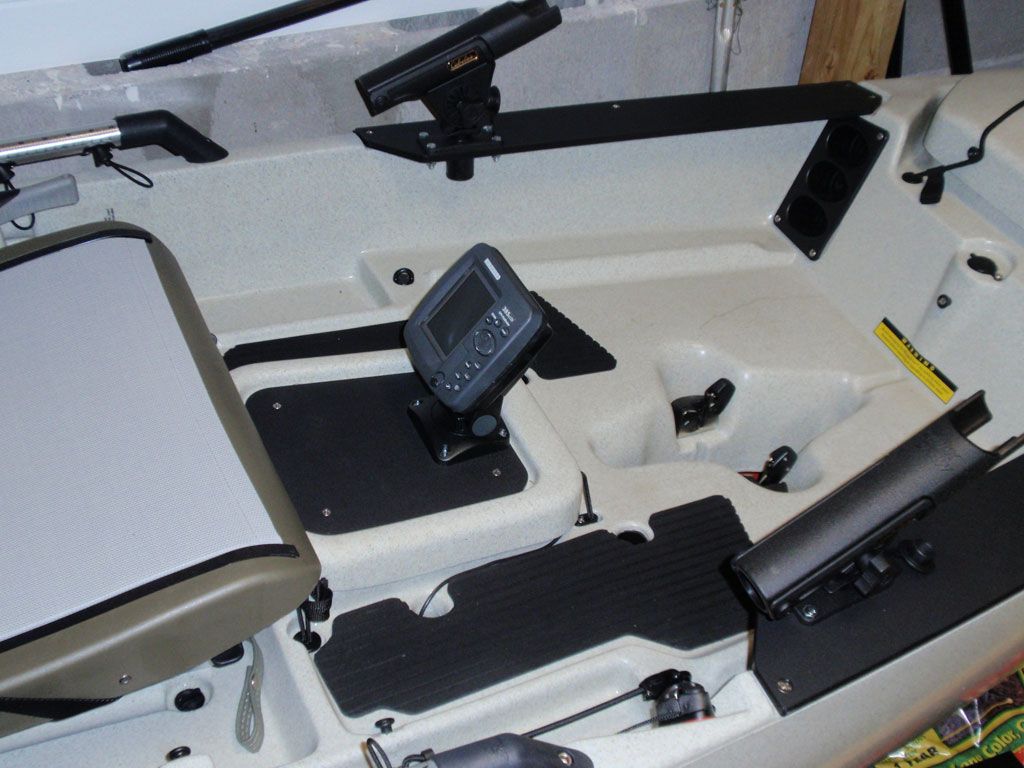 I also installed the sliding seat mount from
www.marineengine.com
and only had to buy the four extra bolts, nuts and lock washers. I re-drilled a hole under the seat to re-position the seat strap. That seat slider is the best accessory you can put on a PA! What a world of difference!
Here's the link for the seat slider:
http://www.marineengine.com/products/ac ... in=3215502
Since this fishfinder is not large and does not have a large footprint, I still have cutting board area if needed and it does not get in the way at all for peddling the Mirage drive.
_________________
Steve Stubbs
USAF (retired)
SeaDek Fishing Team
2012 Pro Angler 14 (owned now by a good friend)
2013 Pro Angler 14 - Dune
2015 Pro Angler 14 - Papaya