Hi everyone,
I bought a new Getaway in 2009. I flipped it the second time sailing it. As a long time sailor, I was astonished that I could not right the thing myself using the righting line (the Hobie video that came with my boat shows a single thin-ish guy righting it - bull !!).
1st capsize, 20 minutes into my second sail. Another sailor dove in and swam to right the boat with me.
2nd capsize, with a failed home-made righting-bag (made from a watertight MEC camping bag), a keel boat threw me a line to right me.
3rd capsize, with a purchased "Murrays Cat Righting Bag". What a waste of money. My 165lbs could not right my Hobie Getaway. Again, I needed a rescue.
4th capsize, my home-made 2.5m righting pole version 1, let me right my boat myself right away, but it bent. Pole was a simple galvanized fence top rail from Home Depot. I attached with a home-modified commercial bracket to the base of my mast. I can send you a diagram of my bracket to whomever wants one. I bought thick angle bracket at a local store and drilled holes in it.
5th capsize, my home-made 2.5m righting pole version 2, worked like a charm. I was able to right my boat easily. It was a 2.5 metre fence top rail from Home Depot, lined with an 8 foot section of copper pipe, lined with a 6 foot doweling. Yes, yes, I simply walked the store putting stuff together. Wrapped again with grip tape from Canadian Tire. Worked great, but I felt that I could improve upon it. It is quite heavy when wet, and I felt that it added a lot of weight to my boat when I was pulling it single hand up my club's boat ramp after a sail.
6th capsize, my home made 2.3m(?) righting pole version 3, worked so-so. It is made from a broken windsurfer mast that I bought at a local windsurfer store. I was able to right my boat, but maybe not as easily as with my heavy pole. I am not sure. Of course, it could have been cause by my main sail being stuck in the mud.
In hind sight, maybe the pole sticking out a bit past the stern spreader bar is better than having shortened it from 2.5m to 2.3m(ish). On the plus side, it is way lighter than the metal/copper/wood version 2 righting pole.
Here are three pictures of my righting pole version 3. It lets me sail in heavy winds, knowing that I can right my Getaway by myself if I have to.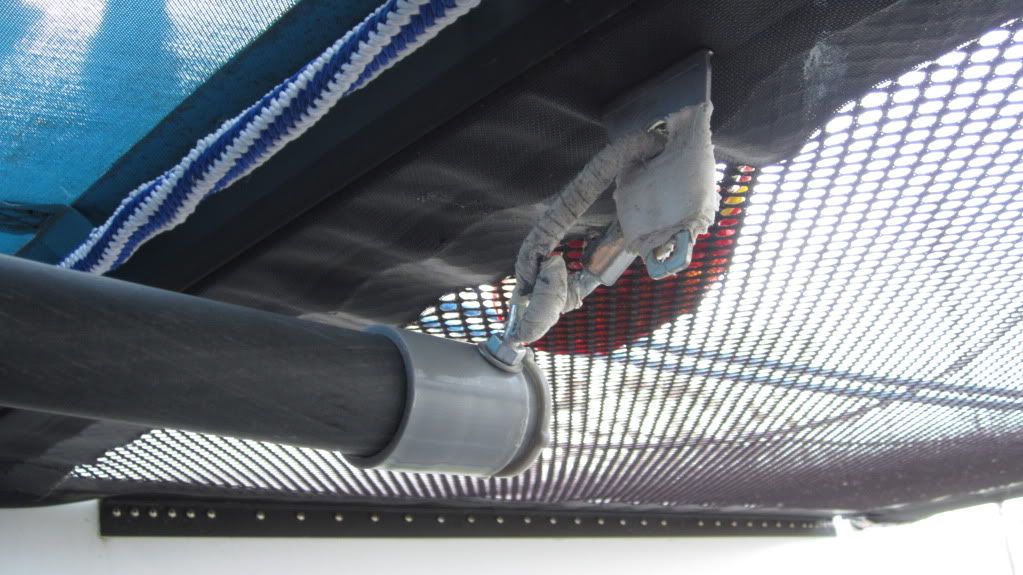 Cheers,
...Dave