Howdy all! I am still fairly new Ti owner (still under the 1 year mark) but I have learned quite a bit from my local friends and on here. With that said I wanted to share some of the things I have done and learned with the rest of the Ti crowd (especially first time owners). I have had absolutely no sailing experience be for purchasing the Ti and in a very short time I was able to pick it right up. For the new guys just remember that if the wind gets to be above your abilities pull the the black line and uncleat it, it will let the wind out of your sail and slow you down immediately! I think this is the most important tip any new person on there first few trips out should know! I will be continuously updating this as more mods are done to the kayak.
First mod was adding the tramps money well spent! In the near future I will be adding some haka's and have a tramp haka combo later this summer.
Next mod came from my friend Nohuhu was copying the double bungee method he used. Its a nice clean look and it is how Hobie should have done it in the first place! The next few pics will show how I did it.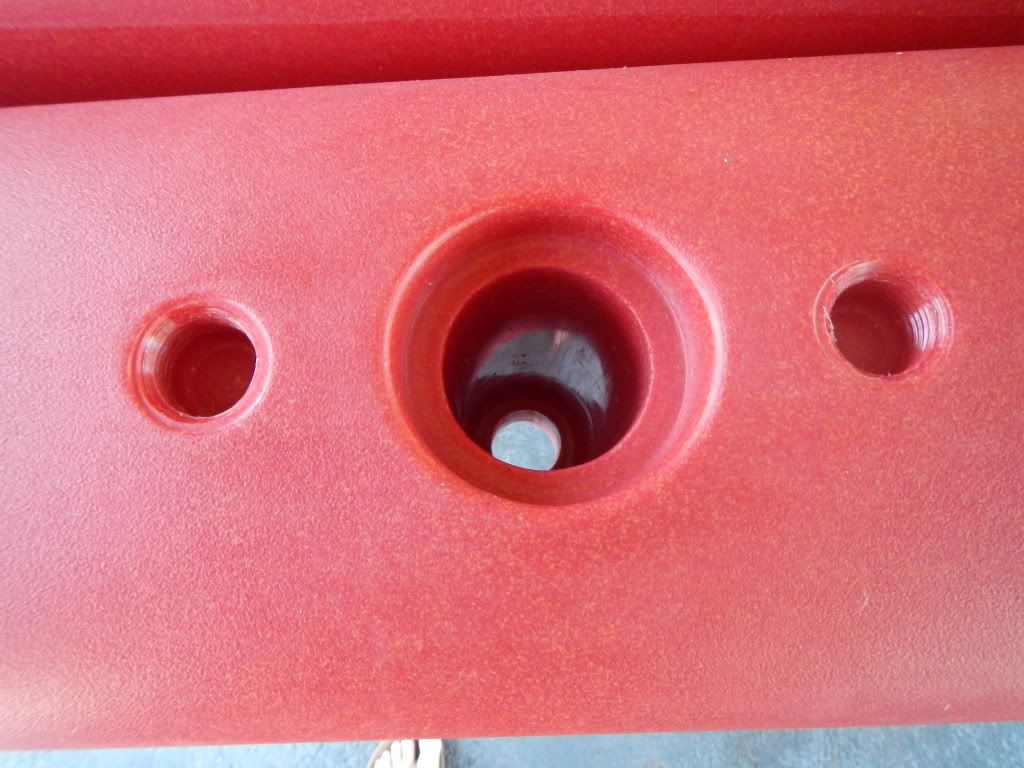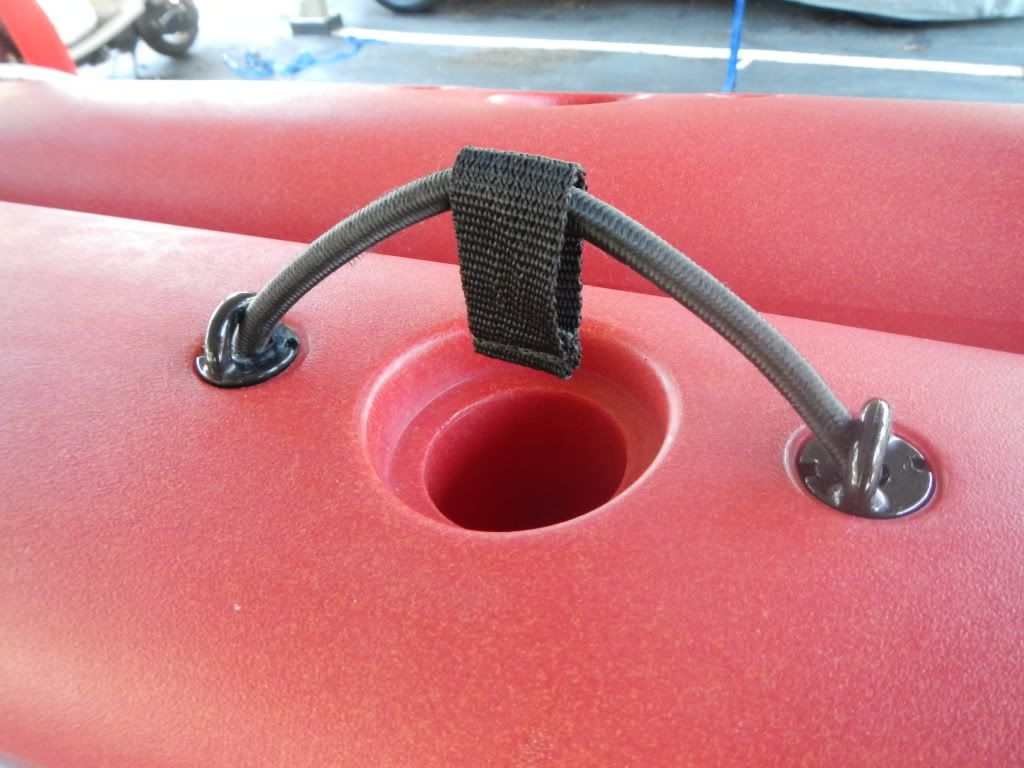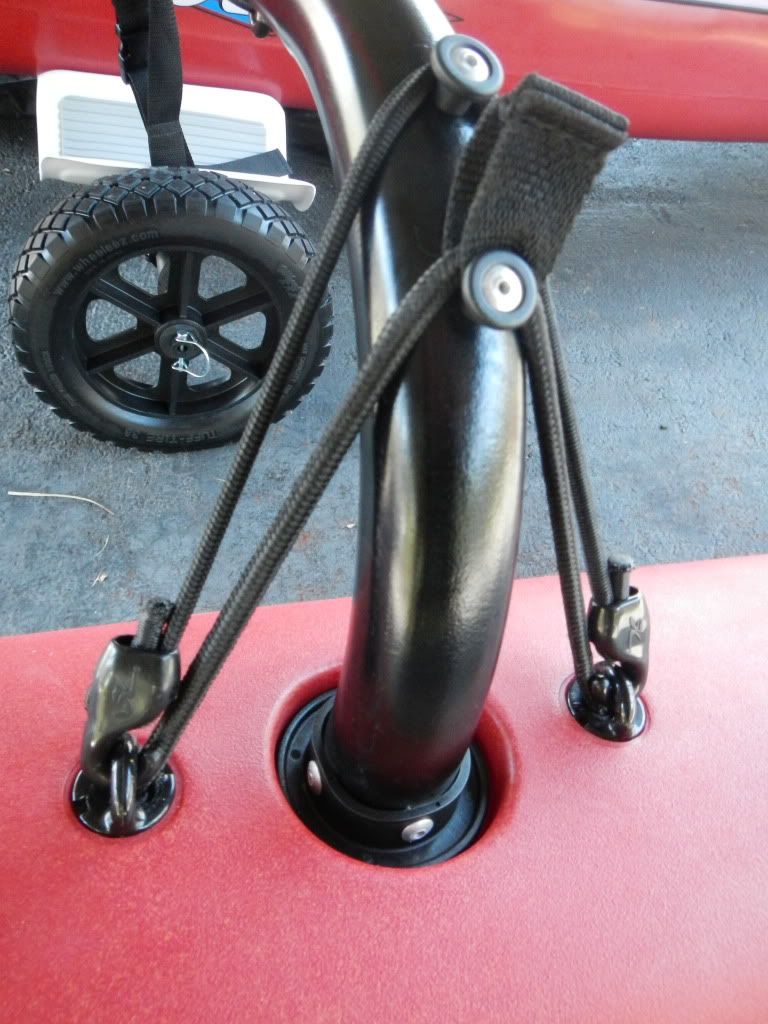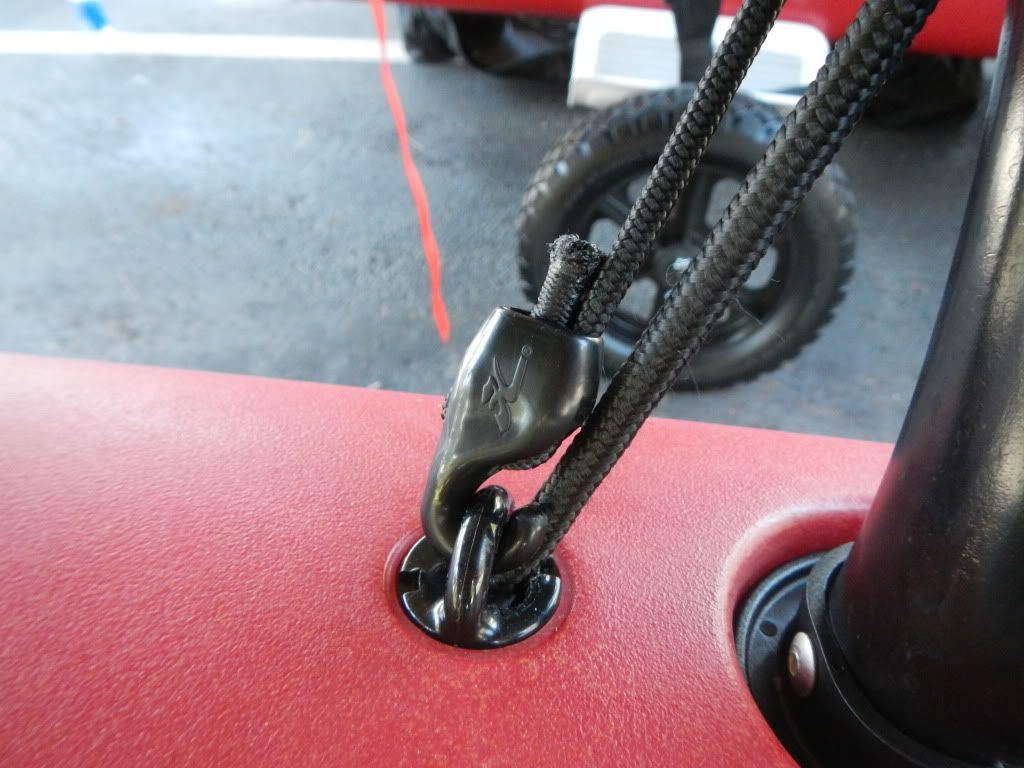 This next mod is almost a no brainer it makes the Ti so much more manageable in and out of the water. Simply placing double handles at both ends.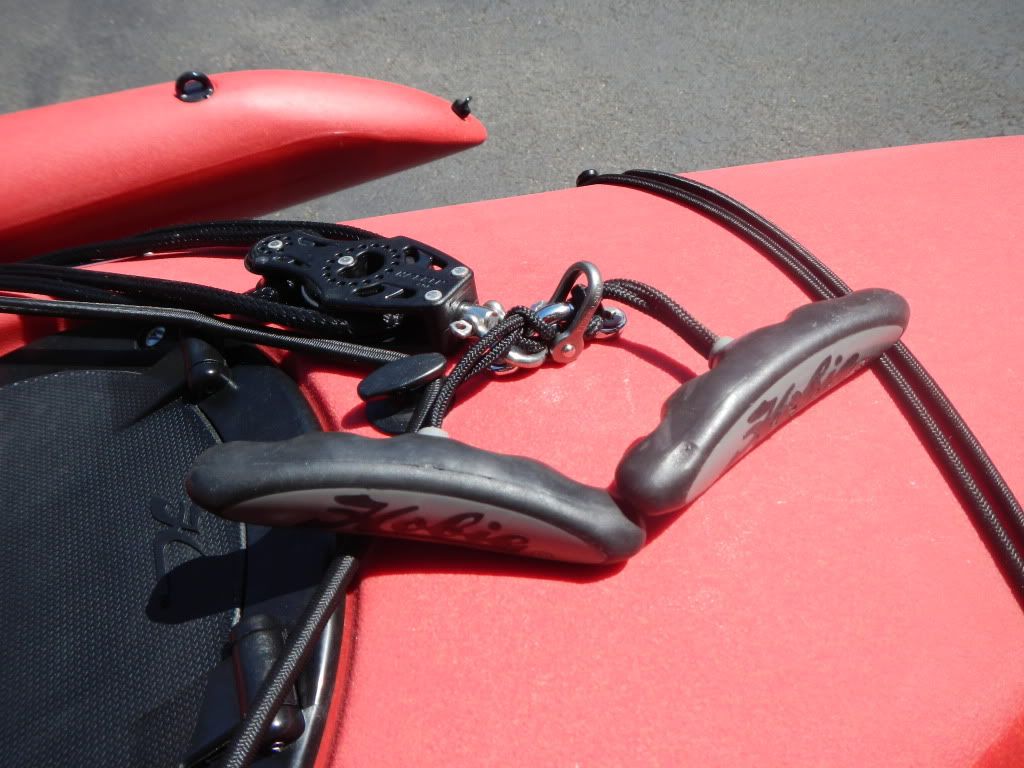 This one is an easy one keep an extra car sponge in one of the hatches to bail out any small amounts of water that may enter the boat,this way you will never forget to put the drain plug back in because you will never need to remove it lol... Also I keep all of my paddles in the front broken in half so we will never forget to bring them. I also use the extra foam holder separators to hold them in place.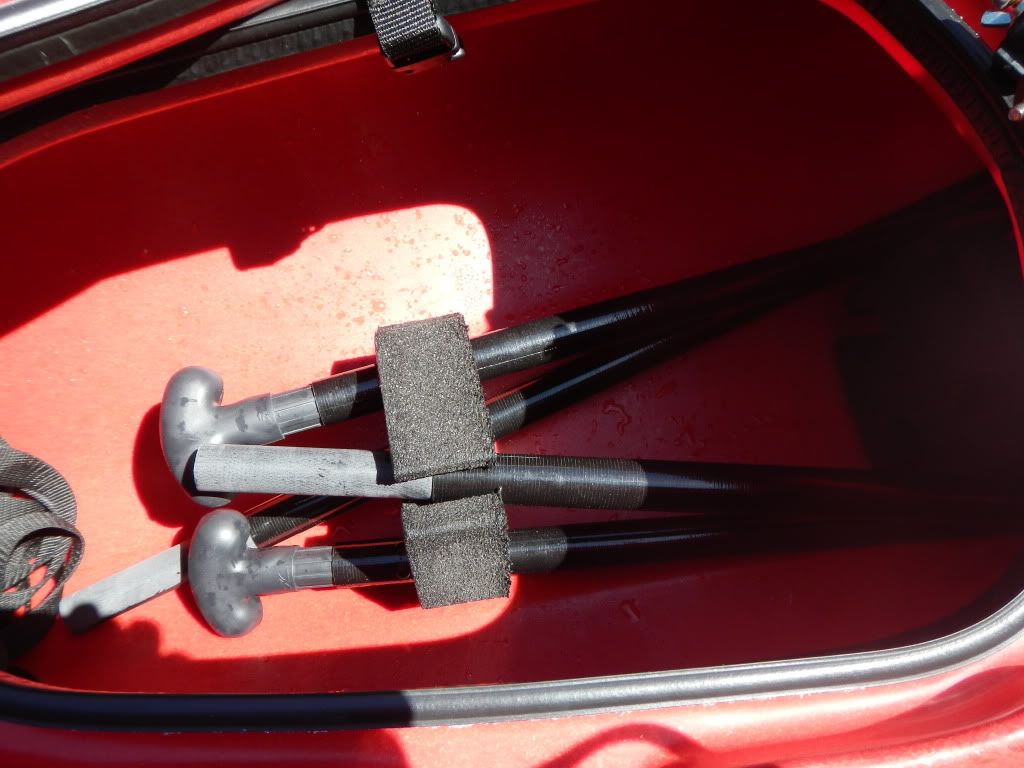 Next thing I added was a shock cord I had a local kayak shop make for my anchor line. The reasoning behind it was The Hobie 3.5 lbs anchor and 6 feet of chain held the kayak so well that I thought the bow eye could rip out one day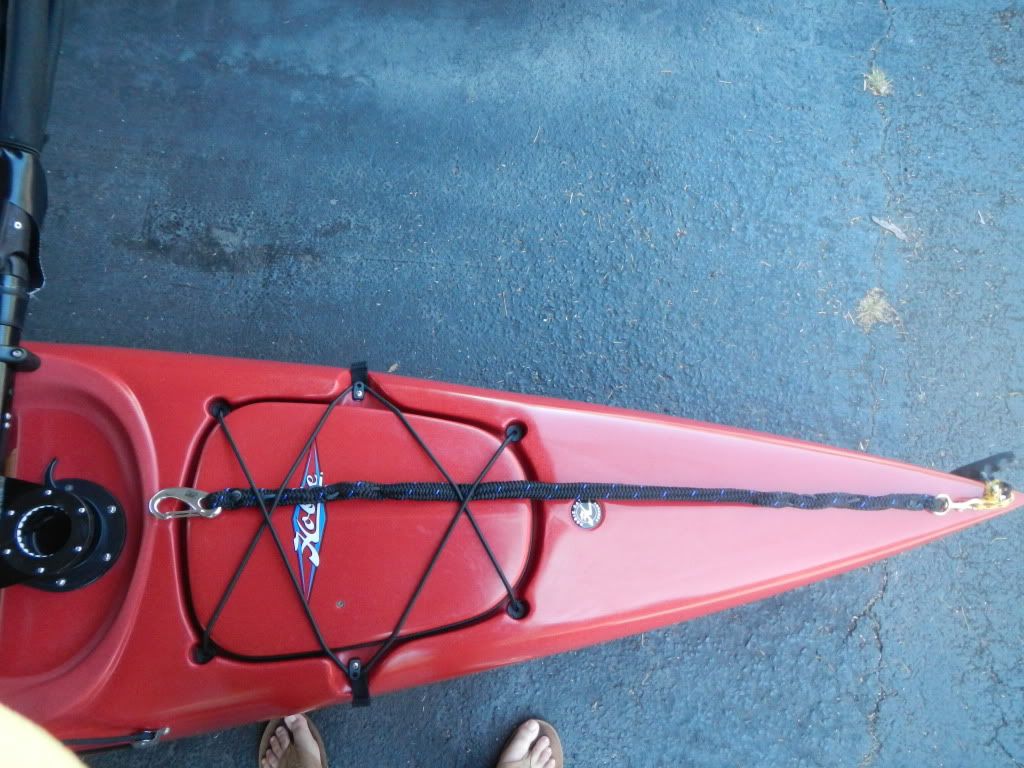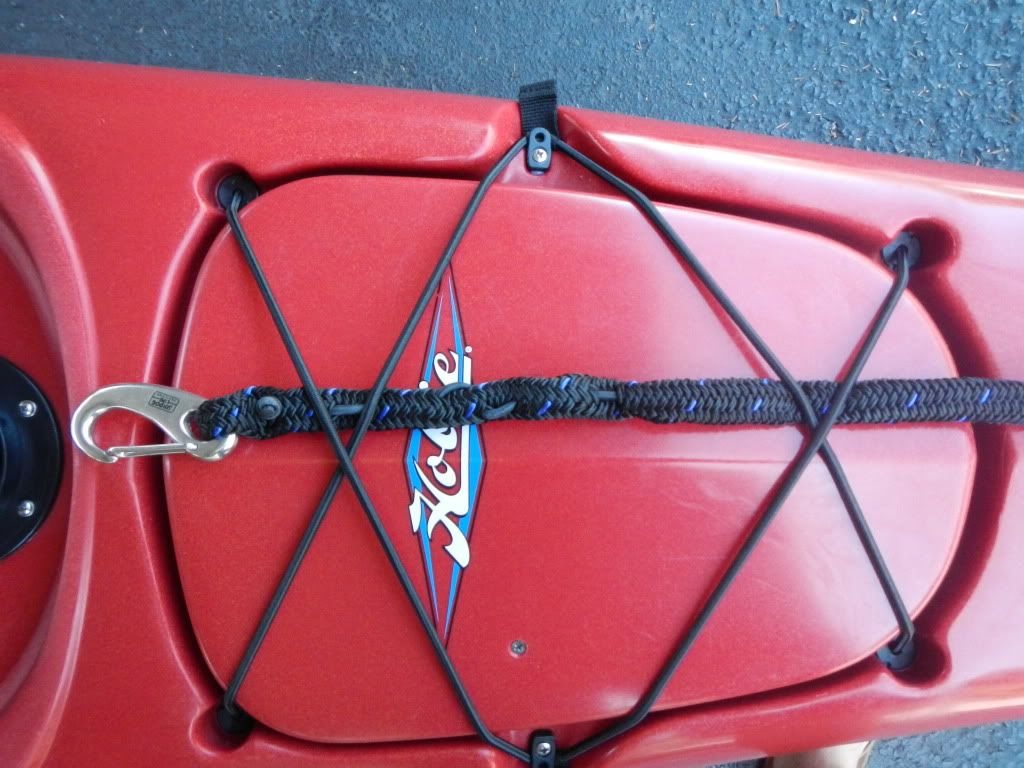 This thing is a beast to move around! We started off with the Hobie universal kayak cart it is a good cart but the tires are not up to the mass of a loaded up Ti. We pooped several tubes while using it. So we decided to get the Hobie Ti cart with tuff wheels. So far it seems like a great cart. I have plans to get another on and make a trailer cart out of them. more to come on that later.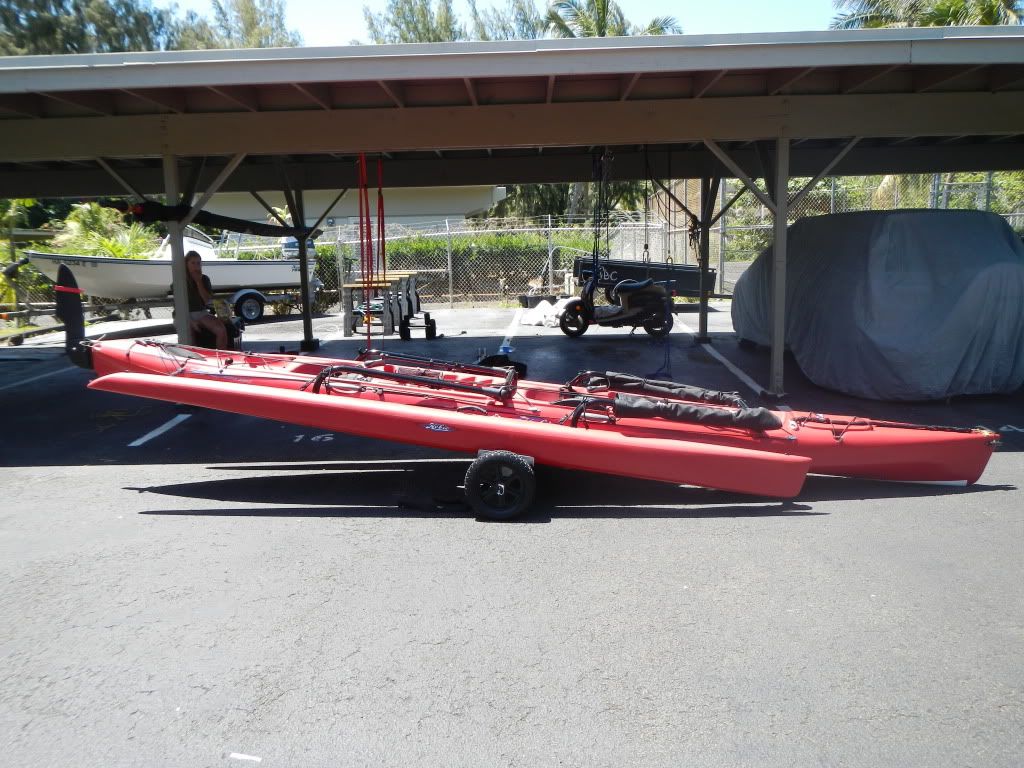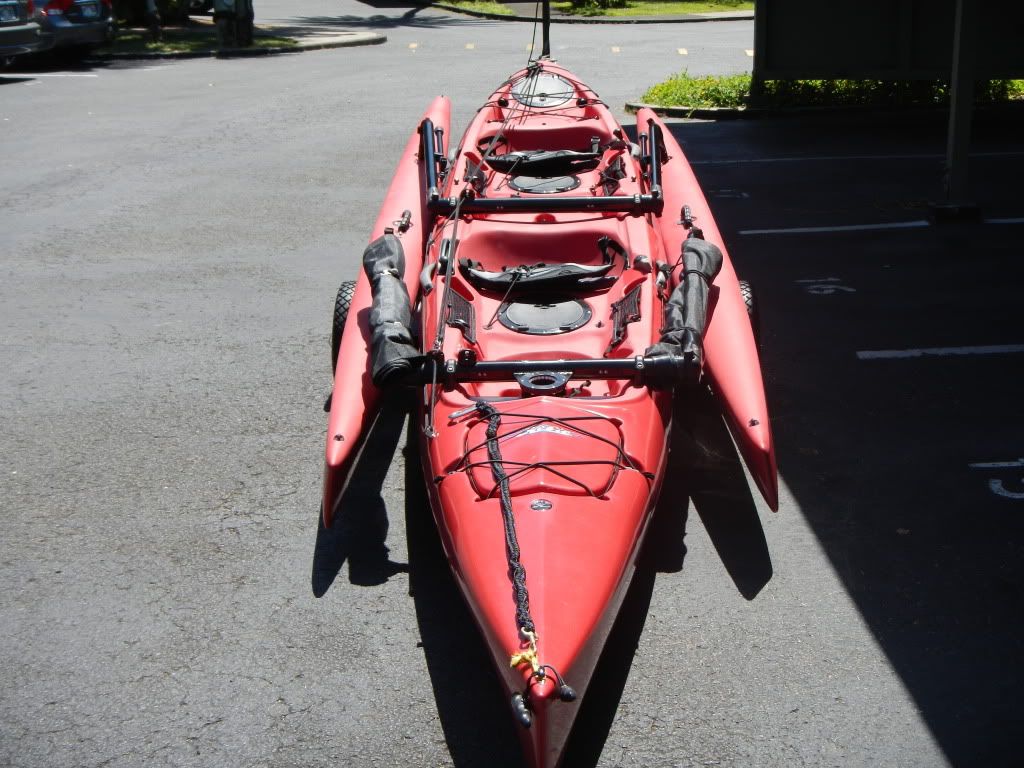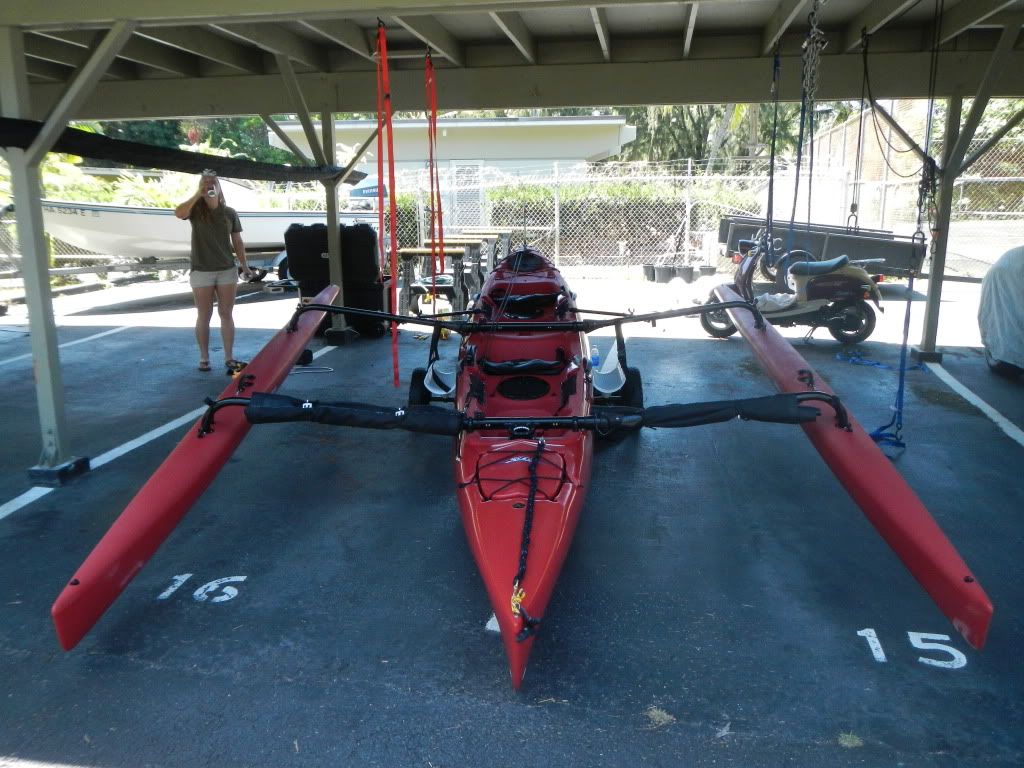 Another good thing to keep around are several rudder pins! They seem to go out when it is least convenient.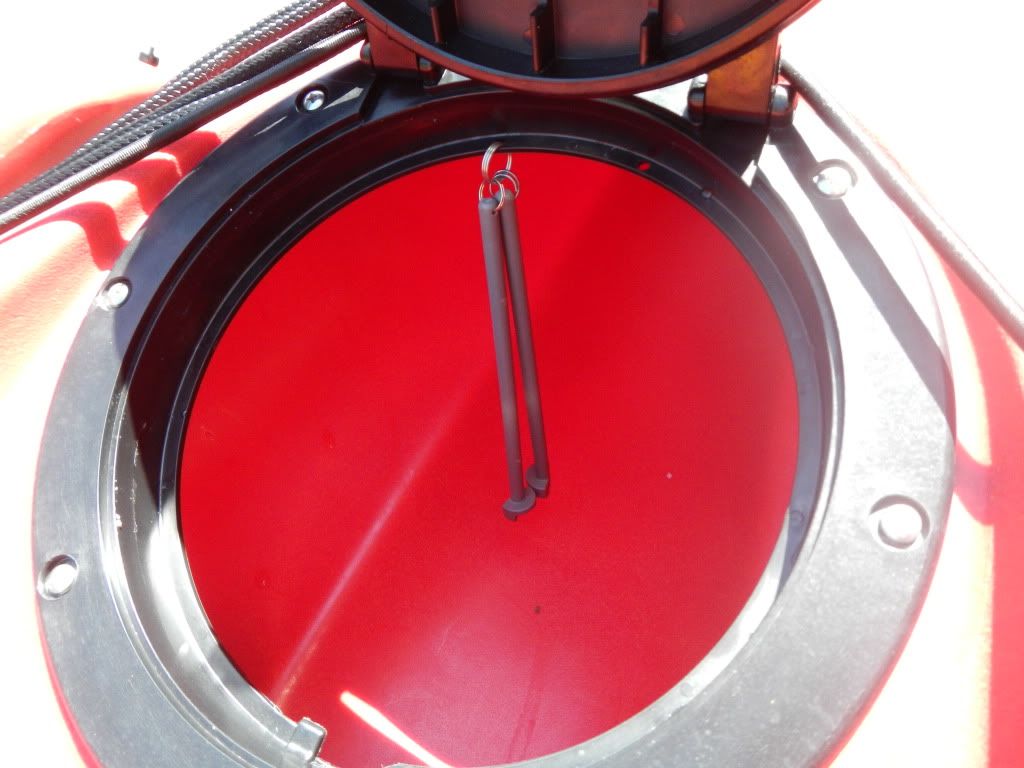 This next one is neat and essential when out on the tramps. I can't take credit for it. The current design came from the Batcave and was made by Tom or better known on this forum as the mysterious Bat Man.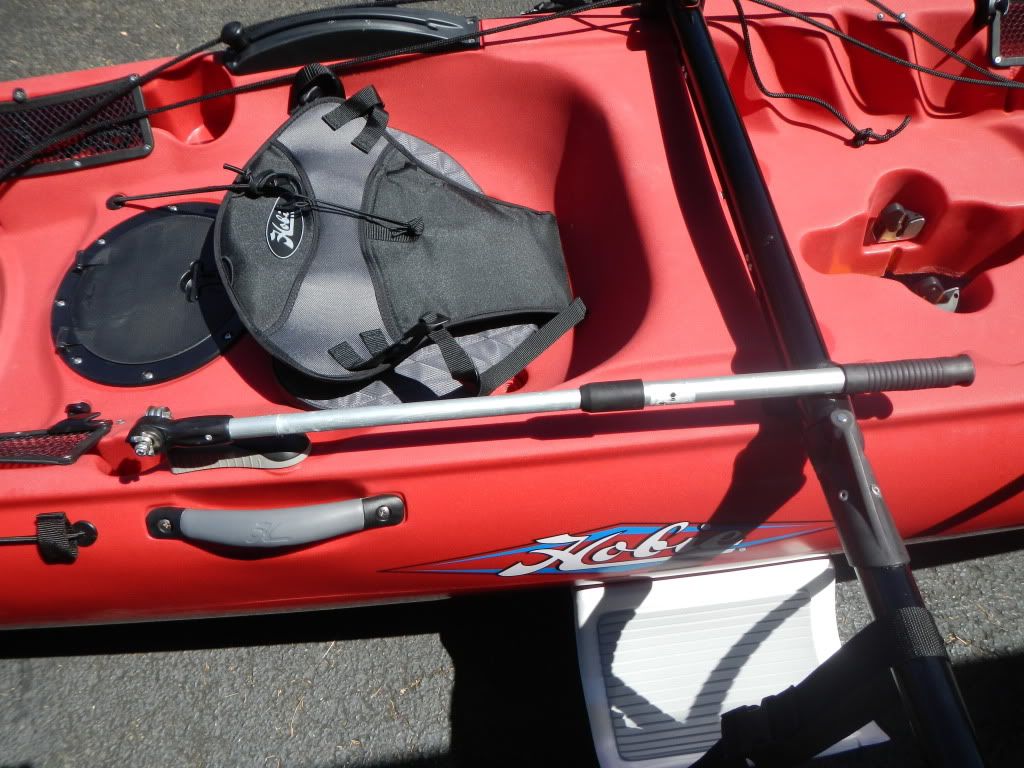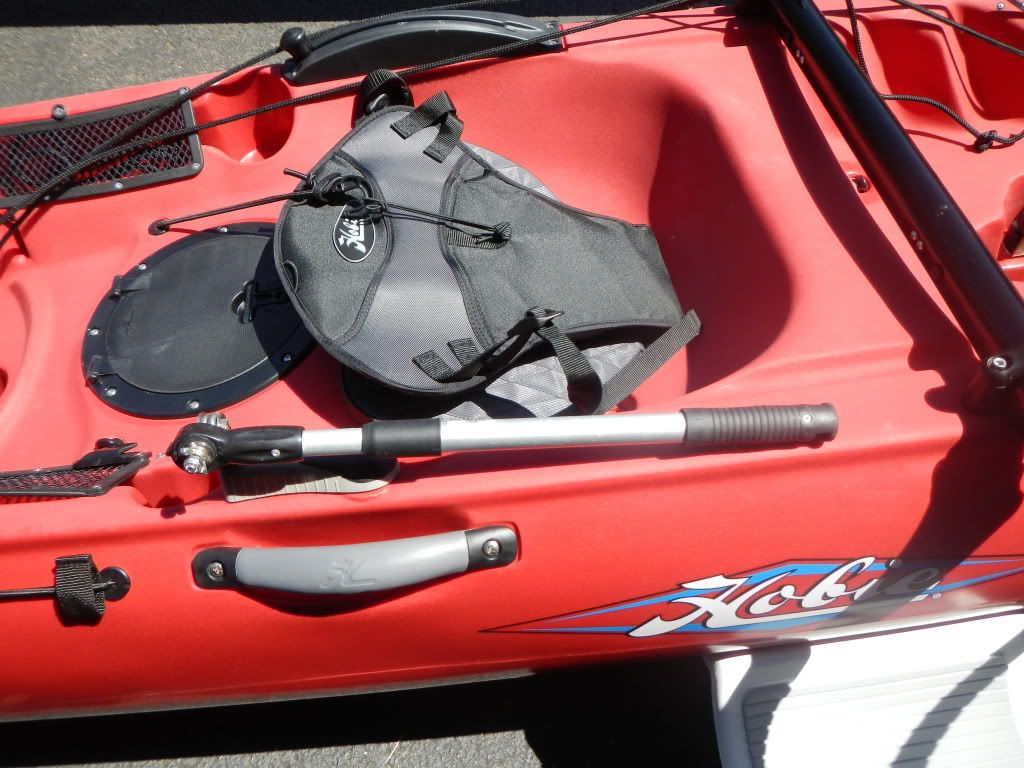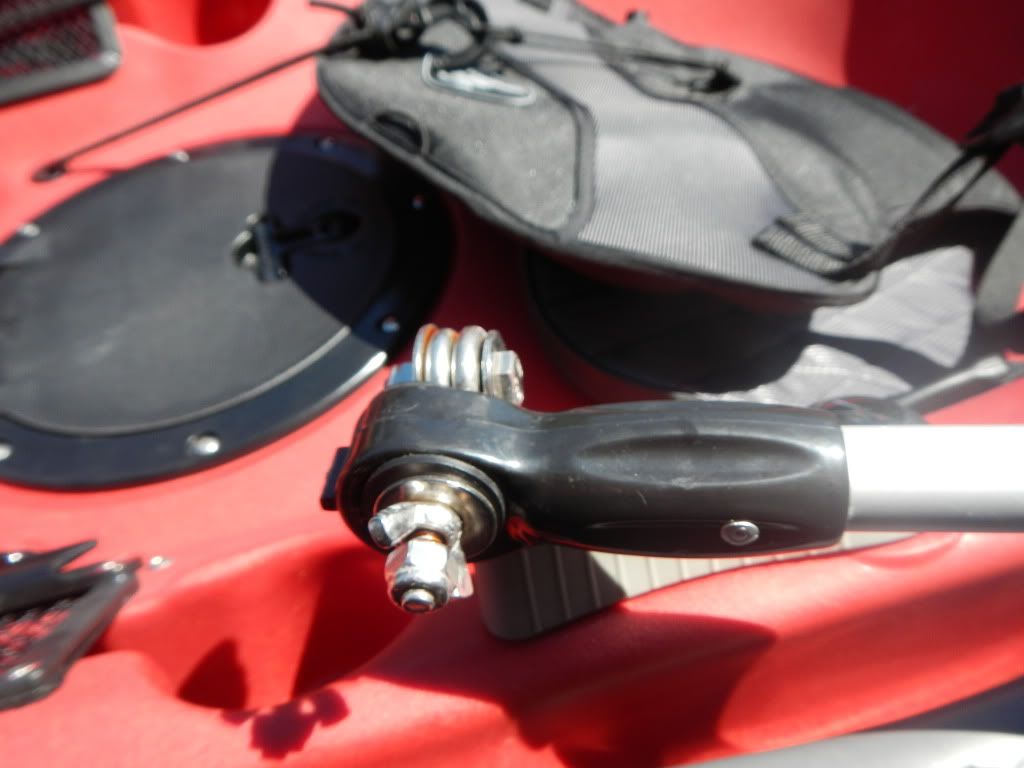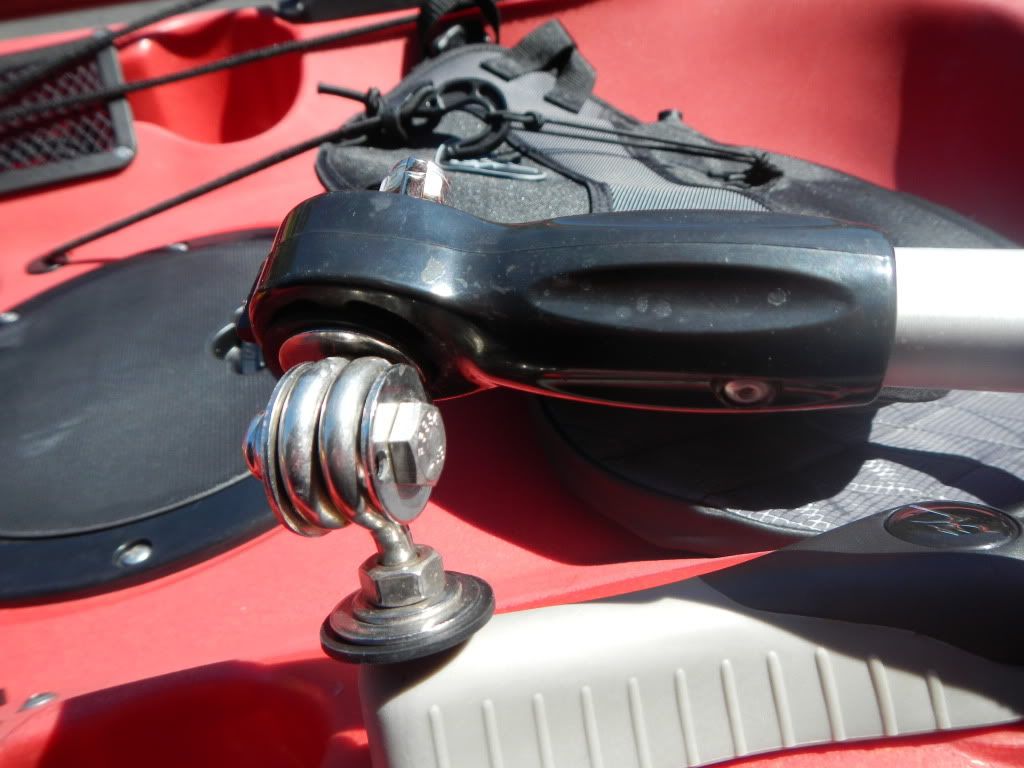 Now I still cringe when ever we scratch the hull on our boat but putting these strips down help quite a bit when it is resting on the bow and when coming ashore. It is made from a thick nonskid that I got from a boat shop. It has about the same texture as the top of the kayak. Know I know some of you may say it is not smooth and will cut down on speed. But I doubt any speed that could be lost is even measurable.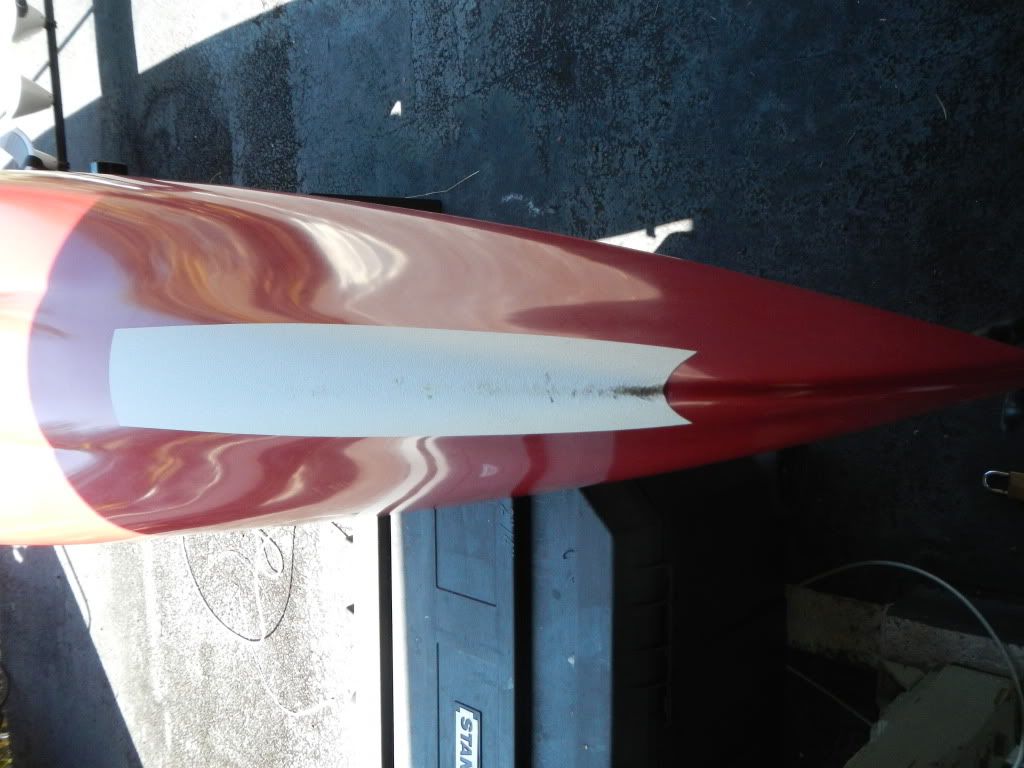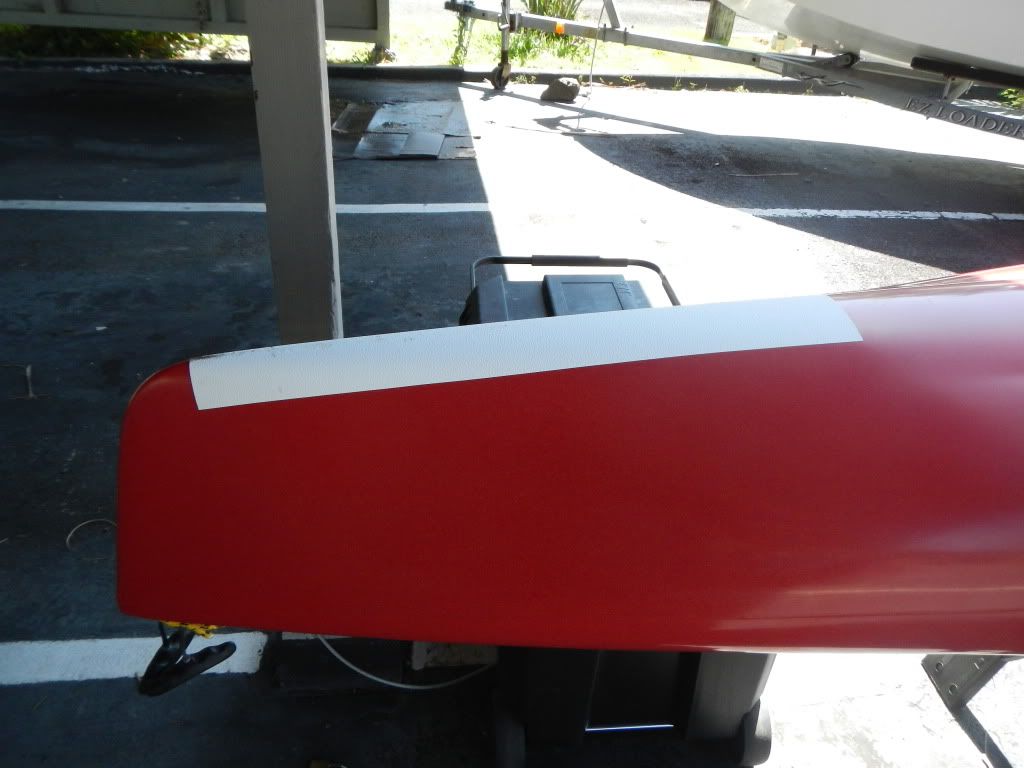 With every thing I read on here about hulls distorting from being stored improperly made me a bit nervous. So to help combat that I used 4 saw horses and turned it upside down on the rails. I also had a steal bradded cable made and have it running through the various openings in the boat.
To protect this awesome rig from the sun I invested in the kayak cover that Hobie sells. It is very well made and worth every dime it cost!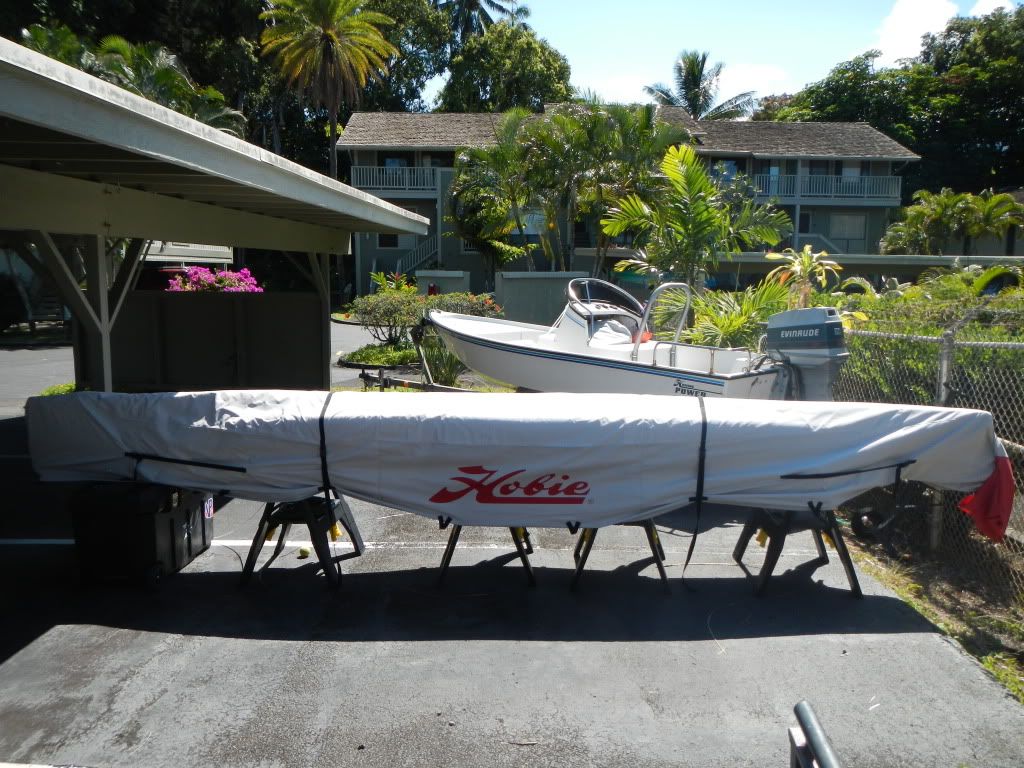 I have another mod in the works that I will post as soon as its completed. It is a sun canopy that will ark from one side of the tramps to the other. The reason for this is so we can get out of the sun when the boat is anchored at our local sand bar.