Hullivators work fine with the weight of the AI. The only problem then becomes getting the AI into the hullivators when they are in the down position by yourself. With a second set of hands its not an issue at all.
I'm 50, and in pretty good shape and can lift pretty heavy objects but single-handing the AI up, rotating it 90* and getting it into the Hullivators in the down position is just about at my limits. Its not the ~80lbs thats the problem ... its hte weight spread out over 16 feet and pretty wide. Its just an akward maneuver. If you do atempt it alone, put your strong hand through the mirage drive opening ..
I've learned not to be modest and I generally will ask for help from any set of hands that may be nearby. People are usually more than eager to lend a hand, but be prepared to answer 1,000 questions your kayak / tri-maran / sailboat / pedal boat
This season I gained the use of a friends' Jetski trailer indefinately. I put a big piece of plywood over it, scred it down, added some padded 2x4 rails and have been using this to launch with. Its MUCH easier and I'm not giving my truck a salt bath after every outing ... I still use the Hullivators to transport on trips though, just not to my usual / local launch
In the shot below, I was experimenting with using a tripod Easel and a ratcheting pulley to lift and suspend one end of the AI while I would then go and manually lift the other end and place it into a hullivator cradle then lower the suspended end and slide that in. It worked OK on even surfaces but on any slant like a boat launch it was not soo good.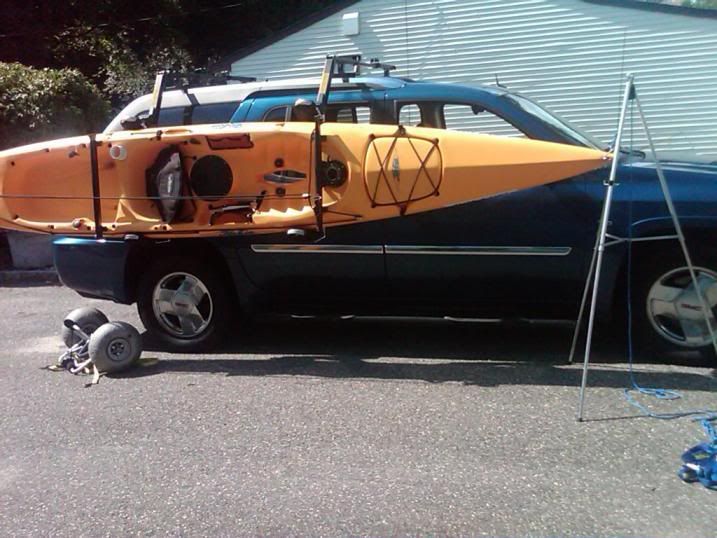 This shot was a few weeks ago on a 1500 mile 12 day roadtrip with my wife and lunatic chocolate lab.