56kz2slow:
My main is 90 sq ft
Jib 40 sq ft
Assemetric spinnaker (G2) 135
90+ 40+ 135 = 265 sq ft
Yea it was a typo oops (don't know what I was thinking)
When I first made the sails the jib (Genoa) was 45 sq ft, and the Spinnaker was 200 sq ft (335 sq ft total (that original design number that I somehow had in my head)), however that was way too much sail for the boat (couldn't steer with the old rudder system) so I cut everything back quite a bit.
This is what I currently run, and really have made no additional changes since summer 2010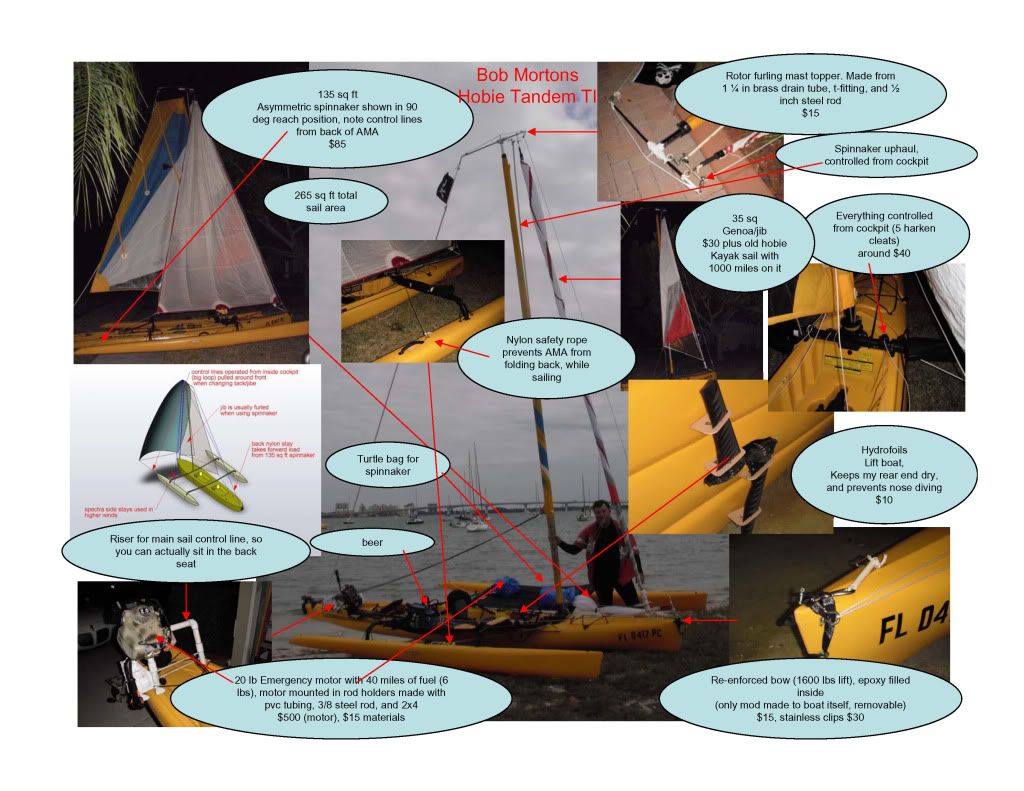 Actually the jib has a couple thousand very hard miles on it now and is pretty shot, the fabric is all stretched out so it no longer holds it shape. I plan to make a new one soon that will be a Genoa/screacher, I'm planning on 65-75 sq ft but am hoping to be able to furl out half of it for use as a jib then when the wind is very low firl out more and use it as a screacher. I have a 2 ft bow sprit and the jib will move out to the end of that along with the big furling spinnaker, you would never use both spinnaker and jib at the same time anyway. The current jib is mounted midway between the main and the spinnaker.
One of the other Florida guys is having pretty good luck with a 200 sq ft spinnaker. I assume because the TI's now have the much stronger and bigger rudder systems (thank you Hobie), I might have to break my sewing machine out and make a new spinnaker (the current spinnaker is also pretty worn out). The spinnakers are a couple hundred bucks in materials, and take quite a bit of time to design and sew up (I would guess a hundred hrs of labor).
Right now I can easily achieve 1=1 to the wind performance on a reach and downwind (sometimes better), Hoping with the new sails I can get to 2/1, or at the very least 1=1 from all points of the wind, or flip over trying (LOL)