ASDASC wrote:
That is FANTASTIC news!

By the way, a couple of things I have been trying to do to spread the word about our wonderful boats is to try bringing at least a few young first timers out on my H16 each year. Last year was only 4, this year was 6.

Near where I sail there are typically over a 1000 power boaters rafted together partying each weekend. I love buzzing by the crowd a few times. It always gets their attention. And I have a boring single color 33 year old boat.

Maybe have a contest next year, to the person who takes the most 1st timers out during the month of July, or something similar. Prizes don't need to be big, maybe a new harness, or $100 worth of credit at a Hobie dealer.
I would do that, but how can you prove you took them sailing?
_________________
http://youtube.com/optikid16030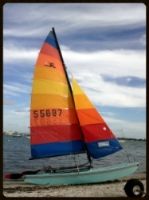 1983 Hobie 16 Cat fever #55697
2008 Laser Radial/4.7 #190471
S.S.S.
S.Y.S.P