Great contribution Bob, it is all good for people learning more about sailing. A lot of the time, as I have to make heaps of tacks to avoid all the oyster leases here in Wallis Lake (half of the oysters sold to Sydney's 4 million population come from this lake), I pedal like crazy going through the tack, gaining ground directly upwind in lighter winds, and helping to keep speed during the tack in heavier winds. The GPS track shows this as rounded corners on the tacks as below. (I started tracking while heading right to left, downwind, while the windward track was some hours later. during my return, helped by some favourable tidal flow.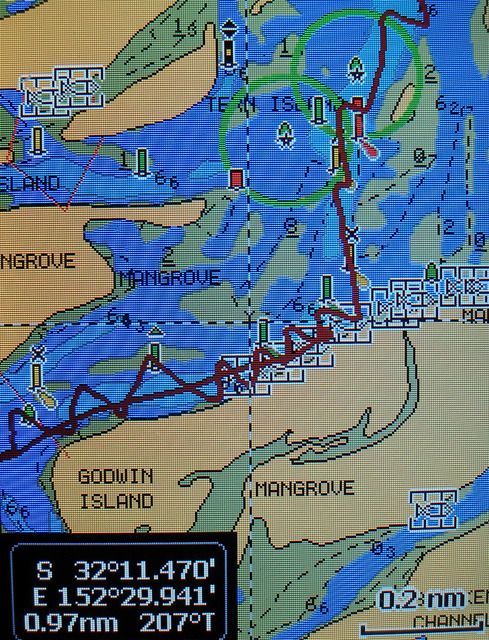 However, I would love to see more GPS tracks posted here, as they show "real world" angles over the ground. Ideally tidal forces should be noted (eg. The entrance to the sea from this local lake sees tidal flows of up to NINE knots, so any GPS track from there would be confusing without knowing the tide. Yesterday I sailed out on a beam reach and was hitting a consistent 8.5 knots, but coming back in, (while surfing!) maximum speed was only 3.8 knots over the ground, and forward speed in the lulls was under one knot...
_________________
Tony Stott
2012 Tandem Island "SIC EM"