fusioneng wrote:
I was there last year, to be honest I didn't know about it until I went to Ken Thompson Park (in sarasota) to launch my TI and go sailing. There were a gizzilian WETA'a and Windriders (literally a gazillion). I was the only AI/TI out there that day that I saw, and really felt out numbered.
Did meet and talk to a lot of really nice people though. I will be going out there again this year, too bad they don't have anything for Hobie Adventures, I think there are quadruple the number of Hobie adventures in the area ( about 75 I have been told (unofficially)), thats more than all the Windriders and Weta's combined. After all the Hobie adventure AI/TI are multi-hull Tri's.

My TI seems to holds it's own with the Windriders, and the Weta's (comparable), if there is no wind this year I will be pedal sailing past them all smiling, might even offer to tow some back in ( for a fee (beer) LOL).
Bob
if you can get a group of adventures then you could probably get a fleet in the windriders or weta group
_________________
http://youtube.com/optikid16030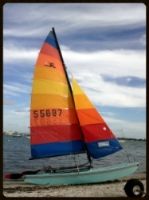 1983 Hobie 16 Cat fever #55697
2008 Laser Radial/4.7 #190471
S.S.S.
S.Y.S.P