Site Rank - Deck Hand

Joined: Thu Aug 09, 2012 1:47 pm
Posts: 24
Location: Northern & Southern Claifornia
Below is what I posted to my forum and will copy and paste here. I'll keep both forums up to date with my yak cruising.
As I mentioned in another topic, I will no longer commit my short vacation time to trailering the T back to the Midwest for the NATS or the Bash. What I intend to do instead is to return to cruising, but in a way that fits my time constraints of caring for dad. I have cruised in the past using my sailboat's dinghy and have covered the length of Lake Chelan, the San Juan Islands (both Washington State), the Valdez Narrows and Colombian Glacier, and 850 miles of the Yukon River in Alaska. This is camping in the traditional sense, no RVs, just my 15 hp powered inflatable dinghy and whatever shoreline I pitch my camp. This dinghy was a conventional hull, so at cruising speed would get around 10~12 mpg, (2) 6 gallon tanks giving me 120+ mile range before needing to find more fuel.

Next dinghy will be a much more efficient cat hull, and electric powered. But for now, going with the extreme hull efficiencies of a Hobie Oasis kayak. This is so efficient that at 3.7 mph, will only consume 21 watt/hours per mile. By comparison, my home built electric scooter would consume 120 w/hr/mile at 30 mph as a wheeled conveyance.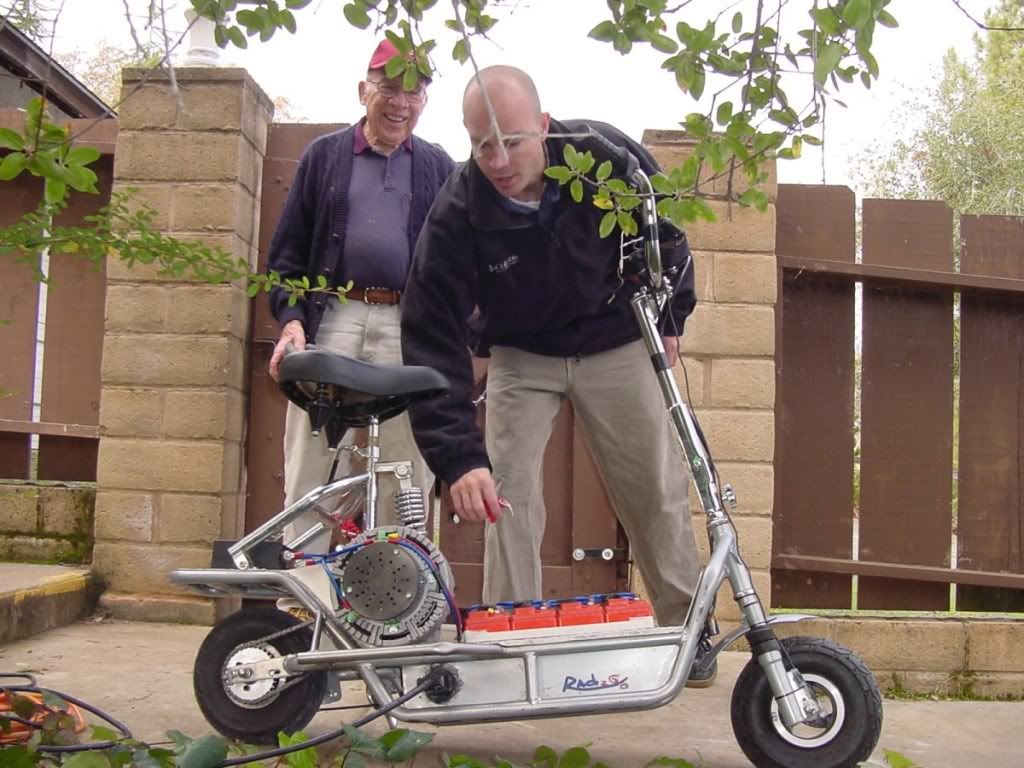 Next Friday I'll pick up the Kayak from the dealer and a lady friend and I will pedal propel it on Lake Natomas, Rancho Cardova, up river (American River) through Orangevale then Folsom before turning around to return to Nimbus Dam where we launched. Stay tuned for how that turns out.

Now back to efficiencies, with the Torqeedo evolve electric drive in one of the two Hobie drive wells and my battery design, this kayak will cruise with no pedal assist for 73 miles, which will make a nice overnight trip following the 75 mile shoreline of Lake Tahoe. For really serious long range cruising, I'll be outfitting it with 136 watts of light, flexible, thin film solar panels. This is how the range will break down with solar, Engel marine freezer, and electric cooking.

1/2 power throttle setting 3.7 mph

For a 2 day trip

Range with solar, 157 miles ......solar and fridge, 146 miles......solar and freezer, 107 miles.......solar, freezer, and electric cooking, 83 miles


Above is a 2 day trip
Below is a 10 day trip

Range with solar 493 miles,........solar and fridge 438 miles,......solar and freezer 243 miles,....solar, freezer and electric cooking 123 miles.

So as you can see, if I want to cover more than just 12.3 miles per day on a 10 day trip, I'll have to pedal some to add to the propulsion equation, and that is the whole idea. Since caring for dad I have lost a lot of conditioning that I used to get playing tennis everyday. With this setup I'll be able to see via digital readout just how much in watts my muscles are working, and slowly get back into shape at the same time getting my cruising fix.

That is why here in the Cruising Forum I've added this topic, to document the build and future trips. Of course there will be a lot of pictures as I plan to circle the shoreline of Lake Tahoe, Folsom Lake, Lake Powell, and maybe if I feel it is stable enough, Catalina Island, Sea of Cortez, and the Florida Keys.

Stay tuned for next Friday's posting.
_________________
Bob