My aims were fairly simple - to test out the new one-way valves I had fitted to the rear seat well of my TI. I had removed the seat, so I could spot water levels.
The tide was slightly favourable (<2 knots), while the wind was gusting to 25+ knots, mostly on my starboard quarter.
The wind was strong enough to furl the sail to half size, but I was still getting sustained bursts of 8.5 knots, with everything in front of the mast sitting under the bow wave.
The one-way valves worked perfectly with zero water appearing in the rear seat well.
Heading around the island to turn south, life became easier due to the island acting partially as a wind-break, but speed was still impressive.
As there was no way I would be able to swing south-east around the island and go to windward, I pulled in to a small village (see arrow), and out of curiosity, called the local Marine Rescue tower. They told me that they had recorded gusts of 49 knots!!! So I resigned myself to sleeping in the park at the water's edge until the winds dropped (forecast for around noon the next day). One of the locals spotted me, and invited me in for coffee, and a few hours later, the wind dropped enough to be tantalisingly mild enough for continuation of the trip, so I headed off again in the dark after rigging my masthead light.
Immediately, it began to rain (the first rain for more than a month here) but my waders & cycling wind jacket did a reasonable job of keeping me warm.
My Lowrance Elite 4 chartplotter now earned its keep, as its display, plus depth readings, enabled me to negotiate the many shoals, despite the clouds having shut down any possibility of moonlight.
Once heading north, there were enough lit marker poles to get me in the general direction, and the wind angle now meant that I was doing up to and over 5 knots to windward in the dark.
Luckily the many oyster leases here all have boundary fences, but it was still difficult judging how close I could go when tacking was needed, and I was also aware that not all marker poles were lit (crazy).
Eventually I got back to the boat ramp at about 11pm, very pleased to be able to take a break from straining to see potential obstacles in the darkness.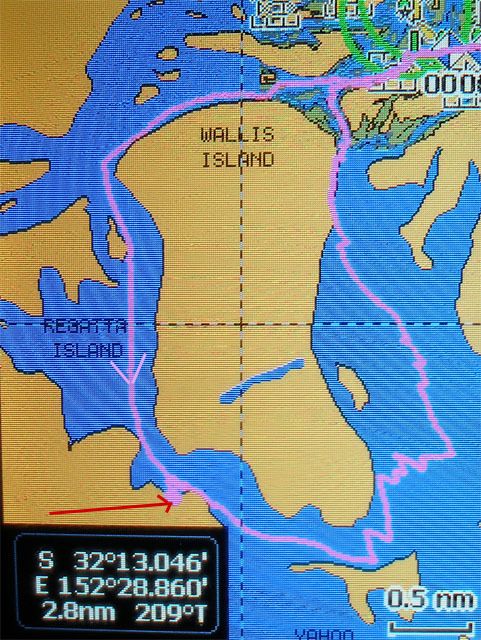 _________________
Tony Stott
2012 Tandem Island "SIC EM"