John Lunn wrote:
Any comments on battery life on the GoPro series?
My F16 buddy complains that 'it never lasts'....

Has GoPro released the software update for GP3 Black?
you should have about 2.5 hours depending on what you are doing. if its a problem you can get a big sd card and the battery extension, i think you get like 4 hours i might be wrong
_________________
http://youtube.com/optikid16030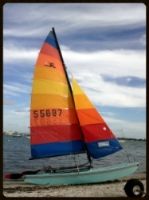 1983 Hobie 16 Cat fever #55697
2008 Laser Radial/4.7 #190471
S.S.S.
S.Y.S.P