Hi everyone,
Long time since dropping in here so forgive me if this is not the place to put a trip report. Have been keen to do a run through the Myall Lake system for some time now but the moon and stars took some time to align! Had planned to go alone too but as luck would have it my 69yr old dad was free and keen to join me which was just great. Still not sure if he knew exactly what he was in for but I didn't lose him and he's still talking to me...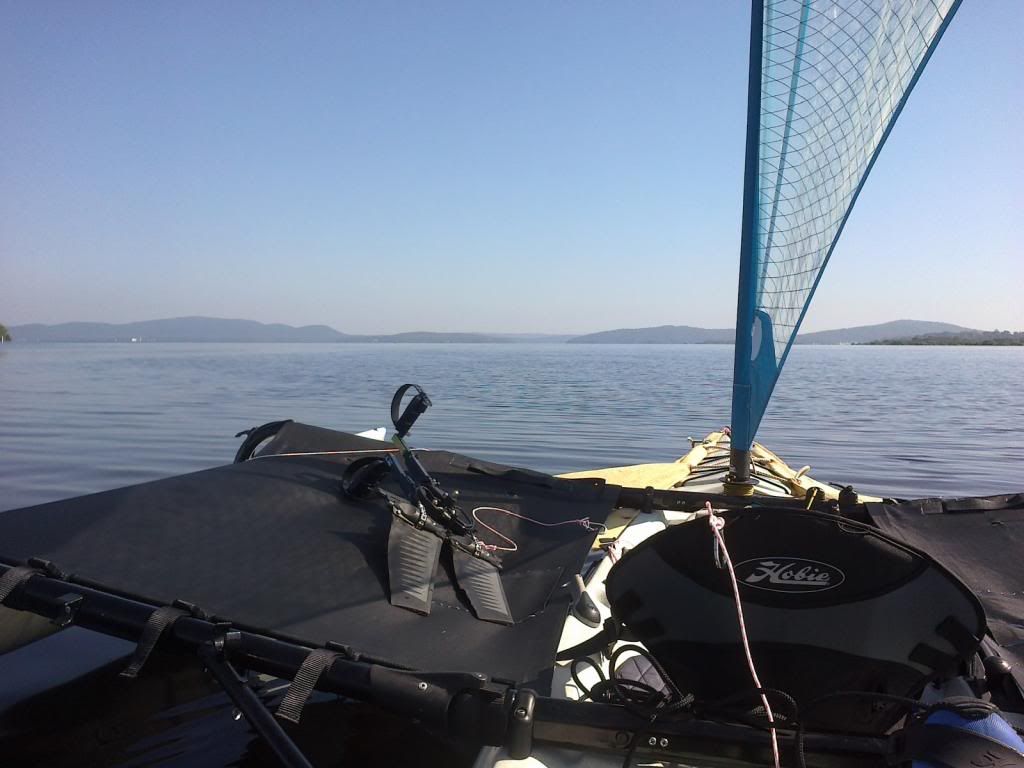 The Myall Lake system is a fantastic series of freshwater lakes that cover over 10,000 hectares within the 44,000ha Myall Lake National Park. Neranie, in the far north east is about an hour and a half north from Newcastle NSW and there are a number of closer access points as detailed in the NPWS website or the aquatic club website below.
http://www.environment.nsw.gov.au/Natio ... x?id=N0026
http://www.mlac.org.au/Myall_Lakes_system.htm
Trailered the TI up to Neranie which is on the North Eastern end of the Myall Lake system near Seal Rocks. Loaded all our camping gear and food aboard in light rain and nervously headed out into the lake. I say nervously because this was the first camping run I have done at all so we were just happy that we were still floating and could put the periscope away.
Our original plan had been to find three Geocaches with one located at Neranie Headland, the second at the western end at Nerong Waterfront and then a third one completing the magic triangle at Jimmy's Beach. In the rain we decided to give the first one a miss rather than trudge through the soggy bush and so the magic triangle still remains an unsolved challenge.
Tacked west through Myall Lake with light winds and fairly calm conditions. The breeze slowly blew the rain away by lunch and we made good time to Johnson's Beach for our first night's camp. As this campground can only be accessed by boat or by foot, we had the place to ourselves. Clean campsite and enviro loo toilets courtesy of NPWS. (Apparently a very popular campground during summer with waterski groups who float all their gear to the camping area). A friendly dingo popped in to check that we were both ok before moving on to complete his rounds.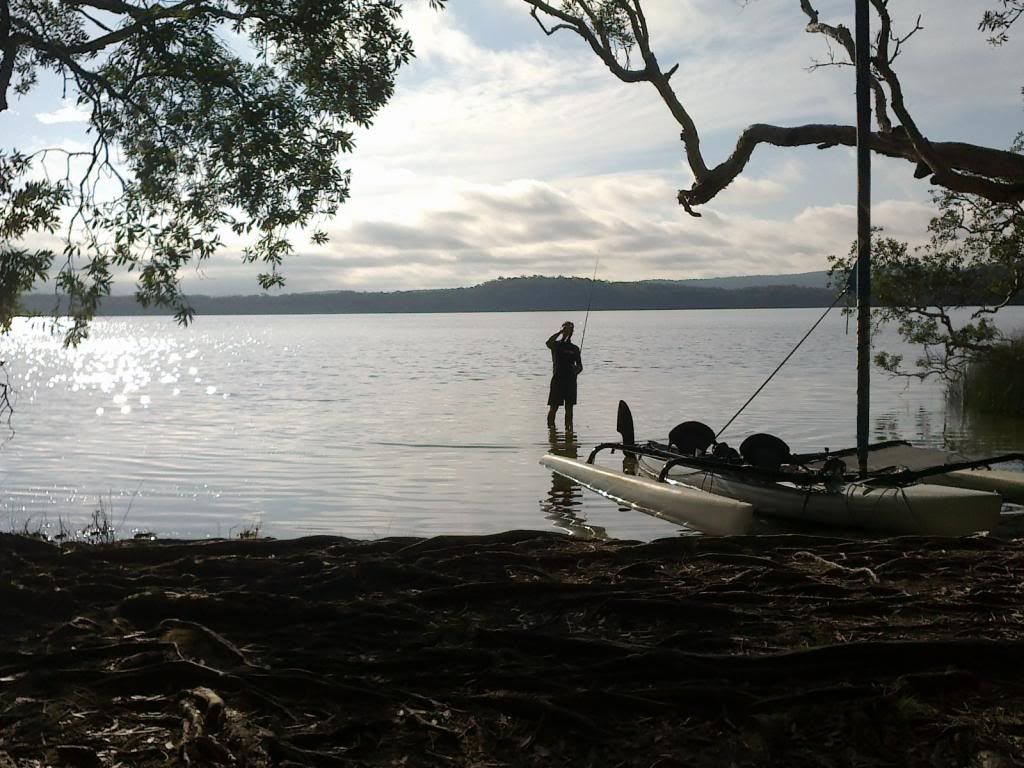 Day two we headed north through Boolambayte Lake and then south through Two Mile Lake to the ferry at Bombah Point for 'lunch'. Neither of us had checked a phone or watch to see what time we had got up, or left camp or pulled up for lunch so we were surprised to find our stomachs had pulled us up for 'lunch' at 10:45! Hungry work this sailing gig!
By then a strong wind was blowing from the south west across the shallow Bombah Broadwater to build choppy waves to whitecaps so we filled our bellies and then donned the wet weather gear for the beat to Nerong. Didn't take long before dad bailed out of the front seat to sit on the windward tramp in an effort to reduce the amount of water he was wearing or swallowing. He gave up on trying to clean his glasses and although I offered to swap places with him numerous times he seemed to be quietly enjoying the pace and the action.
As we neared Nerong the wind kept its pace but the water was better behaved and we started to dry out a little. A bit of pedalling up to the waterfront warmed us up and we were keen to shed some layers once we made it to Nerong. We found the geocache (with a little help from a local... feel like a bit of a twit walking thru a park with a GPS and a lady who I've never met before calling 'warmer, warmer, very hot, oh no colder', etc until dad came up with the goods. If this makes no sense to you then google geocaching.com and I apologise in advance). Our magic triangle at least had one of three points!
We back tracked east from Nerong to River Mouth campsite, (which is another by foot or by boat campsite), and again had the place to ourselves. Only about 6 'sites' here but another good loo block and this night we were entertained if not stalked by a couple of big goannas that seemed keen to share our dinner with us. I reckon between the two of us we'd struggle to eat a whole goanna so we called a truce and agreed not to cause one another any grief. Fish in the river at sunset jumping like they all had ants in their pants.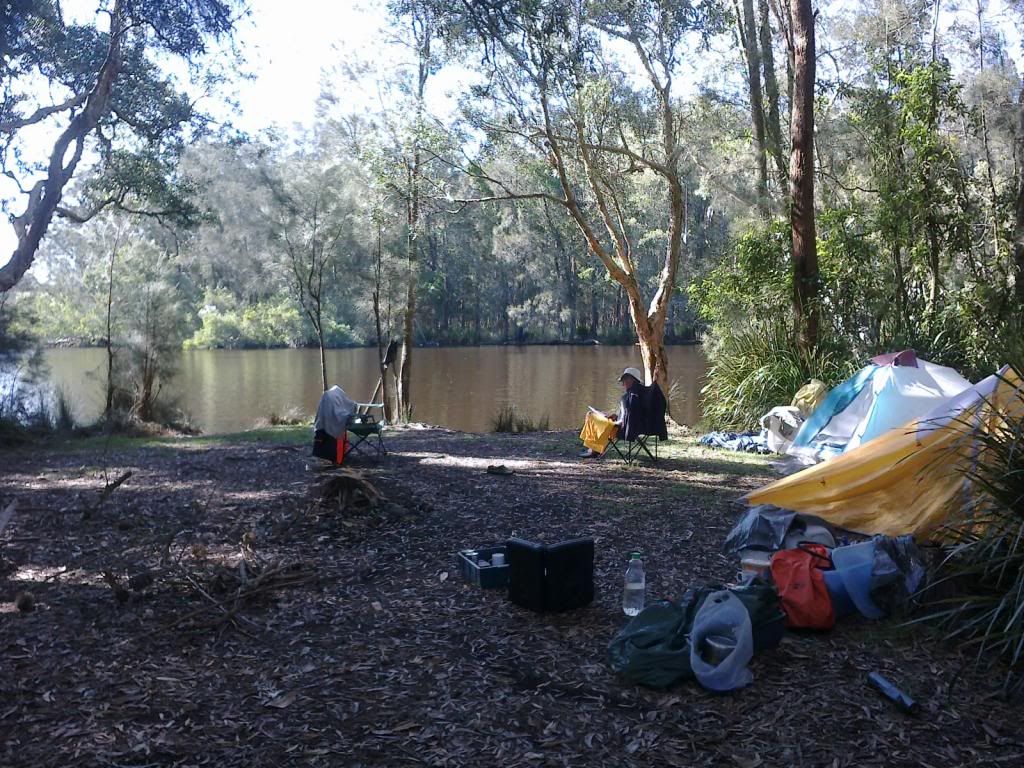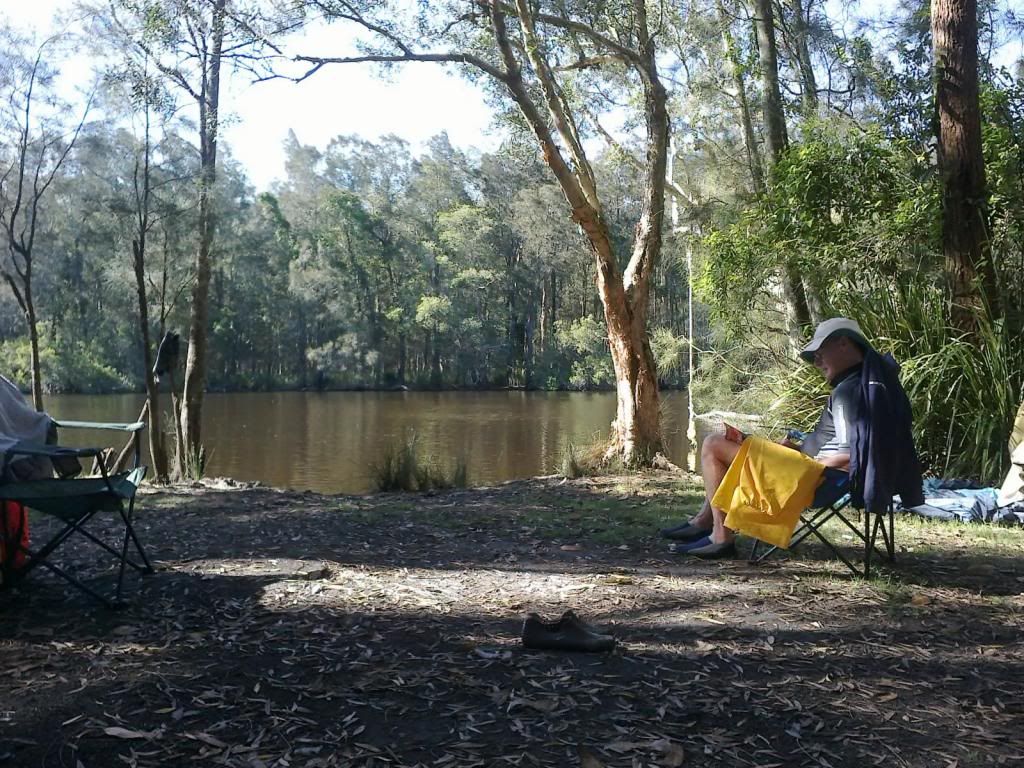 Up early the next day with a forecast southerly promising for a slow day on the river section. We headed south east back across the broadwater towards Tamboy where this huge lake system flows steadily out a narrow passage as the Myall River. We made good time across the broadwater with the wind either behind us or across us allowing for a broad reach and pleasant conditions. Once in the river though in the narrow channel it was a different story with a million tacks in fairly small water making for slow going. There is very little current so against the southerly, drifting downstream was not going to be an option. So we tacked and tacked and then tacked some more...
The banks of the river are lined with tall trees for much of the way which make for an artificial wind. By that I mean that we would fight our way against a headwind down one stretch thinking that in the next section the change of direction would mean we would get a chance to reach more, but because of the general direction of the wind and the height of the trees the wind tended to funnel along the river regardless and felt like a headwind for much of the day. We were pedalling and tacking and forwards and backing and quite relieved to pull up for a bite to eat. The winds were forecast to 40+kms/ hr and even though we were below the tree line they were making life difficult. The gusts would burst over the tops of the trees in such a violent way that we were caught out a couple of times side on to the wind and had to lean and loose the mainsheet quickly to stop from going over. I didn't think we could bury the ama so far but soon after took to reefing the sail and spent most of the day pointing as close to the wind as possible so we would round up rather than get blown over.
In hindsight we might have been better doing the whole trip the other way or just wait for more favourable winds, but we could be waiting a long time! Eventually after one million and one tacks we emerged into the lower reaches of the Myall River at Tea Gardens where we had arranged to be picked up. We didn't log the trip on GPS but must have covered at least 90kms in the three days and enjoyed a special part of our world. Myall Lakes are still very much untouched and makes for peaceful and unspoilt sailing and paddling. I was really happy with the way the TI covered the distance and although the last day down the river was slow going we had sailed more than 95% of the previous two days so were up for a bit of pedalling anyway. Having sailed catamarans for many years and loved them, I have to admit that the TI was tailor made to do this sort of trip.
If anyone is keen to do the same run grab the NSW Maritime Map "Myall River and Lakes" No 7B. Waterproof for $7 online at their website. There was optus phone reception at both campsites which allowed us to put mum's mind to rest each night. I assume there is reception for most of the area.
All in all, a fantastic few days on the water and a bonus that I got to share it with my dad. No doubt the Magic Triangle will lure me back one day...how about you????