In the winter months we come off the rivers and head to the lakes. It's cold but if you have the right clothes it's not too bad. Plus, it's a great time of year to catch striped and hybrid bass. Here's one of several we got a couple weeks back fishing out of our Pro Anglers.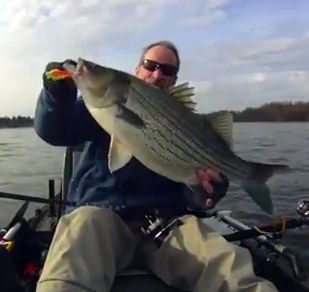 One thing we're beyond sure about, is that we catch more than the powerboaters do in the same areas because our kayaks are quieter. The Mirage Drive lets you move over and around shallow schools of fish without spooking them as easily as you'd do with any kind of motor running.
We've also done some fishing out of the TI and to tell the truth, it makes a heck of a two-man fishing boat. Really much better than I thought it'd be.