There's so much about to go wrong here, I don't know where to start.
If you're going to re-do the gel coat, don't use epoxy to fill dings. Gel coat doesn't stick well to epoxy. (Sounds like I'm already too late on this one.)
Epoxy and polyester (gel coat) resins are fundamentally different:
Epoxy is mixed with its special hardener at a pre-determined ratio that needs to be fairly exact. For example, WEST System is a 5:1 ratio. Heat is the only thing that can speed up the reaction. Too much or too little hardener will make a gummy mess. When epoxy cures, it leaves an amine blush on the surface that must be removed before anything else will stick to it.
Polyester is mixed with a catalyst (usually MEKP) that's measured in drops (usually about 12-15) per ounce of resin. You can adjust the speed of the cure by varying the amount of catalyst (within limits) or heat. You can make it go off so fast, it will catch fire. Alternatively, you can slow it down (by putting it in a freezer) so that it will take months to cure. Gel coat is just tinted polyester resin. The boat was originally built using polyester resins.
Every coat of gel must have catalyst added or it will remain liquid forever. If it's not protected from air, then it will remain tacky - it will not cure hard - which is what you want when you're doing multiple coats so that successive coats stick to each other. The only reason to go with multiple coats is to prevent sagging and drips. There is no "sanding between coats". If you are brushing, you want the gel to be thin enough to flow out and eliminate brush marks.
On the last coat of gel, you either add styrene wax to the mix or spray with PVA when the gel starts to go off. That will protect it from the air so that it cures hard enough for sanding.
Adjusting the viscosity of WEST System resin is done with additives -
http://www.westsystem.com/ss/fillers-and-additives/
But like I said, don't use epoxy under gel coat. Use this instead:
It's a vinylester filler that works great under gel and sets up in about 10 minutes. Don't use the blue hardener that comes with it - it's very hard to hide under gel coat. Get a tube of 3M white cream hardener (it's all benzoyl peroxide).
Or you can use this stuff: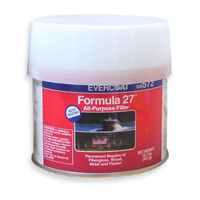 It's polyester based and somewhat softer than the 3M filler.
I cannot stress enough how important ventilation is when using polyester resins. Don't even think about doing this in a habitable part of your house - even brushing. The fumes are poisonous and flammable (styrene has a flash point of 88 degrees). Even if you're doing it outside, you should wear an organic vapor filter mask. If you're doing it inside, you need a supplied air system.
Gel coat isn't hard to work with, but it sounds like you need some practice before you take on a job as big as recoating a Hobie hull. Try working on scraps of wood first. Use the filler spread thin to "seal" the wood, sand smooth, then try coating it with gel coat.