Only one thing I can think of off the top of my head and that regards the rudder grudgeon on the TI. The stern of the AI and TI aren't the same. The AI is flat and the TI is rounded. The grudgeon on both, however is flat. So the grudgeon on the AI sits flush against the stern, while the grudgeon on the TI isn't flush.
I don't know that this would ever cause a problem, but it might be conducive to the grudgeon bolts failing at some point. With the forces from the rudder being placed solely upon the bolts instead of two flush mounting surfaces, the rate of fatigue on the bolts will surely be increased.
It's an easy fix, if you want to bother. Pull the rudder pin and remove the bolts holding the grudgeon to the hull. Now find a large round surfacce - very large diameter PVC or pipe, etc. Wrap some 80 grit sandpaper around the curved surface and and slide the grudgeon back and forth until you have created a concave surface that closely mimics the shape of the TI's stern. Go slow and check for fit often. Once the proper relationship between grudgeon and hull have been established, smooth the prepared surface with some 150 grit paper (just trying to be neat) and reinstall the pieces.
If you do this, be advised that it's not at all hard nor very time consuming, but you will want to be very careful as you go so that the grudgeon will mate nicely with the hull. I ended up taping a piece of sandpaper to a large diameter cardboard cement footing tube. This thing is about 18 inches in diameter if that gives you any idea of the radius you're looking to create for a good match to the hull.
Okay, one more minor thing - My rudder was often hard to turn to one side. It deployed and retracted just fine, but sometimes I really had to fight it to maintain steering control. One day I shot a photo inside the stern of the hull and noticed that two of the lines were crossed in such a way that they were creating some tension against one another. While I wasn't sure that this was the problem, I took a couple minutes to reroute them so that while still crossed, they no longer exerted pressure against each other. Now the rudder is very easy to turn.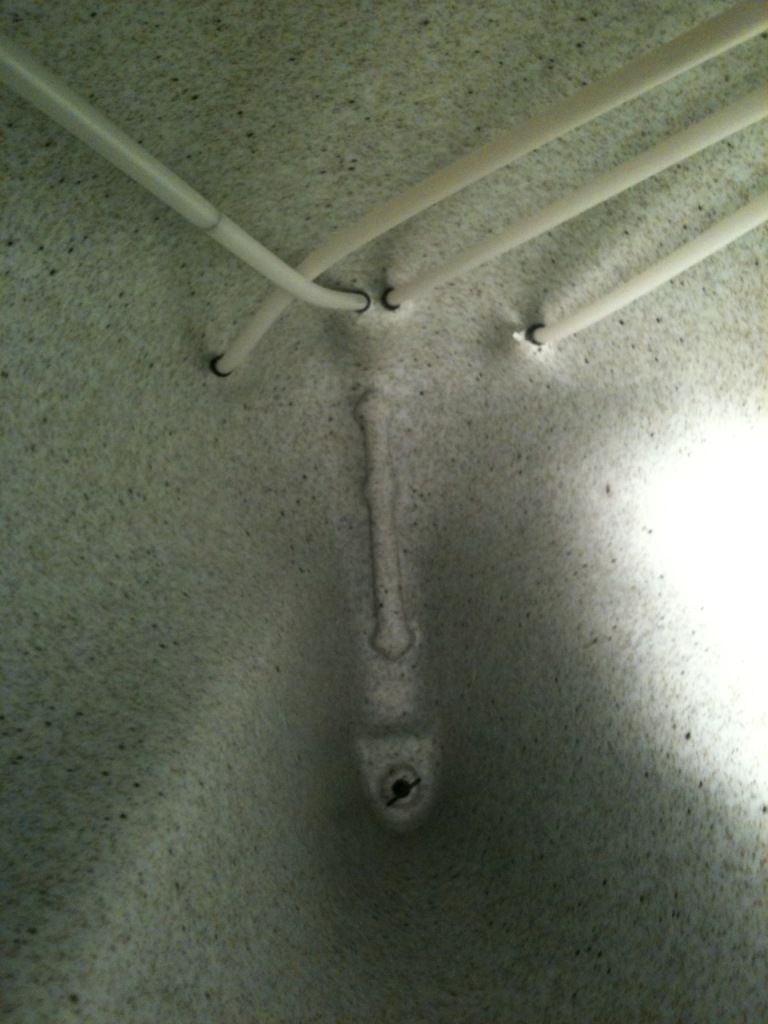 Lest you think these boats are trouble prone - I don't think so. Sometimes with anything of this nature you have to trim and tweak a few items to get things dialed in to your liking. I've certainly enjoyed my TI and would be sailing it almost every day if the weather permitted.