Very Strong, 3-Board Hakas
--Details of materials, costs, time
Update 6-20-2013:
The discussion below refers to my original hakas--very strong, wood/glue/screw construction. I have since made a lighter set, not as strong, which uses an wood/aluminum frame/screw construction. (
http://www.hobiecat.com/forums/viewtopic.php?f=70&t=7276&start=240
) If you have kids, you may want to build the stronger set described below. The lighter, Al-frame set described in my "Expedition" thread, is designed more for use during camping trips. One haka is designed to convert to a table on landing.
I finally got around to building a set of 3-board hakas. They are based on Jim Quinlan's (aka CaptnChaos) design. (see
http://www.hobiecat.com/forums/viewtopic.php?f=69&t=37645&start=570
) All designs owe their inspiration to NOHUHU. These are industrial strength. Each haka weighs 14 lb. (6.35 kg) complete with pad eyes, paddle cozy, permanent bungee cords for attachment to akas and a safety strap on each board. It took about 18 hrs to build the hakas plus many hours thinking about the project, and numerous trips to Home Depot & West Marine. Using a haka as a bench, it supported my friend Marc & me (>425 lb) when we sat in the center. They also work nicely with my 10-yr old, aluminum table frame to make a huge, stable camping table.
Steps in my construction of industrial-strength hakas
Materials
Cost (US$)
• 8 6' 1x4 Regular pine boards (whiteboard) $22
• 120 Grit sandpaper $4.
• 220 Grit sandpaper $4.
• Hand sander $8.
• 1 qt MinWax gray stain $7.77
• 1 qt McClosky Marine Spar Varnish $28.
• 1 pt Bottle paint thinner $6.
• 1 pt Bottle turpentine $5.
• 2" Oil paintbrush, flat cut $6.75
• 1 8 oz Bottle of Titebond III waterproof glue $7.50
• 3 Boxes of 25 each of SS pan head screws, #10 x 1¼" $20.
• 1 Box of 25 each of SS pan head screws, #10 x 3/4" $7
• 2 Boxes of 50 each SS pan head screws, #6 x ½" $14.
• 2 Aluminum angle 36"x1"x1/8" $20.
• 13' 5/16" Bungee cord $17.
• Misc SS bolts, SS screws, SS washers, nylon washers $20.
• 1 dozen pad eyes $5.
• Clip for upper paddle handle bungee $3
Total $205.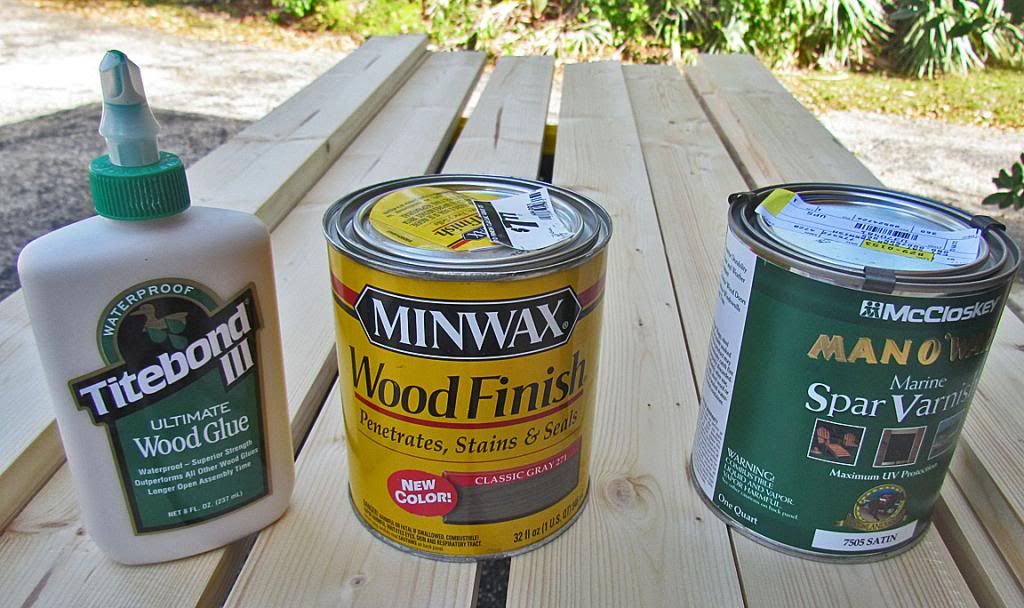 Not included in the above costs, but necessary tools:
• 2 Saw horses—Stanley 32" adjustable sawhorses are great.
• C-clamps—I have 4 2", 2 3", 2 4"
• 2 Irwin 24" Bar Clamp/Spreader
• Jig saw w/ metal and wood blades
• Electric drill with variety of drill and driver bits
• 16"x24" framing square—I used 2 of these.
• 12" Bastard file
• Some common hand screw drivers
• Metal punch
For the following discussion,
"boards" are the 6'x1"x4" boards.
"Cross piece" or "cross brace" are the 11" or 15" 1"x4" pieces made by cutting 2 into pieces. For each haka there were 3 11" and 2 15" cross pieces.
Here is a schematic of the underside of one haka.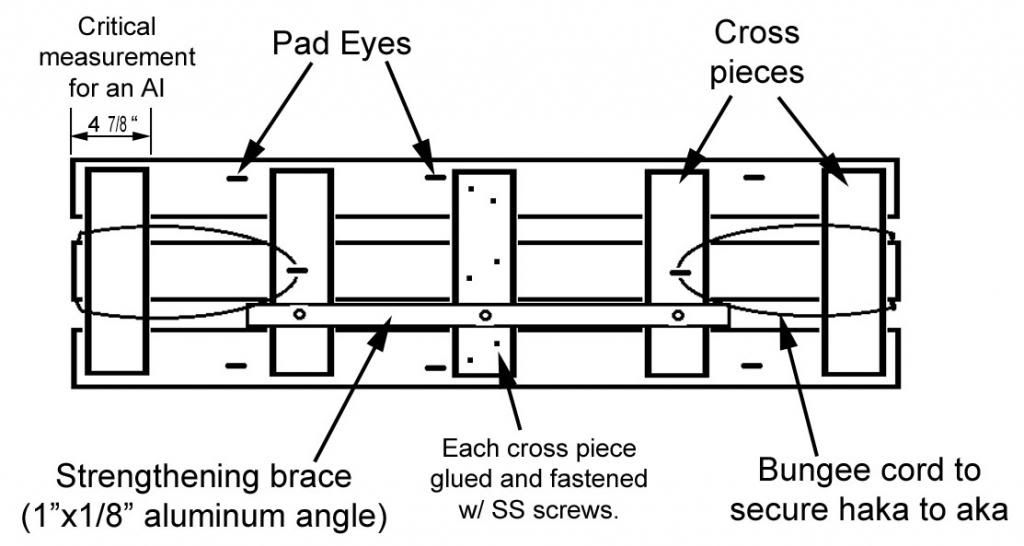 Day 1
Of the 8 6' boards, pick the 6 best. Cut the 2 poorest boards into cross pieces. For each 3 board haka, cut the round corners on both ends of 2 6' boards. Using 120 grit sandpaper, sand all boards & pieces to remove sharp edges, splinters, etc. About 3.5 hr time.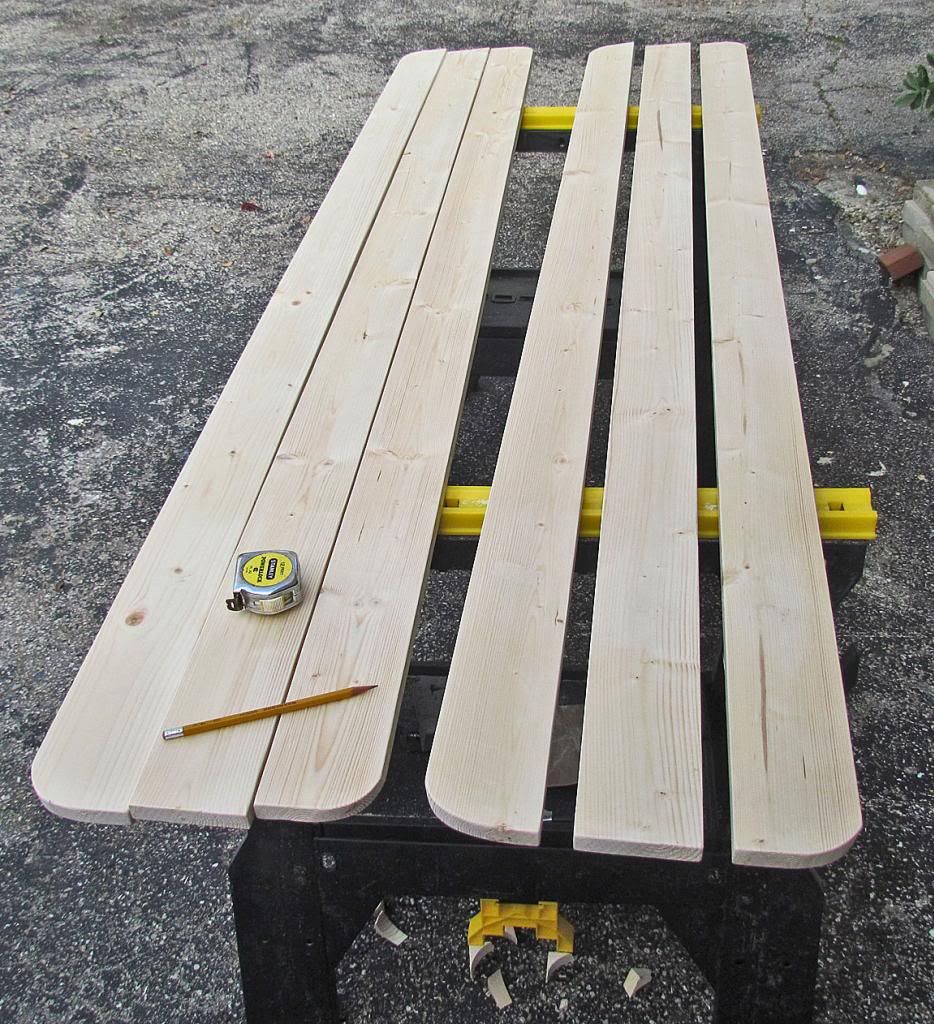 Day 2
Stain all boards and cross pieces. Dry for 24 hrs. It is a good idea to clamp the boards using the Irwin clamps and put weights on the boards at the ends to prevent warping. 1.5 hr
Day 3
Assemble Hakas. 4 hr
a. Be sure to have a level workspace. Otherwise, you may build in a twist to your hakas.
b. For a single haka, align 3 boards with ¾" spacers between boards. The ends must be even and boards parallel. Use a large square to make certain the ends are at right angles to the length of the boards. It will be convenient to use the Irwin clamps at each end so boards cannot move during the gluing & screw-setting steps.
c. In building the haka, I placed 1 cross brace near each end. These end cross braces are placed so that they are about 1/3" beyond the aka (see critical measurement on schematic above.) The other 3 cross braces were then evenly spaced between the end cross braces. All 5 cross braces were drilled, and screwed to the 6' haka boards. Use the #10x1¼" pan head screws. Then, 1 by 1, each brace was temporarily unscrewed (detached), Titebond glue applied, and the boards re-attached with the screws. When the screws were set, slight warping caused some boards to not mate together properly, leaving a gap. So, after the glue was applied, I used a clamp to force the boards together before final setting of the screws.
Day 4
Sand the hakas with 120 grit sandpaper. Remove all roughness. Use a tack cloth to remove sanding dust. Apply first coat of varnish. (45 min) Some tips on varnishing. (1)
Never shake a can of varnish.
Stir the varnish thoroughly with a paint stick. Try not to generate any bubbles. Do not press your brush against the lip of the varnish can to remove excess varnish—that causes bubbles. (2) Pour about 1/4 of the varnish into a paint container. This is the varnish you will be using. (3) Dilute the varnish about 10-20% with paint thinner. Stir carefully to mix well. (4) Apply the varnish. All brush strokes should be the same direction.
Day 5
After 24 hrs,sand the hakas with 220 grit sandpaper. Use a tack cloth to remove sanding dust. Apply 2nd coat of varnish. 45 min
Day 6
Repeat previous step. Apply a 3rd coat of varnish. 45 min
Day 7
4 hr
a. To each haka, attach two 5/16" bungee cord loops underneath, one for each end. This loop serves to attach the haka to the aka. See Schematic above.
b. Attach the aluminum angle strengthening brace on the underside of each haka. Use 3 SS ¼" bolts & nylon lock nut with nylon washers isolating the steel bolts from the aluminum strip.
c. Attach 6 protective bumpers (heavy plastic or rubber strips) under each haka to protect the aka. Use the #6x½" pan head screws
d. Attach the paddle cozy on haka. Remove the paddle cozy from the aka, attach it to the front of the haka. Remove the u-clamp from the rear aka. At the rear of the haka. Add the bungee cord & clip to secure the paddle handle. This bungee can also be used to secure fishing rod/reels when not in use.
e. Add 6 pad eyes on the underside of each haka to attach bungee cords.
Weight of each haka when complete: 14 lb. (6.35 kg)
This picture shows haka with paddle bungee/clip holding paddle and 2 rod/reels. My GPS is under a bungee cord.
Loaded for camping trip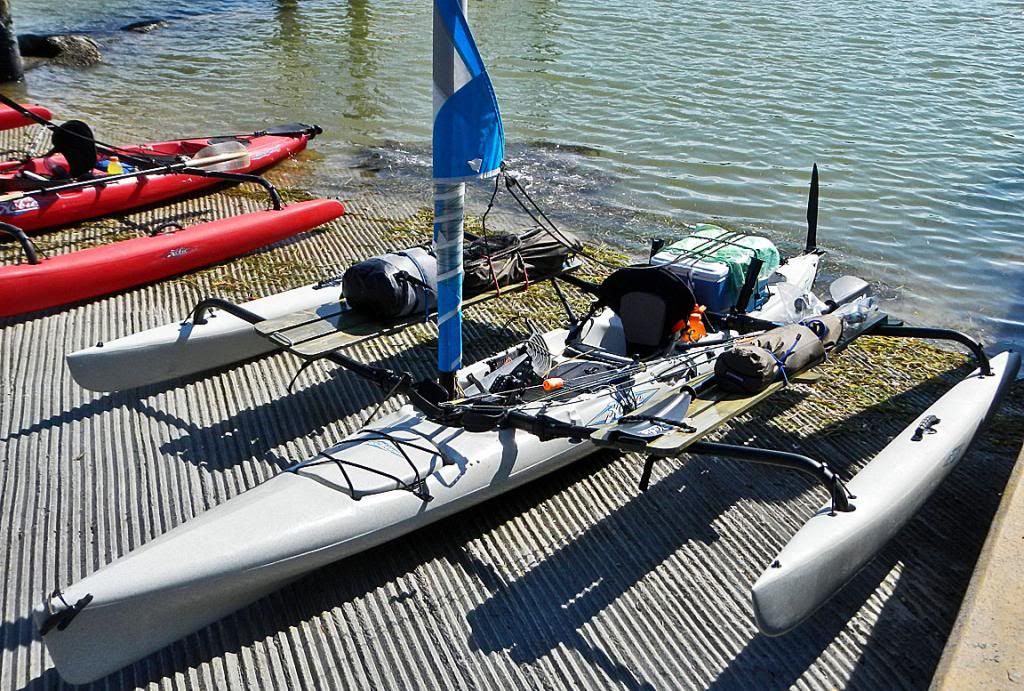 While these hakas were fine, I wanted lighter ones. My friend, Marc, purchased these. And I set out in search of a lighter set.
Keith