NOHUHU wrote:
I asked Batman what he would like to see in an "improved AI/TI". As you know from his modification work, he's never short on suggestions.
Such as:
1.
"A Standard, reinforced flat-transom mount with four bolt pattern"
just like the "real" Hobie sailboats. This would eliminate all our "rocking gudeon" issues and associated failures. And it would make it possible to ensure that the plate is fastened securely
without
pulling the rudder pin.
2.
"a seaworthy rudder of your choice"
. Such as a 3rd party solution. (Nice option for the TI, I think).
3.
"More rocker and a wave-friendly prow!"
We'd like to to take these boats out into open water, and surf them with less worry.
4. And of course,
"an
optional jib"
which would mount perfectly onto said bow. (OK, that's actually from MY wish list).
Let's get started with those ideas. After 6 years, it's time to evolve.
Don't' get me wrong - I love my AI, it's an quick, awesome, fun water toy. While the plastic rudder pins hold, that is.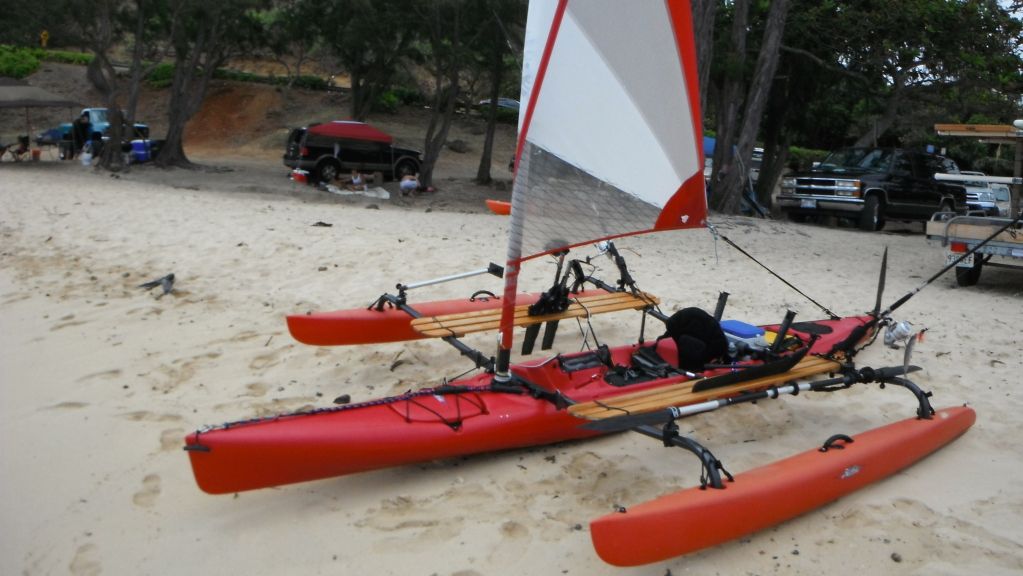 But me and the boyz were getting a little bored waiting for the Hobie Genie to come out of the bottle, so over the long holiday weekend we got to work, building our own "Dream Island"...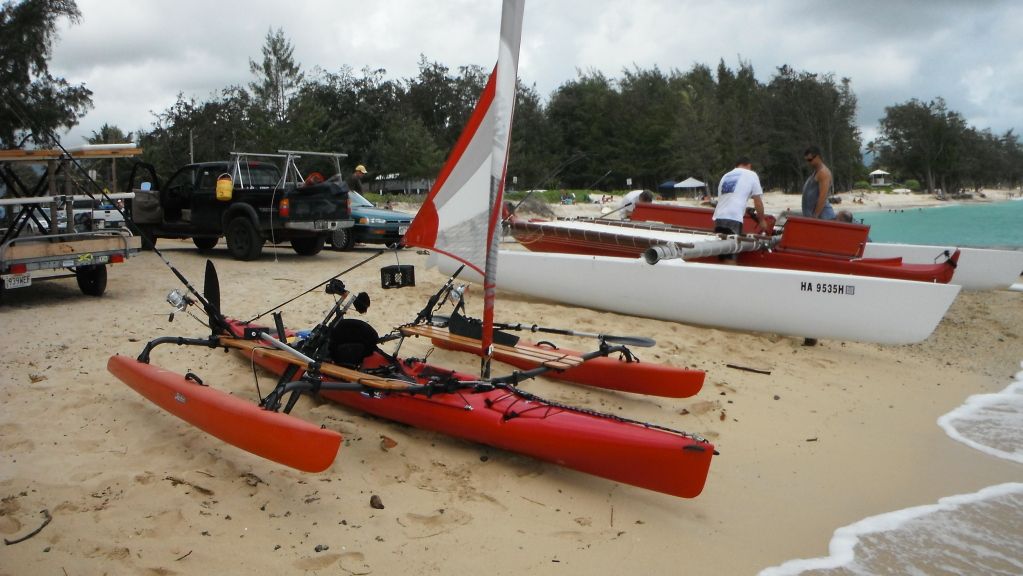 It's not so hard - start with a "prowed" Hawaiian 3-man sailing canoe.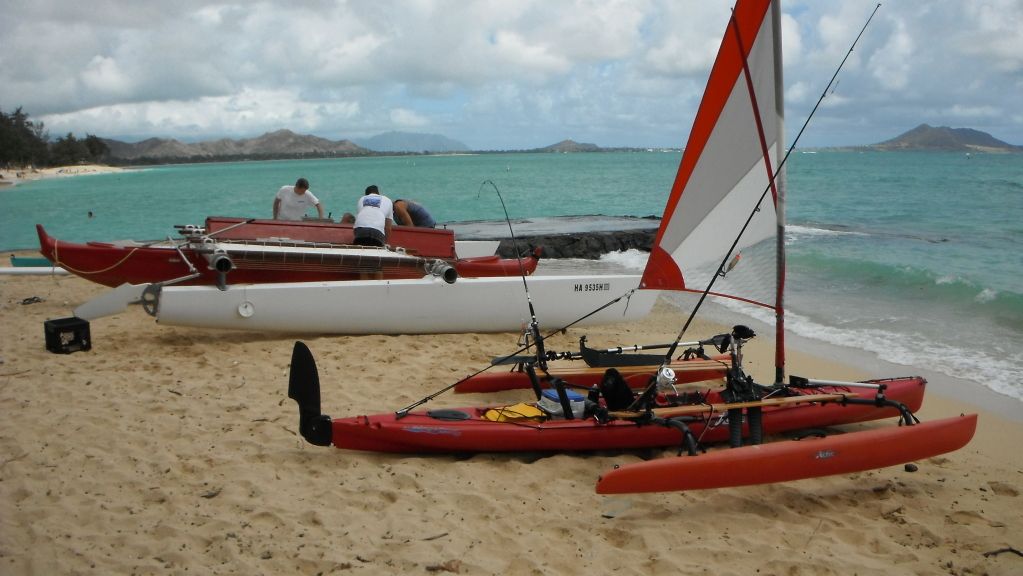 Add a couple 18ft Prindle anti-dive Amas, custom tramps,.. a 30ft mast...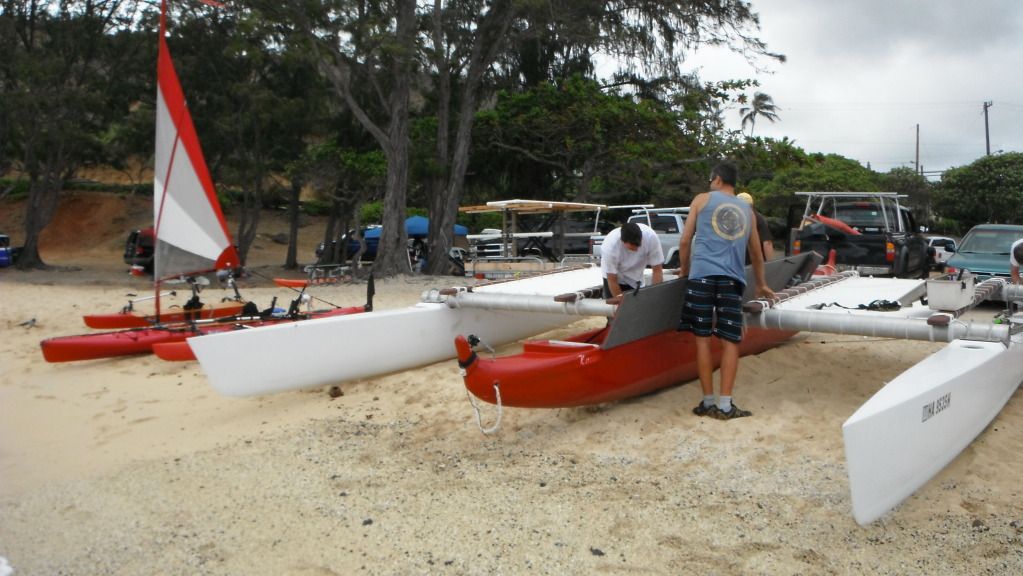 Don't forget a pair of improved "Pop-up" rudders. Bam!, you're in business. Just gotta paint it all
red
We're thinking of calling it the "Magic Island" - cuz it fulfills ALL our wishes.
She promises to be higher, drier, faster, point and surf better, carry more supermodels, and offer enhanced protection against any migrating humpback whales or icebergs.
Batman was cool enuff to watch our "old" boats on the beach, while we did a test run.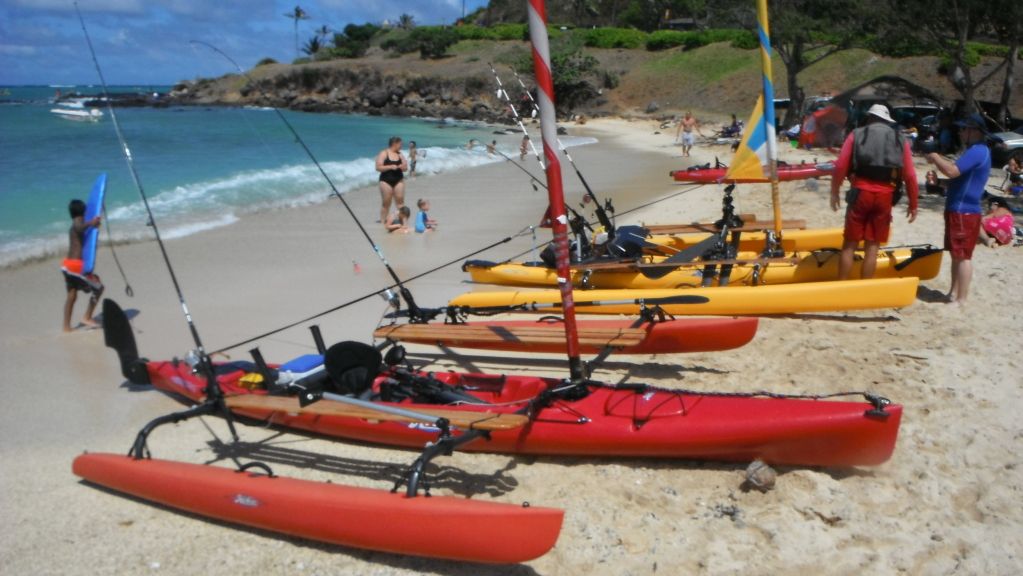 So far, the new ride is awesome! Just one problem. We're going to need a BIGGER trailer.
Uummm,..so Hobie - what did YOU build over this 3-day weekend?