Finally I bit the bullet, and yesterday I sailed from Forster Boat Harbour at the ocean entrance to Wallis Lake, all the way south to Pacific Palms Rec Club.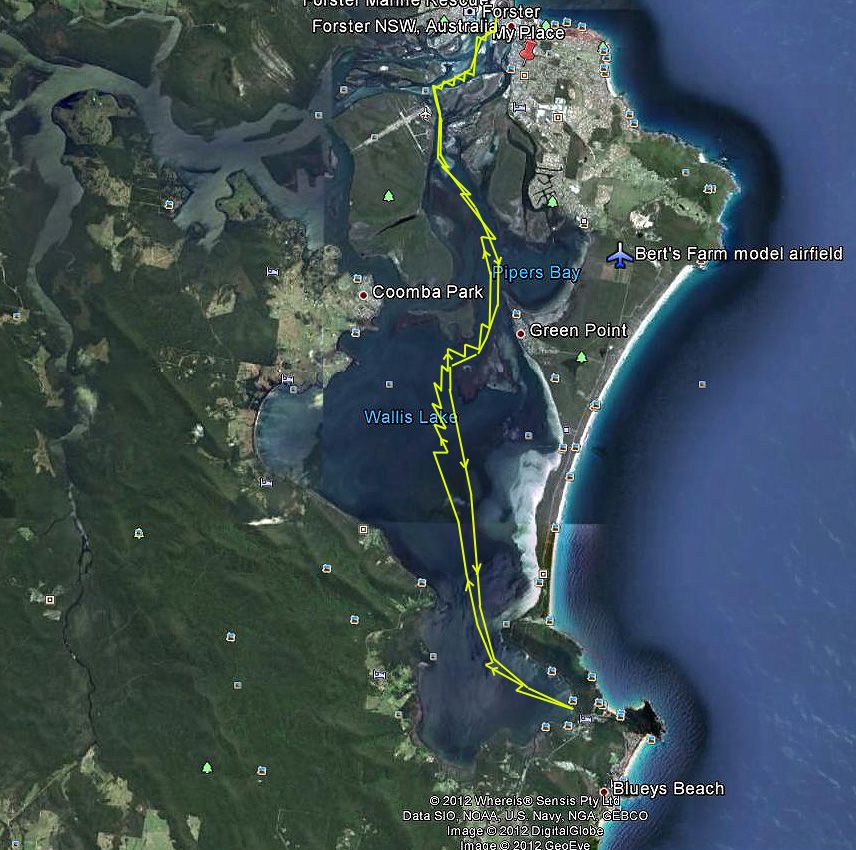 The wind was quite strong, around 20 knots, so I got really soaked, but luckily the water was quite warm. I had a spray jacket, but left it in the drybag. It took 3 hours 15 minutes to reach Pacific Palms, and I spent half an hour or so at the beach having my lunch, and putting on another layer of Blockout. The wind picked up a bit on the return trip, and as you can see, I had to tack, which added a lot of extra distance to the return journey. There was a nasty chop, and quite often, the whole bow speared right through waves, burying me in solid water, and a few times the cockpit was totally full of water, and the crossbeam was no longer visible. I had to remove my sunnies, as they were covered in salt, with spray often going over my head, even with shade-cloth spray shields fitted. But by furling half the sail, I was able to keep moving pretty fast at 5 knots and higher (hit 7.2 knots to windward a few times!), so the return trip only took 30 minutes longer.
I slept well last night!
_________________
Tony Stott
2012 Tandem Island "SIC EM"