woodenhorse wrote:
Thanks for your help guys, much appreciated. I'm a firm believer in questions.....sure appreciate your patience. I'll check the threads you referenced and do as you say. I still don't see how adjusting at the rudder will rectify the levers being way out of alignment, but I haven't read the links yet.
I'll give it a shot....if I need help tho, I'll be seeking some additional guidance for dummies like me. really hope to enjoy the Oasis and this forum.
Congrats on the new Oasis. Got mine in 2011 (1st year of the redesign) and it's a great vessel. Roadrunner and Stobbo have been a great help, and have given me idea's. We just took ours to the lower Fla. Key's and had a blast.
Couple of points. I'm 270lbs. and solo very often (from the back seat). Very stable platform, even when I put two legs over the same side to stay cool. Weekend warrior traffic even with the "NO WAKE" wakes that get thrown my way and it's still very stable. I suggest you practice self rescue for obvious reasons.
Ballast: There have been many suggestions from folks here. I found that for me, my best ballast solution was to get a SUMO SAC 125 used for wakboarding.
http://www.wakemakers.com/straight-line ... c-125.html
I put mine far forward and use the bungee by the front hatch to secure it along with my wheels. It doesn't have to be full to obtain even ballast, maybe 3/4 full. The handles won't tear and it's very durable, just a suggestion.
Hauling: I have and really like Thule's Hullavator. It is easy on the back because it has 40 lbs. of lifting power which make a huge difference. Very cool, inovative design, plus it has a lifetime warranty. We used it on our Honda Pilot to go to the Key's, and even at 80 mph, you didn't even know it was there. Maybe a bit more wind noise but not bad at all.
Here's pic of it on my VW. It's usually on the VW most of the time, but the cradles come off all of the time when the kayak isn't on, and I just keep the rack rails on. By the way the cradles/arm mechanism is removable by taking out 1 pin on each one. We have locks integrated on the handle's to prevent theft. Love that thing! Enough of my enthusiasm, but it's great.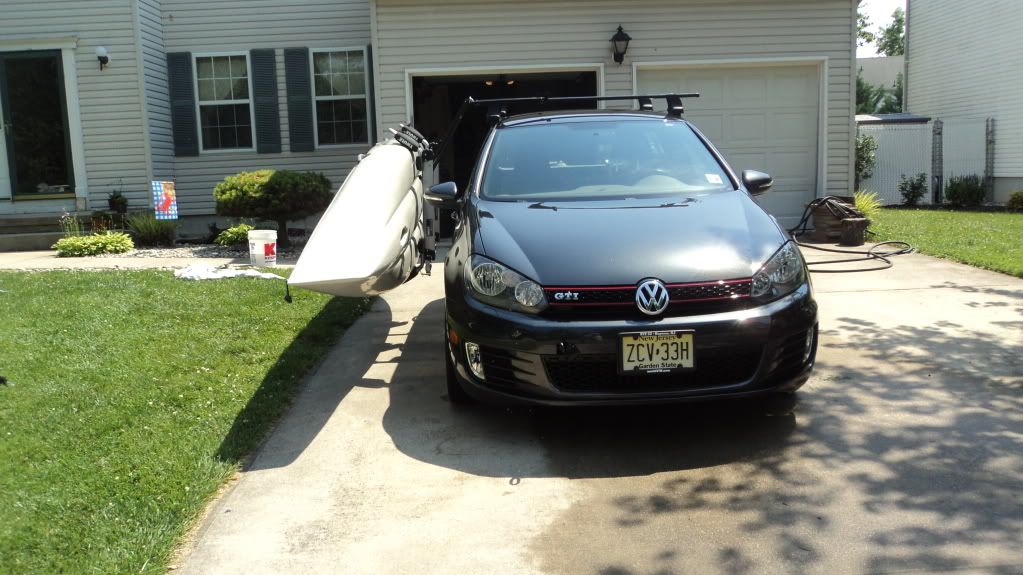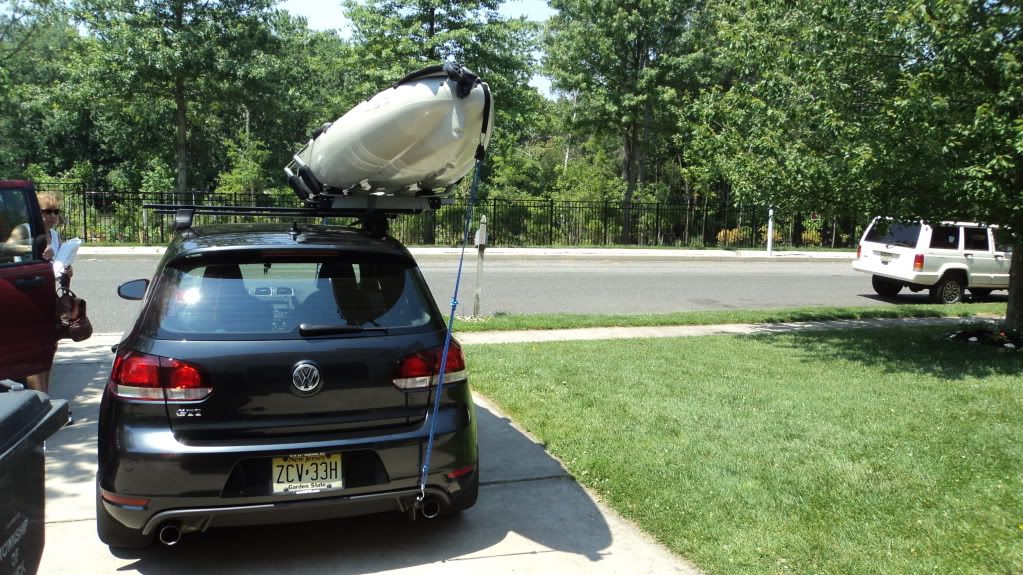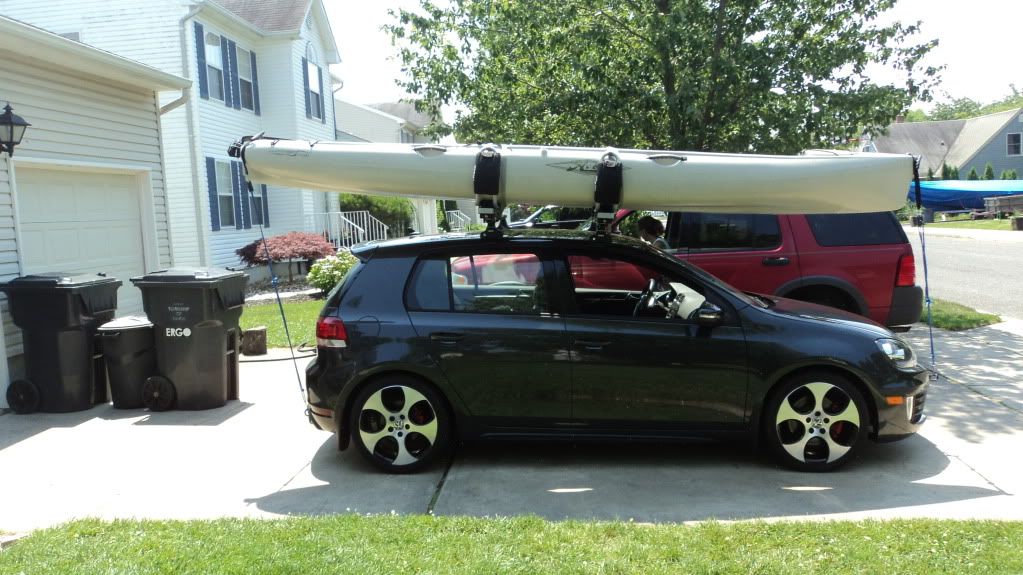 I had rudder adjustment issues and my rear handle actually came off once, but the wife was there and she steered us back in. Dealer did the adjustments and no problems since. I didn't want to tackle it, but in the future I may based on the feedback from those such as Roadrunner and Stobbo.
My camera was stolen but I'll take some pics of my FF mount and rod holder if interested when I get another one.
One thing you may want to seriously consider doing if you plan on soloing is to put two additional grip handles on so you can lift the yak. The current grip handles are perfect IF there are two people lifting the yak, but they are spaced a bit far apart for one person. If you look at the kayak on the side of the car, you may be able to see a handle just behind the front seat area, and just in front of the black hatch in front of the rear seat area. That location gives me the balance I need to lift the kayak with even weight distribution allows me to lift to the cradles when I'm by myself.
Storage: I just bought a hoist system from Harken hoister
http://www.hoister.com/productdetail.as ... &taxid=646
. These kayaks are heavy and for me this is the best solution since there are close to 100 lbs. I'll be setting this up in the Spring. Shop it, I got mine for a bit less than the retail price. Outdoor Play had them I think.
In any case, you have a very safe, stable, fast, versatile and capable Hobie. My son lifeguards at Jenkinsons beach in Pt Pleasant NJ in the summer, and when he saw me off shore, some of the other lifeguards were wondering if "that" guy had a motor on it. Turbo fins are the way to go.
Enjoy your new kayak.