Kayakman7 aka Jesse in
Sacha; a Polynesian sailing canoe with mirage drive
90sq ft main, 100sq ft and 250sq spinnakers
My Story,
Day One
After a very brief night of sleep, Cassie and I arrived on the beach at about 5:45 am, a little later than I expected. Most everything had been packed, just the electronics, food, and mirage drives were in the truck. Met my parents and recruited them into carrying gear. Put on my Gore-tex drysuit while attending the captains meeting. Afterwards, finished packing, unfurled the mainsail, and set up my large spinnaker. I was a little late learning it was time to launch and not quite ready, but figured that the rest could be done as I sailed.
When I initially pulled on the bow of Sacha, she didn't even budge and I had a moment of chilling horror.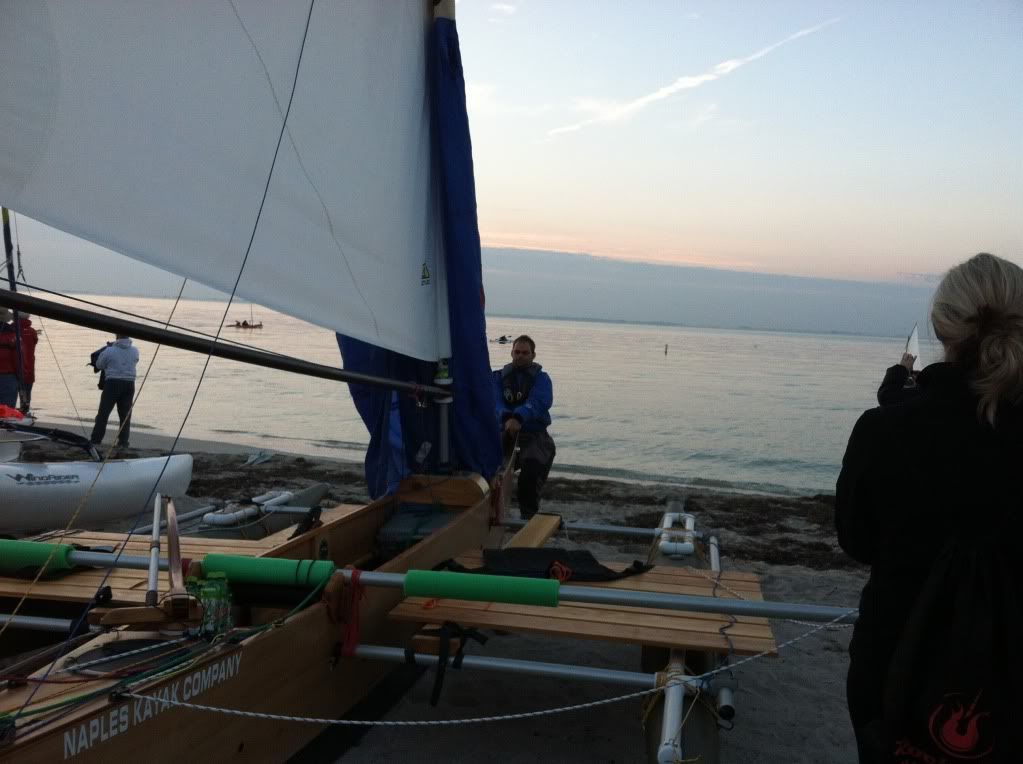 Switching to the forward aka produced better results and after a few tugs port and starboard, I had Sacha down the first slope and then the second little slope. Once in the water, I stopped for hugs, kisses, and well wishes from Cassie and the rest of my family. My emotions were going crazy, from a combination of adrenalin, excitement, and a little fear. Once back at the boat I calmed down but it was an interesting glimpse into the state of my subconscious. I didn't feel the underlying stress but it was clearly there.
I ran the boat out past the first sandbar and started pedaling for Passage Key Inlet, I found the second sandbar with the mirage drive, but started to get some wind. It wasn't the Northerly wind I had expected or was forecast, but was almost an Easterly wind. I was a little greedy and tried several times to fly spinnaker in conjunction with the main and only gave up after losing a pair of eyeglasses to an errant backstay.
By now, I was quite a bit off course, having had to sail west to fill the spinnaker. I was also way behind the leaders, it was kind of concerning for a newbie challenger. There was a rain squall building to the west that looked bad but turned out to be a non-event. I motor sailed to the pass, following a kayaker and a dune AI through the pass. I followed the kayaker through the breakers on the south edge of the pass.
The long haul begins.
Still on a broad reach, I set course for Stump Pass with the wind slowly dying. Sometime later, off Longboat Pass, a dune Hobie AI sailed past me inshore, screaming a welcome. The dune Hobie AI that I followed out the pass finally caught me, passed close by, and we had a quick conversation. Sacha is clearly slower than the AIs in light winds, at least when fully loaded. As the wind continued to drop, I flew the small spinnaker which added about a knot to my speed and I was again gaining on the AIs.
The wind now backed and blew strongly from the north. Conditions rapidly improved for me, as wind grew, I knew I was likely to move ahead in the pack. I soon passed both AIs and the wind and seas continued to build. I was gaining on someone who was hull down ahead of me. I hove to and dropped the chute, seas having built to the point where surfing was a regular experience. I caught a glimpse of some kayakers who turned out to be the Juice and IronBob. The seas were large enough that they were frequently hidden by waves. I closed in on what turned out to be Teak and Kokopedal flying a heavily reefed main. They were very surprised when I hailed them, but conditions were tough and we had only a few moments within speaking distance.
I was now closing on Venice and it was time to decide where I would enter the ICW. I have been through Venice once and only heard details on Stump. With the heavy sea state and prior experience, I opted for the safer choice. I reefed for the first time about four miles out and inserted the mirage drive a mile later. The pass was very much a non-event, I just sailed in and started pedaling. I stopped for a relief break on the little island just inside and was promptly passed by Teak.
I pushed off and began a long chase. After entering the slot and flying the chute, I was about to pass Teak when I had second thoughts about the clearance of an upcoming bridge. I hove to in a panic, dropping the spinnaker and furling the main. The bridge tender came out and told me I would clear the bridge by about four feet which was now apparent to me also. This was my first big oversight. I don't know the vertical clearance of Sacha (19 feet). Whoops!
Lots of variable winds in the slot, but once I reached Lemon Bay things really picked up. I was being overtaken by a solo sea pearl, Balogh rigged class 3, and a kayaker in a surf ski so I flew the small chute. Speed increased to 8~9mph and I pulled away. I passed a couple of kayakers and finally eased by Teak within sight of the finish. I found that the channel into Cape Haze is well marked but very shallow if you stray. By the time I made my way inside, I had been passed by several competitors.
I was pleasantly surprised to see Cassie waiting for me, we had discussed whether it was worth having her drive up and never came to a definite conclusion. After signing in, I cooked myself dinner (a can of chilimac), and rested in comfort with Cassie. After about three hours, I repacked the boat and headed south.
The wind had completely died away, leaving only the slightest breath of offshore breeze. I was ghosting along at a knot or so and starting falling asleep. Chief sailed by and asked if I was okay. I was but knew that I should stop and sleep while waiting for wind. About a mile down the course, the channel opened up a bit, and I anchored on a shoal next to ShowMe. It started raining as I moved the hakas into sleep configuration. It was hard to keep everything dry while setting up the sleep system and I opted to skip changing into sleep clothes, just taking off the drysuit. I made couple of calls and discussed plans for the next day. I set my alarm for five a.m. and was gone.
to be continued...
j