Just got back! We finished up being just two TIs and one AI. Can I say that Dune is the new black?
We had an awesome time, apart from me breaking TWO rudder pins on the one trip, having never broken any in 85+ prior outings since launching in June
Conditions were perfect for the trip to the Island, totally in conflict with official forecasts, and it only took us 2 hours 38 minutes, which included a lot of faffing around as Rob changed my rudder pin at sea. The return trip took heaps longer as we had to tack, and my TI sailed like a log (later discovered to be partly due to lots of water in the hull caused by heavy load leaving the rudder line holes very close to water level).
My $49 Kmart camera looks ahead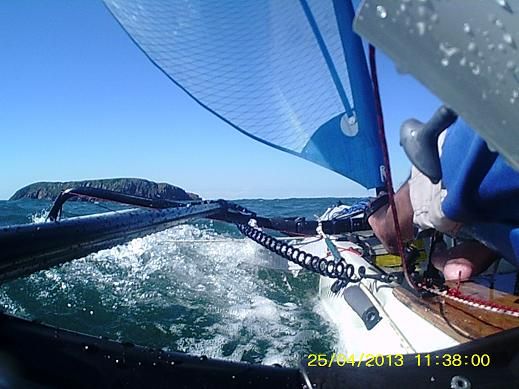 A pano of the beautiful cove. I had to put my tent up on the beach. Tough life eh!

As it turned out, setting up on the beach just above high water was no problem, and we didn't bother with the two campsites (like this one) which were booked but unoccupied.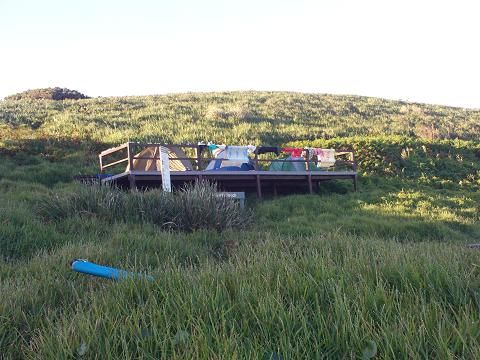 We had taken lots of water with us, but discovered there is a fresh water spring by the beach, so will take a note for next time (checking with the rangers first of course)
It was pretty hard to take, seeing jumping mullet, stingrays cruising 10 feet from the shore, fairy penguins, plus the usual dolphins in Port Stephens. Only downside was Sue put a leg down a muttonbird burrow on Thursday, and bruised her ribs so severely we discussed the possibility of her needing to leave her AI on the Island and go home in another boat, but fortunately she came good the next morning.
Rob Saunders (nicrob here) discovered that fledgling mutton birds have absolutely no fear of humans, and this one decided to use his knee for wing strengthening limber-ups!
More to come!
_________________
Tony Stott
2012 Tandem Island "SIC EM"