yaknrugger:
I have found that although the improved knuckle joint on the AKA's is generally reliable, you have to make sure it is clicked into place and locked securely. The simple solution I am recommending works perfectly to prevent the AKA's from coming out, it also prevents the AMA's from rattling around and dropping on the bungy things.
I just use a piece of 1/4" nylon (stretchy) rope connected from the metal padeye in the center of the left AMA, wrapped in front of the left AKA brace (the brace that attached the AKA to the hull), then back behind the entire AKA brace (in the center so it's out of the way), then around the right AKA to the hull bracket, then out to the metal padeye on the right AMA. this forms a truss type brace to both hold the AKA/AMA's on, and also keeps the AMA bungies from stretching and flopping around. It also prevents the AMA from folding in the event of a sheer pin break on the AKA brace (the main purpose of the mod).
Once you string the rope through the hull and adjust the length it can be left with the hull during storage (so you only have to do it once). I have stainless clips on each end that clip to the AMA padeyes so it only takes 20-30 seconds to attach as your setting up the boat each time. When done sailing I just stuff the rope ends into the mesh pockets for storage.
He is a pic of the rope in place.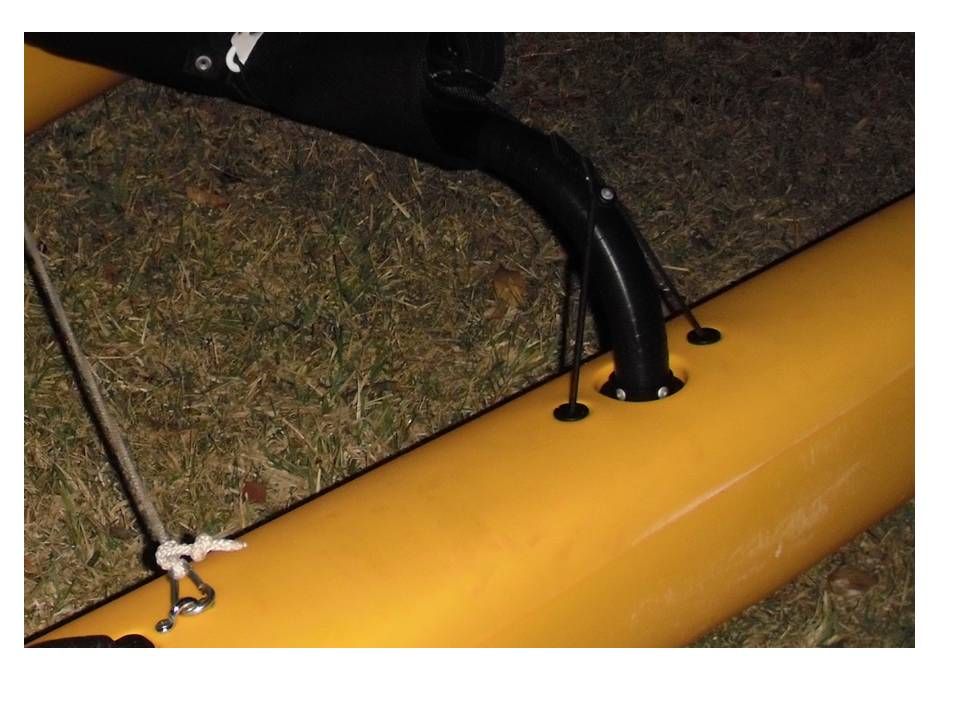 Hope this helps
Bob