Has anyone else noticed that on page 19 of the 2013 catalog under model comparisons, the width of the Tandem Island is now listed as 13' 4", in all previous catalogs it was listed as 10' wide.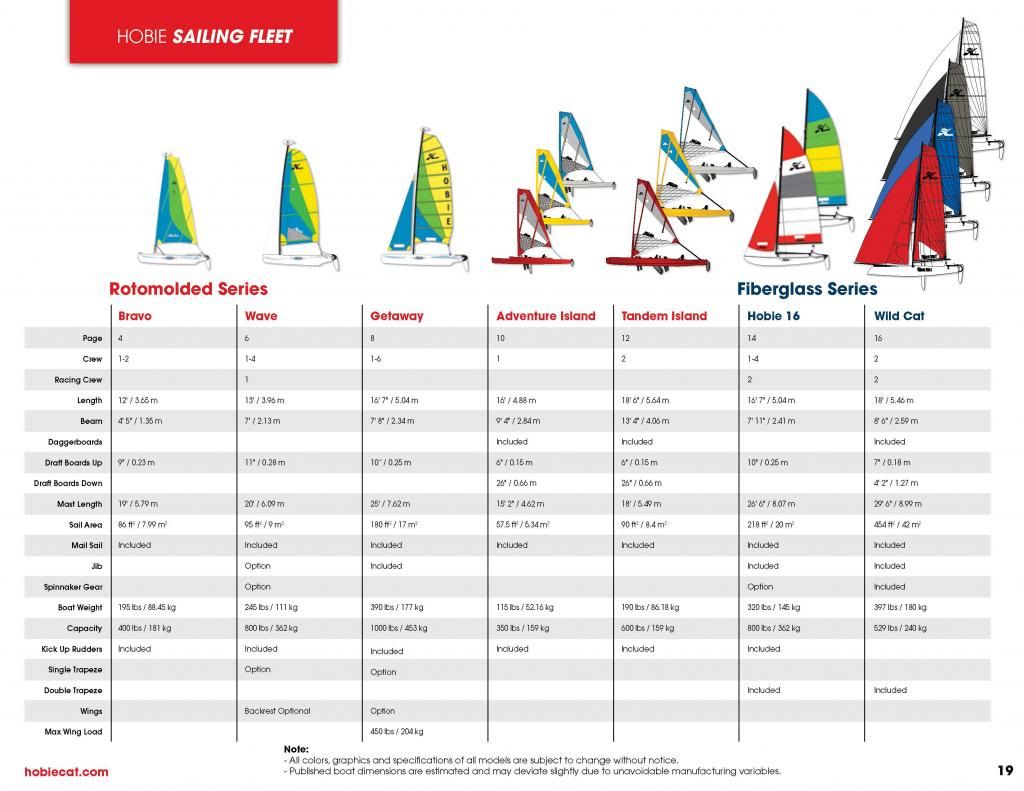 It's probably a typo but wouldn't it be wonderful if they really did widen the TI. This would be in anticipation for adding a hull re-enforcing bow sprit, jib kit, and spinnaker kits, and possibly an optional 110 sq ft mainsail (same design just bigger). Of course the rotating mast topper and rear stay line would be included in the kit, along with a re-enforcement insert to go behind the mast at the bottom of the hull (would be necessary if adding sail area). In my opinion nothing else would be needed, once the bow sprit is added, the added lift from the tilted foresails raises the bow out of the water enough to plane (somewhat). Now they have the hiking stick we will be all set.
Look at the catalog, every other sailboat in their lineup has these options (jib, and/or spinnaker, or both, etc) (except the Bravo), so why not the adventure series.
I've been saying all along that the original design should have been 12 ft wide (same width as Windrider 17). This would put the length/width ratio more in line with most of the other similar tri's out there ( including the AI, around 65%)
I'm sure all this is just wishful thinking on my part, but it's fun to dream (oh that's right I already have all that stuff, we are just waiting on Hobie (hint)).
Of course I'm probably all wet with this idea and there is zero interest in a faster better Tandem Island.
I'm being perfectly honest here as an old sunfish sailer, when I first took the test ride on the TI back in spring 2010, (I actually went in to order a new H16, but they talked me into the TI) I commented to the dealer that the TI was lacking in performance especially in lower winds. I was assured that a jib kit was in development and would be released shortly. Honestly I would not have bought the boat had I known the jib was not imminent.
With that information knowing from experience that a jib kit would fix the performance issues I was experiencing, I took it on faith and purchased the TI anyway. All of us have been waiting ever since (3 yrs now). Fortunately I have the knowledge and experience to design and fix the problems for myself, and after a weekend or two of puttering around to fix the shortcomings of the design I am extremely happy with my TI's (I'm on my 3rd TI now), that was 3 yrs ago next month. As a design Engineer I understand that not everyone has the abilities to redesign and make all this stuff and make it all work, and must wait for Hobie.
Unless I'm living in a bubble my only question is how long do we have to wait, it's been 3 yrs now. Am I the only one who has noticed that the standard TI is a bit of a dog in low winds (if so then I do live in a bubble).
Let me make this perfectly clear, I am a big Hobie fan and am not trying to ding Hobiecat company in any way shape or form, I'm just patiently waiting that's all.
Bob