Great forum-I have been reading posts for several months. Lots and lots of good information. I have sailed quite a few mono-hulls but never a cat. Looking forward to the experience. I picked up an '84 a few weeks ago. She was in pretty sad shape. Sat outside uncovered for quite a few years. Last registered in 1991. Trailer tires were rotted away. Craigslist find. No pictures with ad. Here are two the seller sent me.
300 miles away. I took a gamble and gave the guy a $100.00 deposit. Bought two new tires and arranged to pick it up. It had definitely been neglected but under all the moss and dirt I knew there was potential. The good-there are no soft spots on the tops of the hulls. No cracking at the back around the gudgeons. The mast was straight. Sails looked okay from what I could see by taking a quick look. Since my first look found out they are pretty stained but no rips or tears. Will clean them up the best I can and use them until I can afford new or newer to me sails. Trailer is very nice since I only had to replace the tires and the fiberglass cat box is in excellent shape. Thank goodness the trailer had Buddy Bearings as I pumped them full of grease before I made my return trip. Tramp is still serviceable.
Any ways-needless to say all of the rigging was pretty much toast. I took it to a local car wash to do the initial cleaning. Here are a few before shots: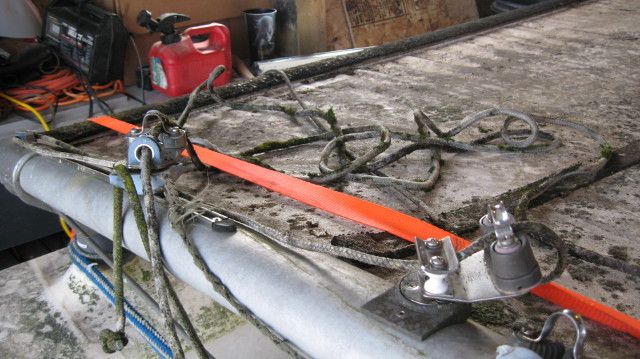 As you can see it was pretty dirty. My wife told me she hoped I had not paid much for the POS.
Pre-car wash with a little elbow grease and Bar Keepers Friend-excellent stuff by the way.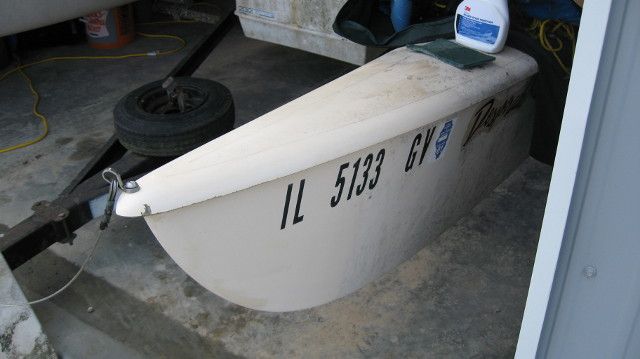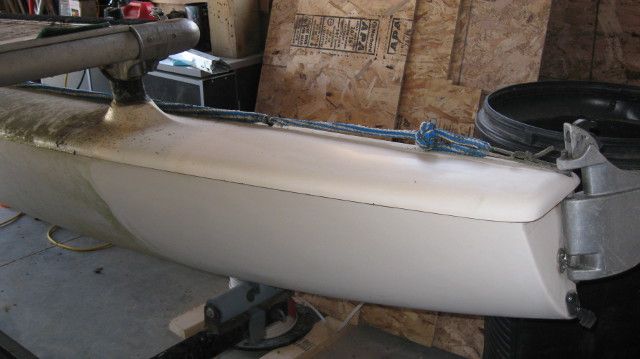 Here are a few shots after the car wash and some hand clean up with more BKF. I still need to scrub a bit more on the tramp but what a difference:
As you can see she has cleaned up very nicely. Even my wife was impressed.
So far I have replaced all of the lines and shock cord, couple of cleats, bridle and forestay wires, main and jib halyards, trapeze rigs. It is adding up but I know I will get a lot of good out of the boat. We live right on the lake so I will not have to travel far to put her in the water.
Right now working on the rudders. Ordered new cams and the rest of the hardware. The current rudder pins seem to be seized in place. Having a hard breaking them free. Will take my time as I do not want to damage something else. Bottom of the hulls have a few nicks and scrapes but no holes. Will probably do a bottom job some day.
She will be well taken care of by me. No more sitting outside collecting moss, dirt and literally rotting away.
Sorry for being long winded. I am glad to be here and I look forward to my first sail. Already have her registered.