Pavilion Key—Last Trip of the 2012-2013 Season in the Everglades 10,000-Island Area
(If you are not familiar with Pavilion Key, you can check out its location and how to get there by going to an earlier post on this thread:
http://www.hobiecat.com/forums/viewtopic.php?f=70&t=7276&start=210
)
We had our usual couple of days fishing. There were even reds around. For an hour, I tried to get 2-3 tailing reds to take my offering without success. I was so focused on trying to catch one that I didn't think to take a picture of them. They were big!
This trip was really about old and new friends getting together. We had 6 WaterTribe participants. Cecilia had come out to see what her son was talking about when camping in the Everglades.
Here's Cecilia with son, Joshua Bowers.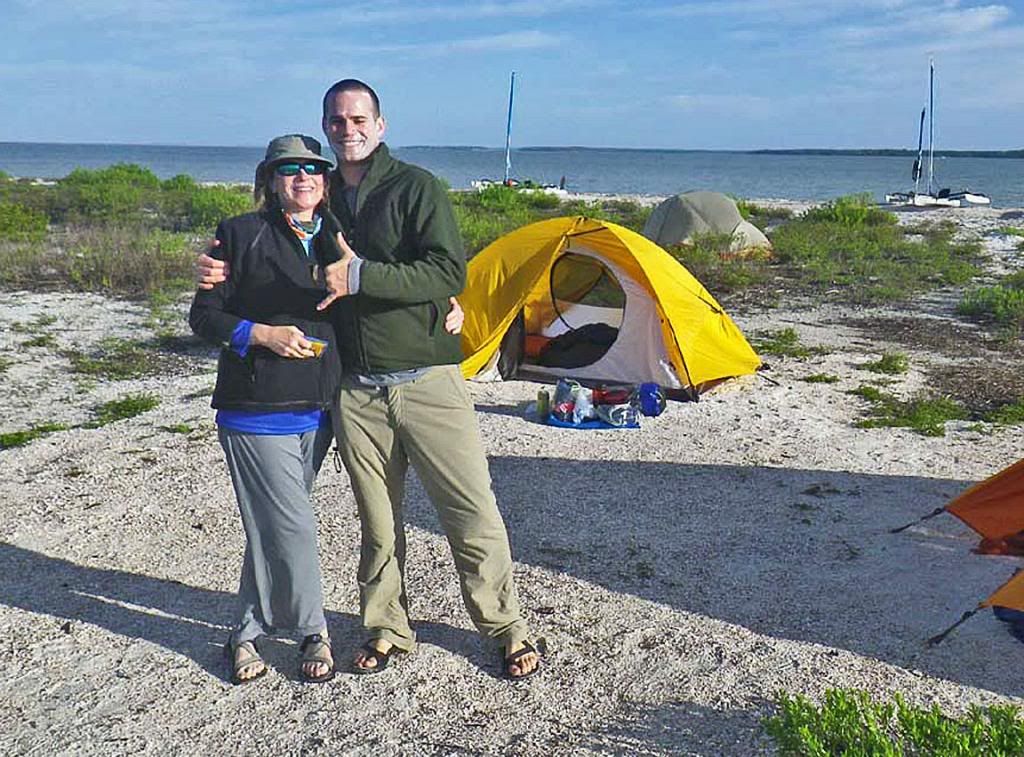 We had two more Pavilion first timers, Terry Wilson and Don Haynes. Terry is a trooper, proving it again by pedaling her Adventure the 9.5 miles to Pavilion—and back!
Don in his blue AI is escorting Terry into Pavilion.
An iconoclastic WaterTriber,
Whitecaps
, aka Toby Nipper, joined us for a couple of days, and then departed like a true WaterTriber—quietly before sun up.
Here are Alex Oancea, Toby, Nancy, and Rick Parks.
That is Toby's Kruger—a classic boat of the WaterTribe. Alex, another WaterTribe competitor, did the Everglades Challenge this year in Class 1.
I believe Toby has taken this boat on camping trips and adventure races in half of the states.
He is an extreme kayak camper. He has kayak-camped on icy (literally iced up) rivers in the north and in the Everglades in the buggy, sticky summer time!
Later Josh Morgan (aka TideTraveller) came in under "motor sail."
Josh did the 2013 EC in Class 1 and finished 2nd. It was his first year as a Class 1 kayaker. Last year he did the EC in an AI and came in 2nd to Dogslife. Josh is a terrific competitor.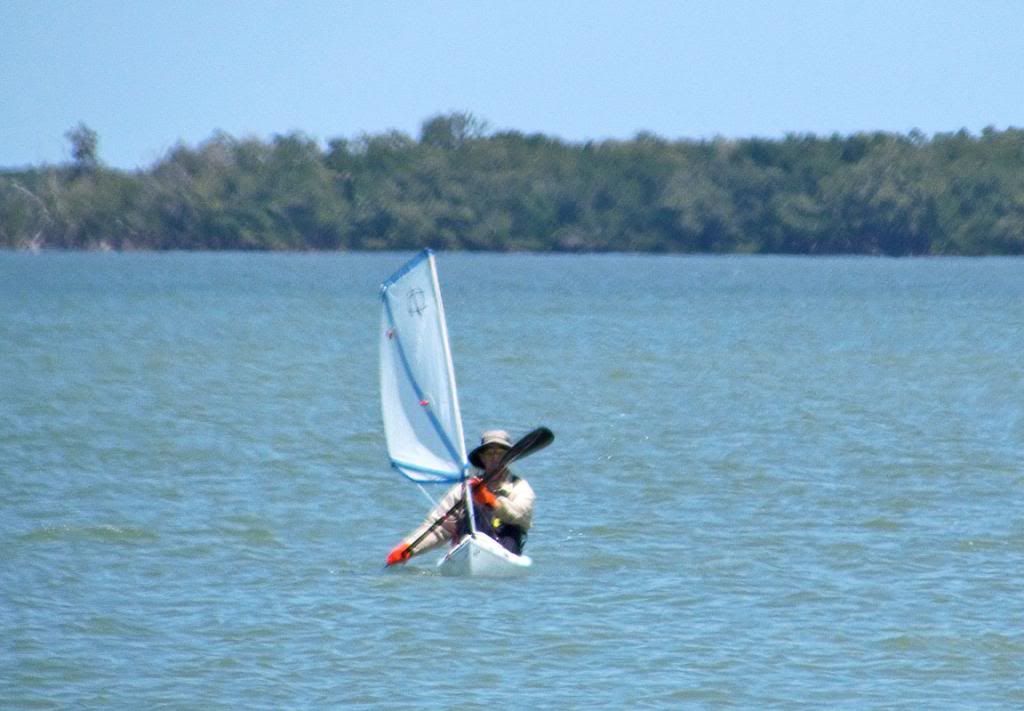 Jim Quinlan (aka Captnchaos) also competed in this year's EC.
Jim has developed a beautiful jib system. Not surprisingly, he is always in the lead on our Everglades trips.
Tarps are very important on these camping trips. There is no shade in the open where we set up to get the best breezes when warm-weather camping. Toby had set his tarp by the time most of us arrived at Pavilion. This spacious & versatile tarp served us well for 2 days.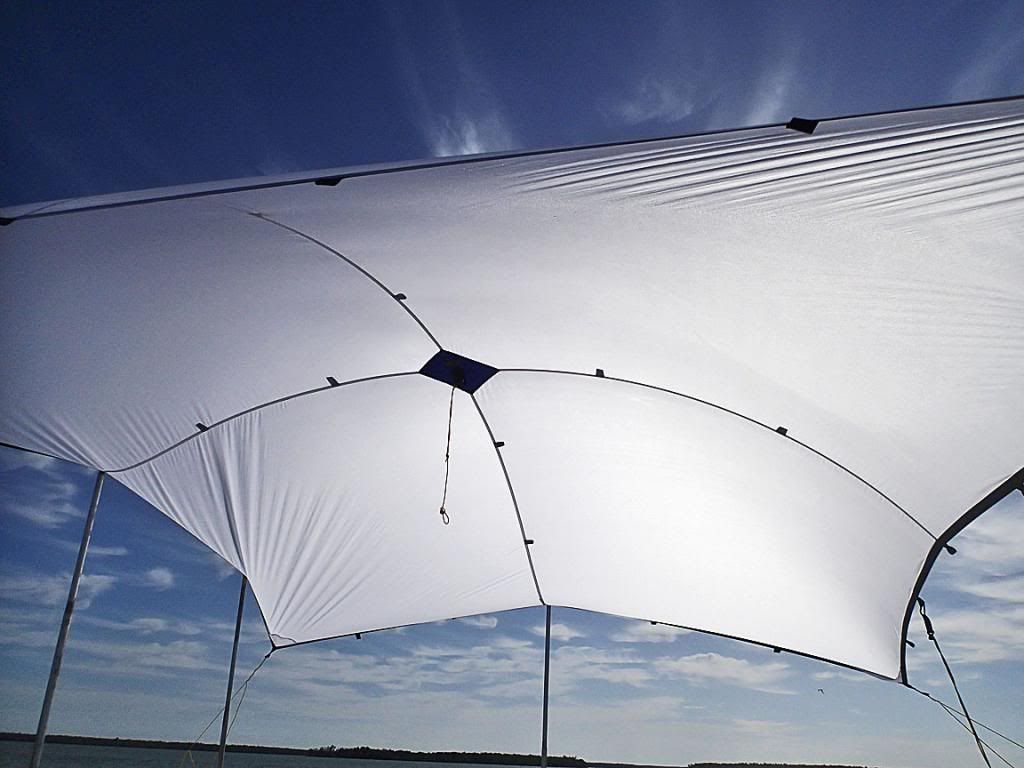 When Toby left us, Nancy & I pulled out our Kelty.
That is Jim and Don with Nancy enjoying the shade.
With 12 in our group, we had a pretty good sized camp.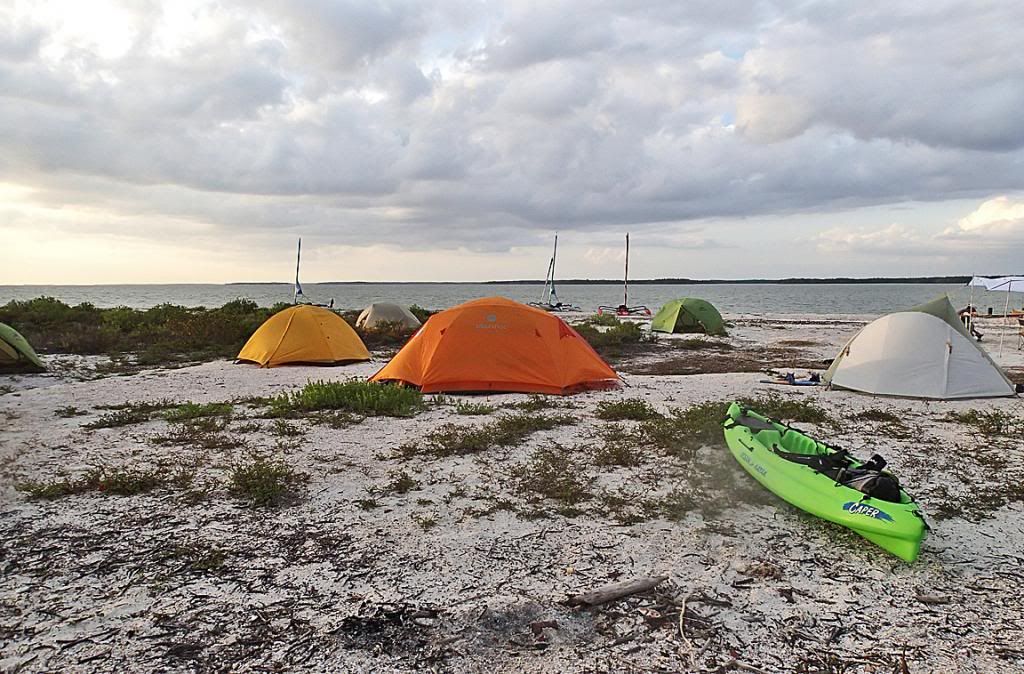 In addition to fishing, Terry was going to try an AI. Here, Jim takes Terry out for her first sail.
After the trip, she declared her intention to buy an AI next fall. If she does, she will be the 2nd woman in our group with an AI. Nancy is the first.
Sunday morning was pretty busy as some had to return to the mainland. Alex and Erika Fitzsimmons are on their way.
Denise and Joshua are breaking camp.
Denise and Joshua are WaterTribers (aka Dietired 2 and Dietired) who competed in this year's Ultra Marathon. I assume they won their class since they were the only tandem Island.
As Joshua had brought his mother out in his Adventure Tandem, Denise had a stubby SOT to paddle. But she said she didn't do that. Instead, she snuggled her bow under an aka and held on. On the return, she got a tow from the tandem Island. Here they are headed back—well offshore when I took this picture.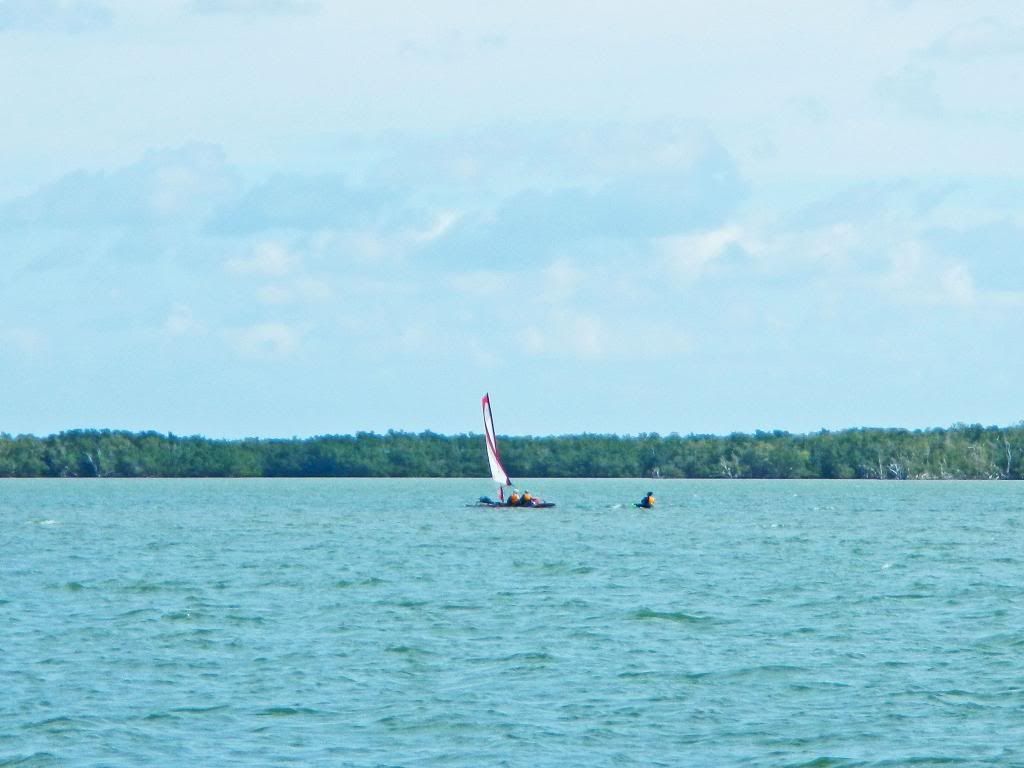 Bob, the beach manager, always pays a visit.
After a brief rain shower, it was interesting to see him fly to a tent and drink from a little roof-top pool of water.
Even sea birds like a breeze
A little Pavilion Key landscape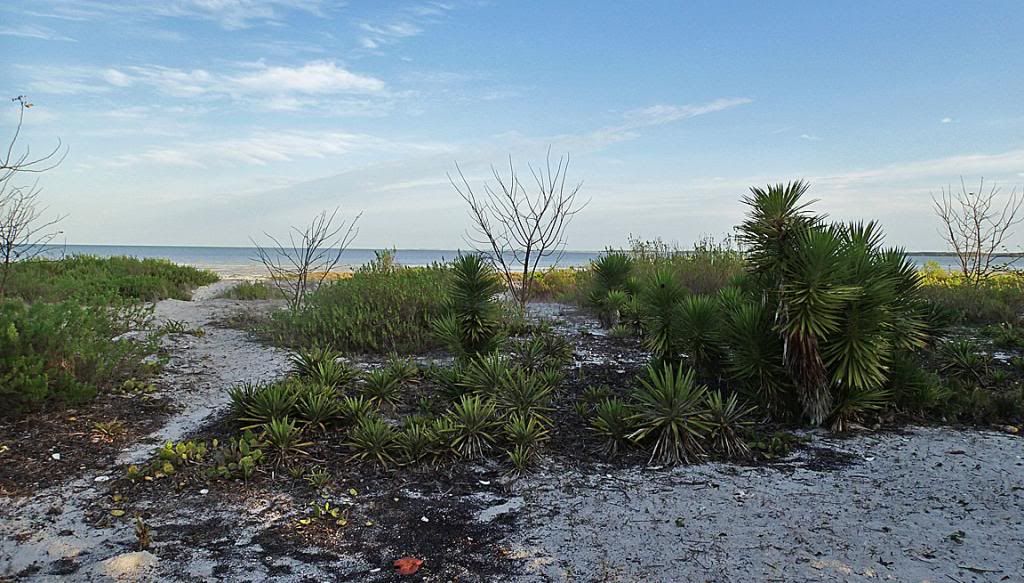 Dinner is a popular event on our trips. I am doing sautéed shrimp tonight with Cecilia's help. We also had potato salad and some delicious cold slaw made by Don's partner. (It makes me hungry as I write this!)
Then, there are the sunsets: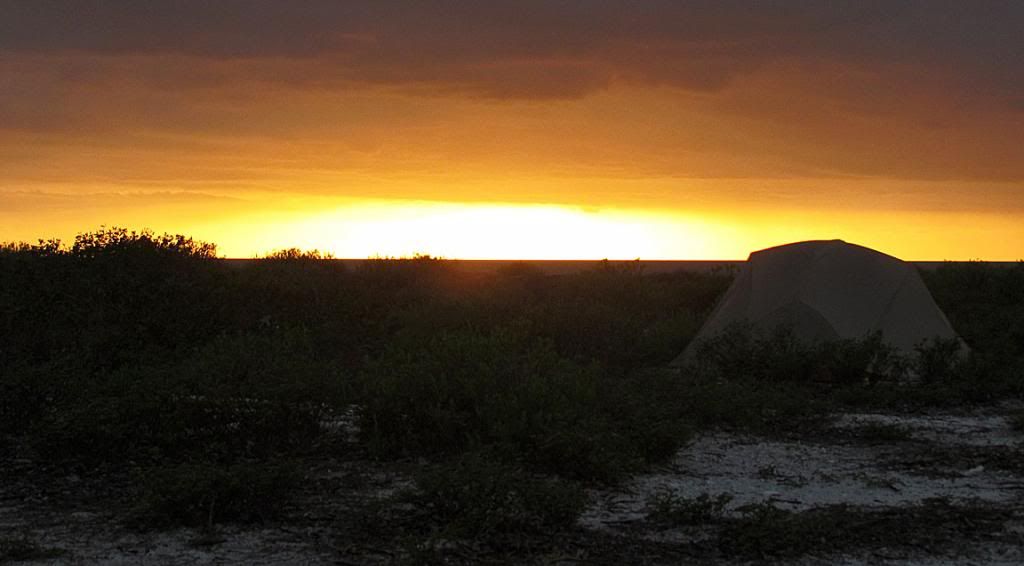 Don got this great picture.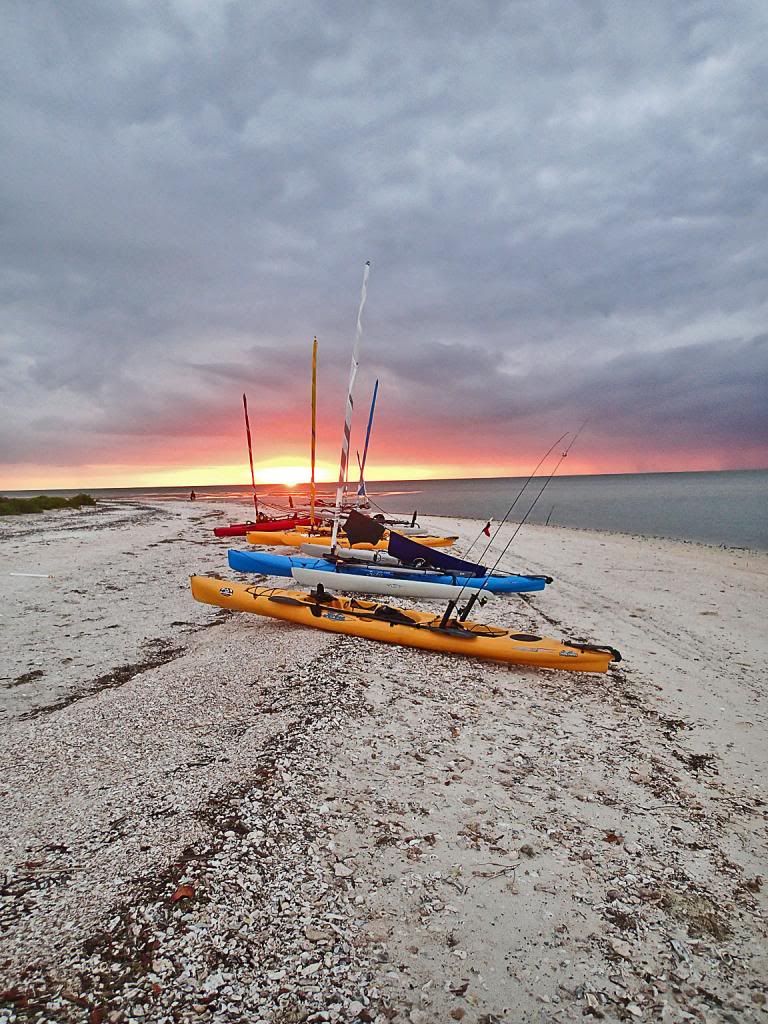 Dusk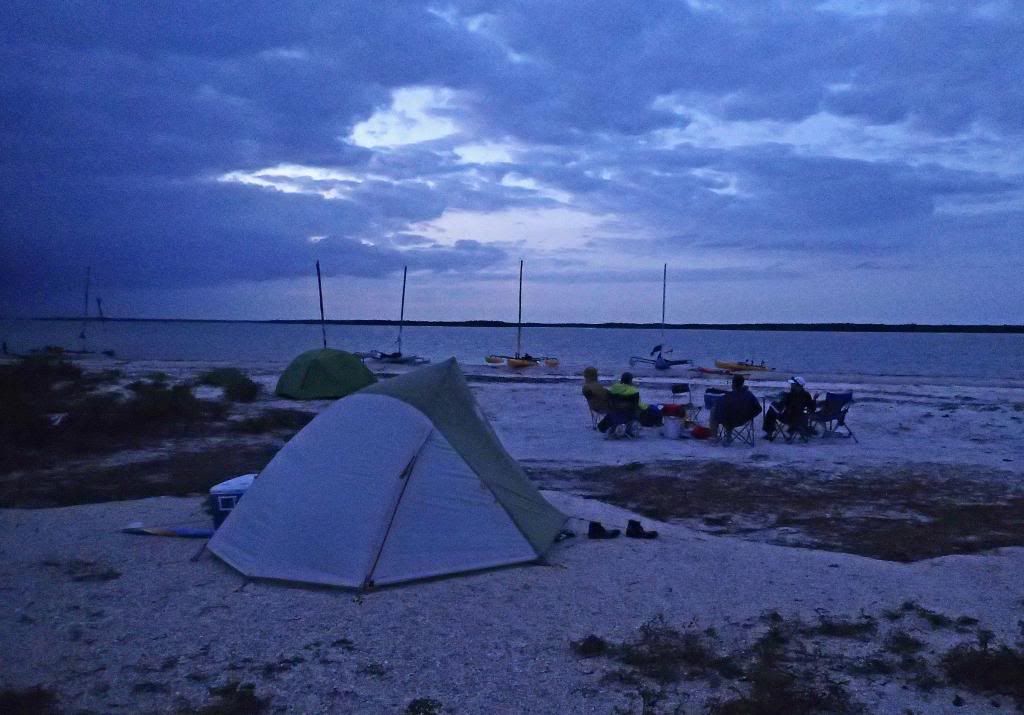 Pavilion Key is stripped clean of any firewood on the spit where we camp. So, Jim and Don went on wood detail for the group.
And, brought back a lot of wood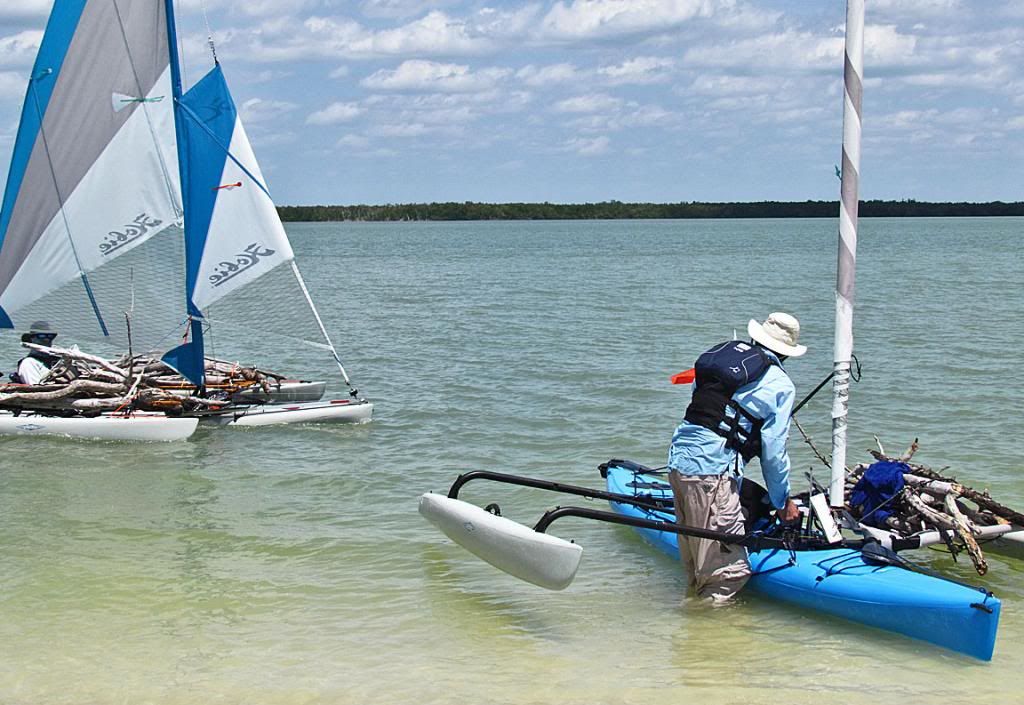 Josh, a firefighter in his day job, loves to build campfires. Here is his handiwork.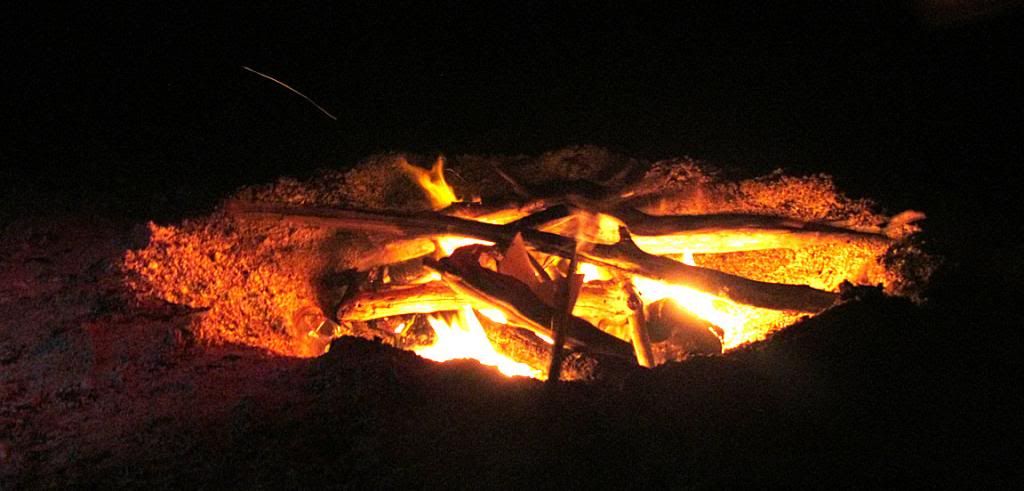 Of course, Josh's efforts were deeply appreciated—Jim, myself, Josh, Nancy, Terry, Rick, and solo-canoeist visitor John. Don took the picture.
The rest of our group had returned to the mainland.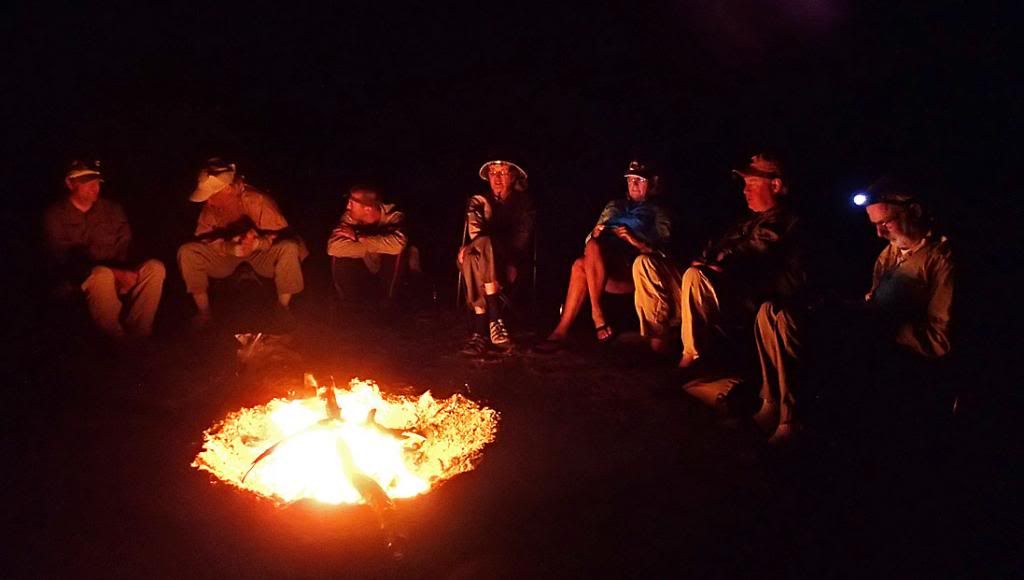 …A fitting end to our Everglades camping season.
Keith
Credits: Many pictures in this story were taken by Don Haynes and Alex Oancea. Thanks!