Alsone wrote:
I've just been watching some videos of the NACRA F16. It seems they've designed their hulls with more floatation forwards and almost totally eliminated the effect. I have to admit I'm not sure the sailing looked as exciting but that wasn't anything to do with the lack of pitchpoling.
16 flip easy because of the location of the bridals, the oversize jib, and it could also use a little more buoyancy in the bows. but i have seen f18/f16 pitchpole at high speeds....
_________________
http://youtube.com/optikid16030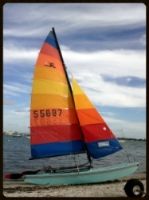 1983 Hobie 16 Cat fever #55697
2008 Laser Radial/4.7 #190471
S.S.S.
S.Y.S.P