Hi Laury,
My computer is very slow and my sent box in my email isn't working otherwise I would have responded already.
I just went in my basement and looked at my cradles and verified that yes, the cradles are on the black end caps. My dealer assembled and set it all up and I never gave it another thought.
This picture should show that mine is spaced apart very much like yours. The threaded bolt is hand tight and snug, no issues.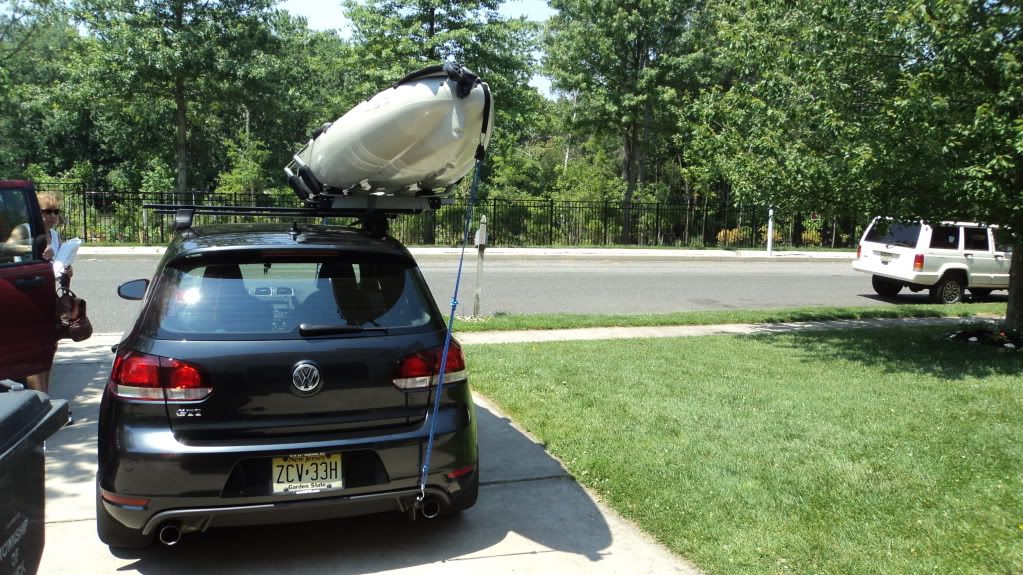 My dealer gave a pointer that has really helped keep the yak very secure without putting too much twist/flex stress on the cradle when driving at high rates of speed. When the yak is on the roof (I always transport it right side up/hull side down without issue), I secure the extra length on the straps around the cradles and cross bars snuggly and lash them tightly. This minimizes the any flex or twist stresses on the cradle's.
I have another set of footpacks, so I can use the Hullavator on my Honda Pilot. We went to the lower Fla. Keys in February. Driving at speeds over 80 mph on I-95 and it sat rock solid. Same on the VW, rock solid. I never think twice about stability. This system is engineered
very
well. In addition to lashing the extra strap length to the cradle/crossbars, I would suggest using bow/stern lines to secure to your front and rear bumper for additional security/stability, especially if you are driving any distance.
I solo more often than not. The grip handles on the Oasis are spaced
very far apart for just one person
to lift the Oasis onto the cradles. I added two strap handles, one behind the front seat, and one in front of the hatch in front of the rear seat. This affords me the ability to lift the beast by myself. You can see the black straps in this photo
A word of caution if you put straps on. Make sure you use washers on the underside and topside of the straps to prevent the possibility of the hardware "pulling through".
I'm getting excited to get on the water. Fluke season just started here in NJ and the weather is starting to warm up. We have had an unusually cool May here. I hope some of this iformation is of some use to you.