So my lovely wife decided she wanted to take my youngest son to the zoo today with her girlfriends and their kids. Evan and I were given the go ahead to do whatever we wanted this mothers day as long as we were home by 4pm. It didn't take us long to come up with a game plan that included a little run and gun fishing around Jacksonville for largemouth bass. This would be a special trip for Evan as he's been long overdue for an introduction to night fishing for bass. Plans were set and so were alarms as we'd be up and moving by 2am. Sleep didn't come easy for either of us as we both anticipated giant green monsters peeling drag in the darkness. I've been on a big swimbait kick lately and was looking forward to putting them to use in the wee hours of the morning.
We started over near South Side in a small pond surrounded by businesses at about 3am. I've been having pretty good luck from the bank in this pond and even broke off a fish that would have gone 9 or 10 pounds last week right at the bank. I stuck two fish right off the bat on a 6" weedless Huddleston Deluxe ROF 5 in golden shiner. From there the bites came pretty steady. I was catching fish by alternating between the swimbait and a black Heddon Super Spook with the middle hook removed. I cut that middle hook off of my black spooks b/c two trebles are more than enough to deal with in the darkness! I've never noticed a decrease in my hit to catch ratio so it seems to work pretty good. Evan was doing his own share of damage on a 1/2oz black Titanium buzz bait. After a few trips around the pond it was time to leave and head to another "top secret" big fish hole before daylight started upon us.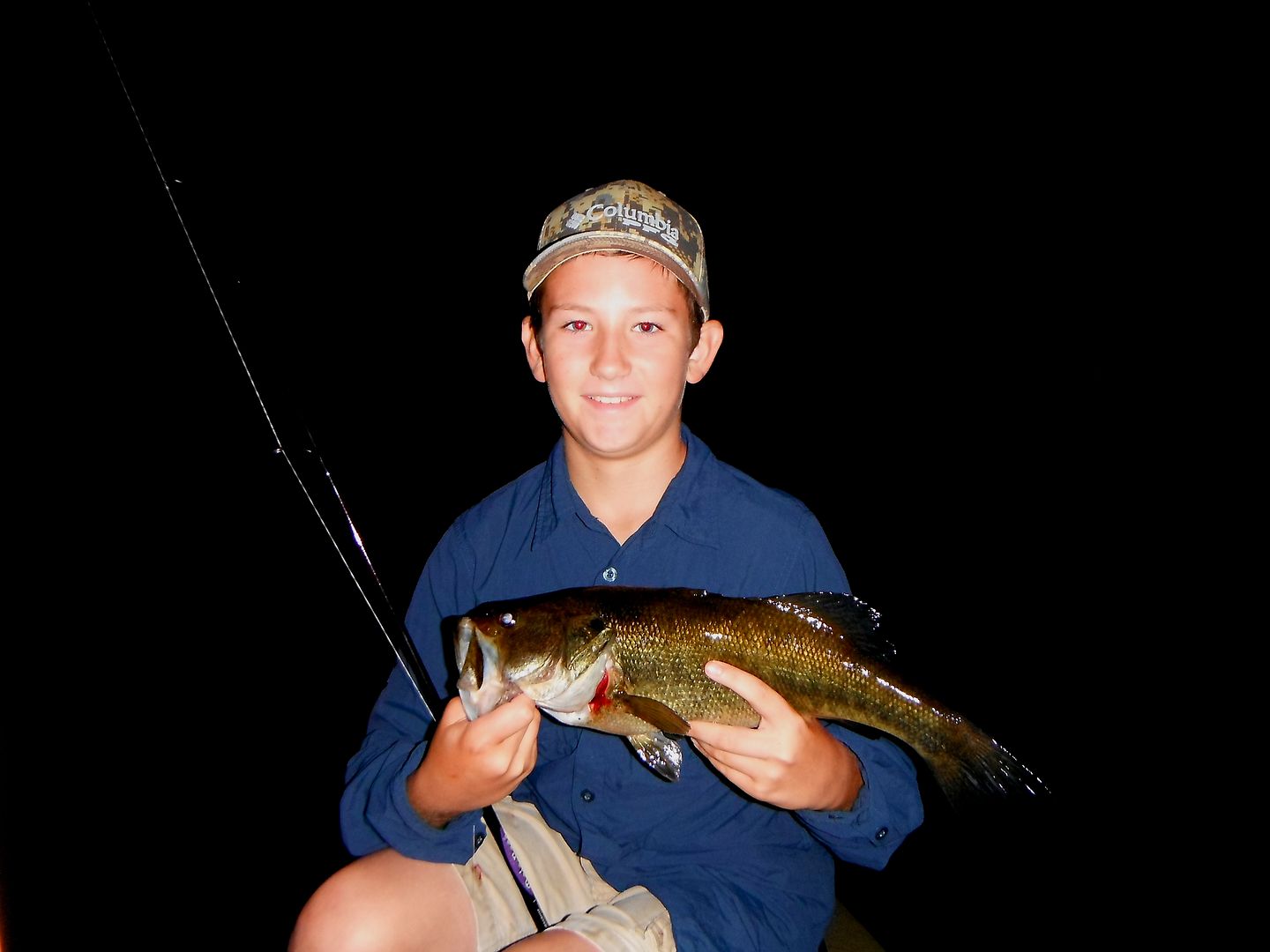 We made it to the next lake (back towards the beaches) with about 2.5 hours of darkness left. Once again the fish cooperated and hit my spook and Evan's buzz bait with reckless abandon! I love watching bass slam a spook sending it airborne over and over right at the boat like they do in the black of night. I managed what would be my best fish of the day here and she was a little over four pounds. Not huge, but definitely fun!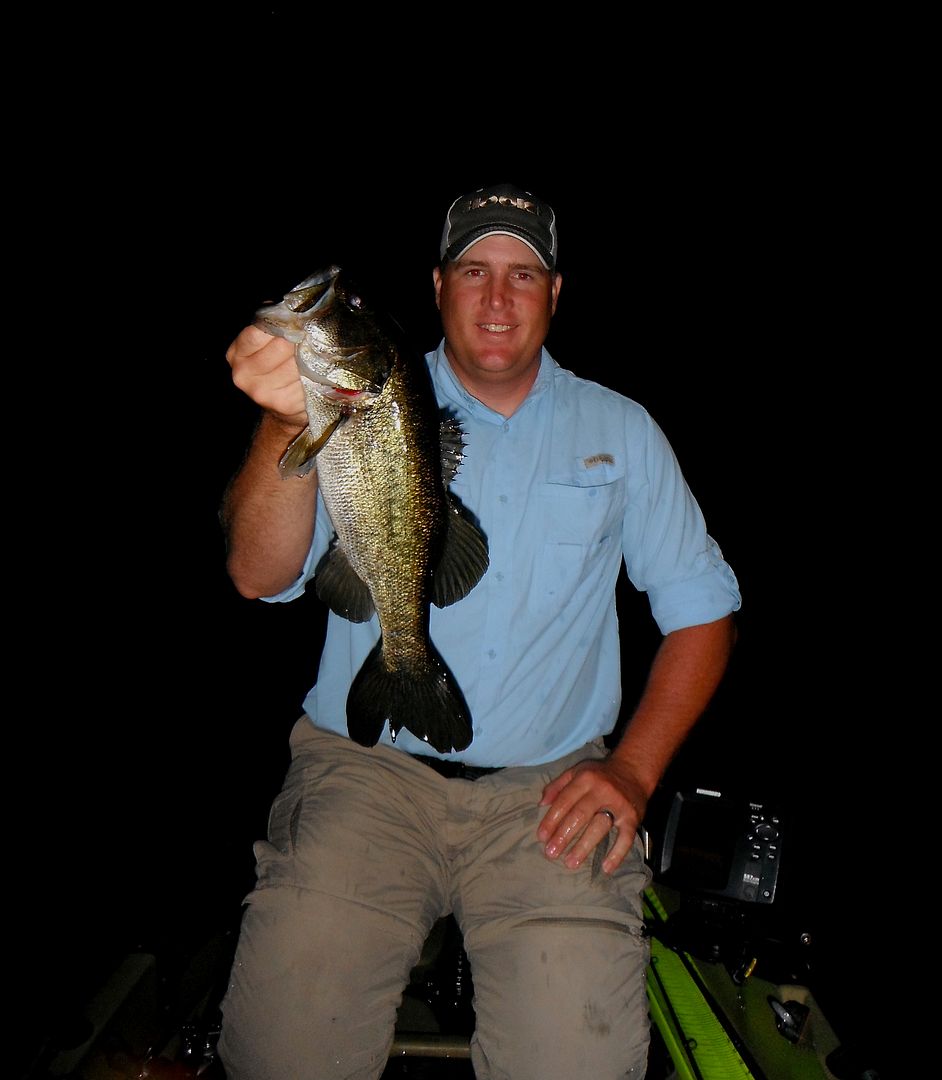 As daylight broke we packed up the stuff and I let Evan make the call on our next spot. He decided he wanted to try a lake that I found on Google maps but hadn't had the chance to fish yet. The only problem was it would require a mile long portage to get there pulling my Pro Angler 14 and all of our gear by hand on the Hobie cart. We made a break for it and hit the trails. The woods were beautiful and full of life as the first bit of light started to penetrate the canopy as we walked. Deer, armadillos, squirrels, and every kind of song bird kept us on our toes as we interrupted their morning routine and sent them flushing off through the palmetto fronds. It took us around 25 minutes to make the 1 mile voyage to what would hopefully be a bass fisherman's paradise. I warned Evan of the possibility of disappointment after making this long trek to a pond that we had no previous experience in. He assured me it would be alright and had his hopes up that the effort would pay off. What we didn't realize was that this out of the way lake was the home of more bass than you could shake a proverbial stick at. I would have to wager that very few fishermen have ever put a boat in this water and the bass would be hitting every bait we would throw like it was to be their last meal!
Over the next four hours or so we caught bass on Zoom Horny Toads, Zoom Flukes, Zoom 6" lizards, Strike King Burner Spinnerbaits, Huddleston Deluxe swimbaits, and jointed Rapala jerk baits. At then end of the day Evan had broken his personal record by catching 21 bass by himself. He stayed true with throwing Zoom Horny Toads in every color of the rainbow while I experimented with different baits just for the fun of it.
Our adventure lasted 11 hours, took us to 3 different lakes, required 2.02 miles of hauling the Hobie Pro Angler 14 through the woods, and yielded 54 beautiful largemouth bass with many of them being between 3 and 4 pounds. We had a great time and thoroughly enjoyed our selves from the time we woke up at 2am until we finished our sub sandwiches at Jimmy Johns at about 2pm on the way home! What a great way to spend a day with my oldest son!