Hello Everyone!
I have wanted a Hobie Cat since the first time I got a ride on one forever ago. Sitting on the shore of Lake Tahoe the other day, I decided I really need to just go for it and get a Hobie. Three days later, and here I am, A proud new owner of a 1988 Hobie Cat 16 in pretty good condition. (far as I can tell) I picked it up with a trailer and sailbox for $1500. The Hulls are solid, the rigging is in good shape, the tramp seems to be ok. The trailer is in great condition, even has a mast winch. Came with three harnesses, life jackets, and a bunch of other little goodies.
It has the 86 nationals light blue sail color, and has the nationals striping on the hulls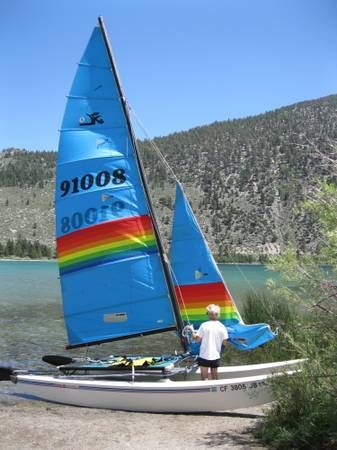 This is just the craigslist picture, I will get some close ups tomorrow, I have a few questions about some minor issues I have noticed.
I have only been on a sailboat a few times, So I have a ton to learn. Figure what best way to learn than just jumping in head first. Hoping to find to local sailors to help me out a bit.
I live a few blocks from Lake Tahoe, on the north shore. The water is still super cold right now, I will need to get wetsuits if I plan on going out anytime soon (Which I do!) Tahoe has an inspection process every time you launch in a different body of water, so I am not sure if I will be sailing anywhere but Tahoe. That is quite ok though, the lake is huge, the views are breathtaking, the water is pristine, and the winds are very consistent all summer.
Looking forward to getting to know the Hobie community. Anyone else in the Tahoe area?