Hi Crew,
Firstly, I have been a long time reader. Great forum. Having owned an Outback, now a PA12 and Revo11, I enjoy the Hobie product. I recently sold my boat, hence the upgrade to the PA12
We needed a trailer for our property (garden waste etc.) so I had a box trailer made, with a means to mount the kayaks. Being a high side trailer, the PA12 was very difficult to get off and on without it scrubbing on the frame of the trailer, when solo fishing. With the family in tow, not an issue as my wife would help load the Hobies.
Box Trailer:
It was getting some damage to the hull (scrapes), so I decided to buy a small water craft trailer. As standard, it has 1.5m marine carpet covered skids, a front roller as well as a winch with roller.
I know that the Hobie cradles need to be about 67 inches apart, which they are on the box trailer, but are the skids and roller sufficient to support the PA12 hull??
I could get another cross bar welded up and get another set of cradles, if I REALLY need to.
Here is a quick picture of the trailer and front roller.
Front roller (I am concerned it could damage the drive well):
The winch is not exerting any force/pressure on the front handle. Just strapped to help prevent forward and aft movement.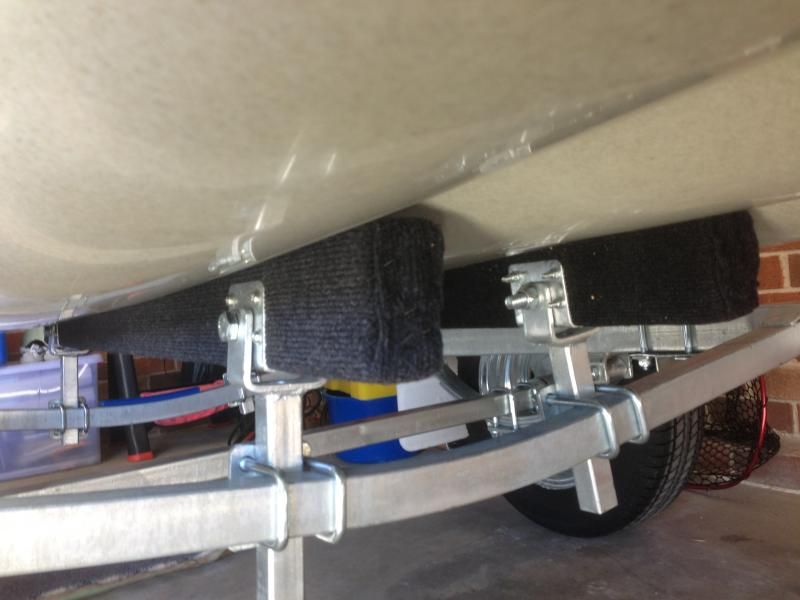 The last picture shows a difference in height! With the Hobie cart fitted, the new trailer is a perfect height to rest the nose of the PA12 on the skids, slide forward, then remove the cart. Perfect.
I look forward to your replies.
Cheers
Rob