rhyolken:
Chances are that bolt was sheared during either handling (I have had 'helpers' trying to help me with the boat pulling on the AMA's and shearing the bolts), or some sort of impact with the dock. It's easy just to put the spare on and off you go, don't worry about it, I have sheared off quite a few of them, it just happens once in a while. I would rather have that bolt shear vs breaking an AMA brace or AMA. I typically tie a 3/16 dia nylon safety rope thru the metal cleat in the center of the left side AMA, pass it in front of the left front AKA brace on the hull, then back behind the mast (so it doesn't interfere with the mast), then around the front of the right AKA brace on the hull, I then tie it off to the metal cleat in the center of the right AMA. What this does is if the plastic bolt does shear while sailing it prevents the AMA from folding in so you can stop furl the sail and make the repair without going for a swim. The nylon rope is stretchy so if you really do hit a dock or something and shear the bolt off, the nylon rope will still give and you shouldn't break anything else.
As far as mooring your TI off shore, I do it all the time. We recently stayed down near Islamorada for a week and I kept my TI moored just offshore for the entire week without any problems, just make sure you are away from docks, and or have it tied so it can't bounce off the docks in the waves and tides.
Here is a pic of my TI moored for the week, it was great for us, we just left it there for the week and went out sailing 2-3 times a day every day.
Here is a pic of the safety rope in place (in the lower left corner of the pic), I just keep the rope on the boat all the time, and just stuff the ends into the mesh pockets when storing the boat. When setting the boat up you just clip the clips onto the AMA and off you go. You can probably just as easily just tie two separate ropes to the left and right front AKA braces attached to the hull. I also had brace ropes tied to the rear AKA braces as well for a while creating a truss type brace system, but ended up removing the rear ones (overkill I thought). Make sure you use lightweight nylon (stretchy type) rope. This mod also keeps you AMA's from bouncing up and down in the waves which is annoying, and if one of the bungies fails (the bungies that hold the AMA's on), the AMA won't fall off.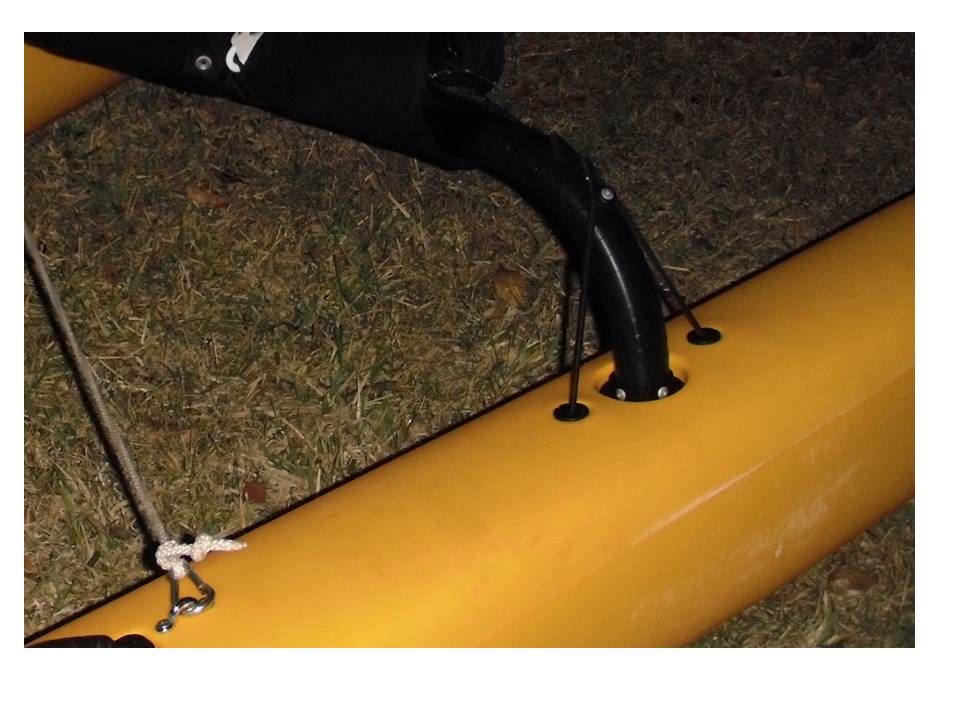 Hope this helps
Bob