Hi Matt, (or anyone else who would know)
I'm looking at a used bravo, and if I can get it, I'll need to build a trailer before I pick up the Bravo. I'm hoping to build a trailer, similar in concept to this: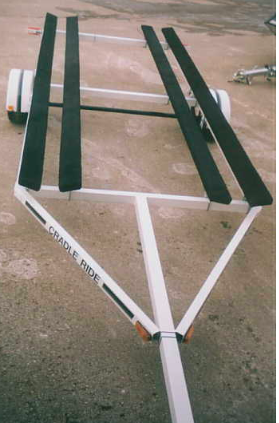 To do that, I've taken the picture of the Bravo from the owners manual listed online, and the parts manual also found online. I assumed that these drawings were roughly to scale, and made a graph on the assumption that the boat is 12 feet long. If those drawings are correct, I'll be able to make a trailer from them (obviously they don't have to be perfect, but pretty close).
So here's what I'm sending to the trailer shop. Is the graphic below, close to accurate?
My second question:
The red lines would indicate the straps that I'd like to loop around each hull (through the scuppers) to hold the boat in place. Is that a good spot to strap the boat?
Finally:
My information says that the centreline of each hull, on the bottom is 44.5 inches apart. Is that correct?
Thanks to anyone who can help me!