DM06:
Funny you should mention fiber glass screen material for doors. That's what I am currently using.
Here is a pic of my current spray skirts: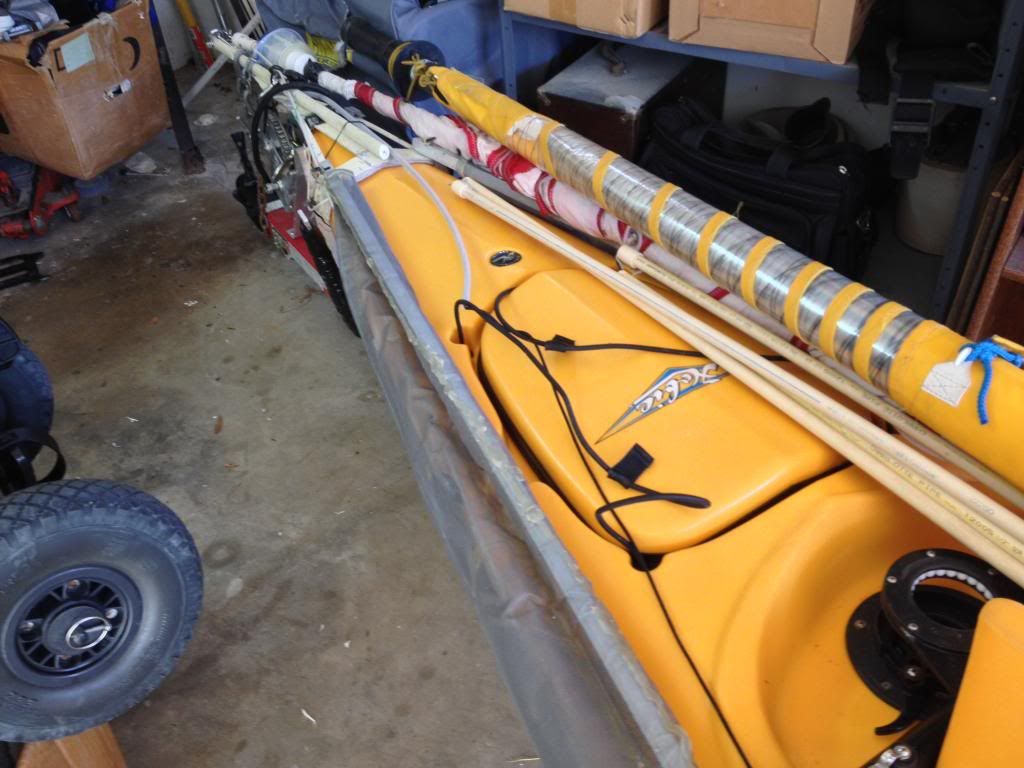 It's just hanging there in the garage, but basically it looks like most other spray skirts when it's up. And it actually works really well and keeps me dry in the boat. The only downside to fiberglass screen is it is not very strong at all and tears very easily, I won't be using standard patio screen again, it just doesn't hold up.
However I also have rear spray skirts on the back of the boat that are made from a heavier duty screen material, they advertise it as heavy duty for dog screens at Home Depot. It appears to be standard screen coated with a thin PVC coating and is stronger. I have fiberglass rods folded into the edges around the perimeter of the skirt (similar to the rods used on the Hobie tramps). I don't put them on very often because when I go out solo I always ride in the front seat so I don't need them. But in the winter when my daughter and I go out she likes them, keeps her dry from the splashing ice cold (75 degree) water in the winter. The rear skirts are strong enough to sit on and hike out from the rear seat. I'm planning to replace my front skirts once of these days with the same material, and fold in fiberglass rods on the edges for additional strength. So people can sit on the spray skirts, and I can also lash gear onto them (ie... things like dive bags, BC's, scuba tanks, etc). If you look at a Windrider 17, that's the way their spray skirts are.
I have a pool child fence around our pool that is made from some type of trampoline material (similar to Hobies tramp material, this stuff is extremely strong, and if I can find where to buy it from, that's what I will be using on the next version of spray skirts, and they will be strong enough to walk across and hike out onto. I still don't trust my current rear skirts (with the dog screen) for hiking out, kind of a waste of time making them (again).
Spray skirts are kind of a sore subject with me, as I have made at least a half dozen of them, and they always fall apart or don't work.
Bob