have added a few things to my PA12. money has been a consideration, so have taken some actions to minimize costs.
1. H-bar installed:
see discussion at:
http://www.hobiecat.com/forums/viewtopic.php?f=78&t=45864
2. Sail furling device: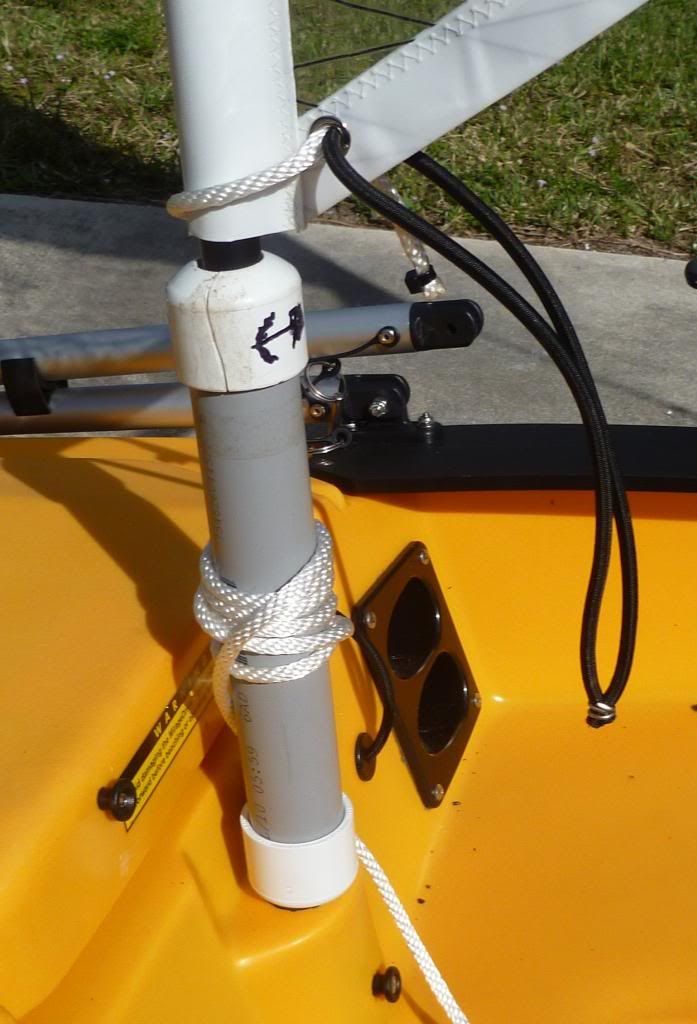 3. Scottie rocket launcher rod holders:
Used these because they keep the rod butts from interfering with the pedals. also they cost <$20 each, including base. have rod leashes made from old telephone coiled cords and a bungee that was used to secure the Mirage drive.
4. Cutting board:
Glued a small piece of polyethylene to the hatch cover to use for cutting bait, sashimi.
5. Rod extensions:
Used scrap pieces of PVC electric conduit
6. Carts:
Used PVC and a piece of dense foam so weight of the yak carried by scupper holes onto the collars and not by the hull resting on the crossbar.
CURRENT LOOK:
7. Fish Ruler:
Mounted this on a piece of 0.5" PVC, which fits into the sail receiver. I can measure the fish and either release it or toss it into the front hatch.
8.KeelEazy
Added this to protect the bottom of my PA from scratches. Used gorilla tape on nose as I found it impossible to form the product to fit. Had problems around the rear keel with it not sticking. Instructions say nothing about it not doing so in such curved places. Their customer service of no help. Reluctantly told me I could return it for credit/replacement but already had it installed and too much trouble to remove and return. Not sure why they wanted it back as I sent pix and it can't be reused. Ended up removing 2 small squares and am trying to use them to hold down the area around keel. Will see how it works.