I'm perfectly happy with my 2012 Tandem Island, I honestly can't think of anything else that I would like Hobie to change on the boat that would make my experience more enjoyable.
Obviously the amount of sails, and the sail size on the boat is a little light, but the Mirage drives more than make up for that. When there is no wind we just peddle sometimes for many hours and many miles with very little effort at a comfortable pace (4-5 mph with two peddlers). Also if the wind dies or you need to fight upwind the mirage drives really come in handy, I don't think I could own a boat without the mirage drives.
Yes they could add jib and spinnaker options or a foam fiberglass tail option to get better sailing performance (so the rear of the boat is not pointed, and looks more like the rear of a Weta, or some other semi planning hull type). But there is nothing preventing any of us from adding any of this stuff ourselves, that's what I did, and it's extremely easy to do without any modifications to the basic boat itself.
The downside to adding sail area, hydrofoils, motors, hull mods, etc is they add considerably to the entry level cost of the boat as well as complexity of the boat, and the more complex the boat is, the longer it takes to rig and break down, and the weight goes up exponentially (the Windrider 17 weighs around 450 lbs). When adding your own optional mods you can choose to either use them or not use them depending on the conditions at the moment, the extra stuff just stays home if you don't need it that day. This makes the Adventure Island line of boats un-equaled in versatility. I'm always amazed that I can one day be running rapids in an extremely agile and fast tandem kayak, then the next day sail far offshore in a very capable sailboat with passengers in fairly rough conditions at times. We just got back from a trip to Key West where we went lobster and spear fishing every day. Because of parking problems in Key West we chose to leave the trailer at home and car topped the TI. I know of no other 20 ft sailboat ( my TI is about 20 ft with the bow sprit)out there that you can just pull over to the side of the road anywhere on US 1 and just go out and dive and snorkel.
Here is a pic of our first days Lobster catch: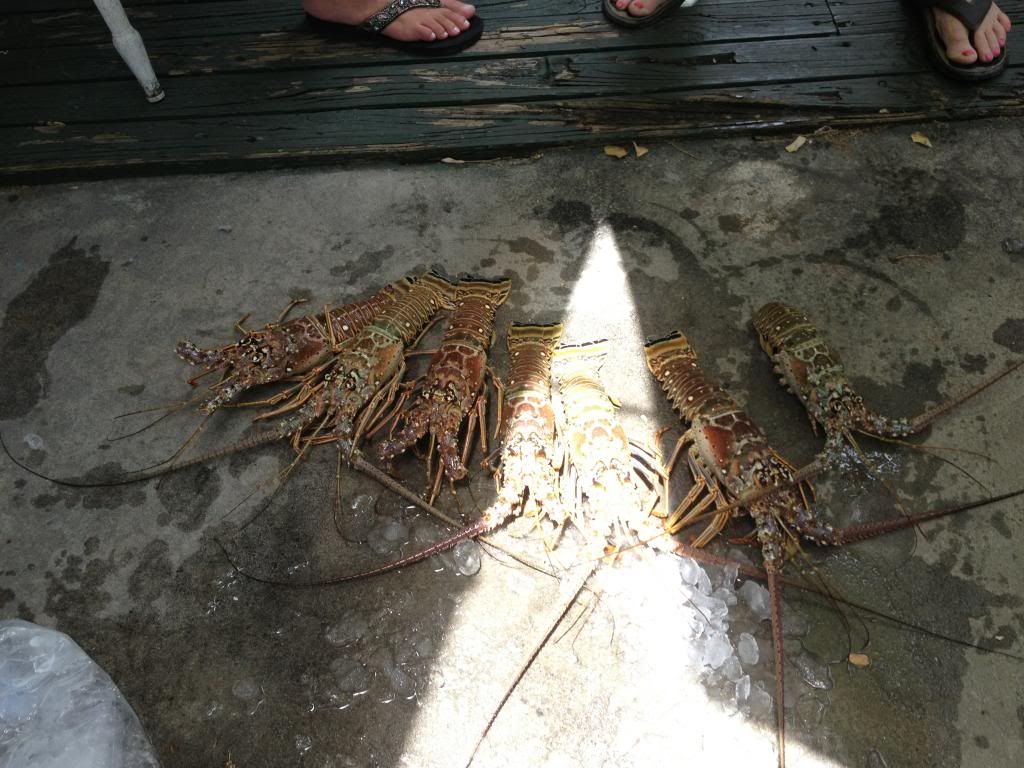 Here is a pic of our TI on the car roof, ready to go down to Key West:
Here is a pic of my TI when mounted on the trailer:
Even with all my mods, the boat is very fast and easy to rig when using the trailer (under 30 minutes, and faster if I don't putz around)
There are a lot of Weta's and Windriders in my area and quite often we launch and come back at the same time, I much prefer what I have over those guys (just my personal preference).
In my opinion the Adventure boats are amazing. At times while down there we went offshore with 5-6 divers and full gear (8-9 tanks), including all the BC's weight belts, coolers, etc. We have an inflatable 4 person raft (650 lbs capacity) that we just tow behind the TI for all the equipment, and some of the extra passengers just hang onto the boat on the way out in their own kayaks, or they can ride in the dingy (nobody ever wants to ride in the dingy with all that gear).
We just got back yesterday and are cleaning up all the equipment, here is a pic of the dingy that we tow behind the TI offshore, it smells really bad right now after a week of lobster and spear fishing, and I'm trying to air it out. The dingy rolls up to half the size of a sleeping bag, and is stored in the front hatch when not being used. We can inflate it in under a minute when we want to use it with an air nozzle attachment on our scuba tanks ("WARNING" constant use for fish kill makes it smell really bad, ie... we spear the fish underwater, then float them up in the kill bags (a ziplock bag inflated with air inside the mesh kill bag along with the fish or lobster, the boat tender (usually me) then goes over with the dingy and gets it before the sharks can eat it. This keeps us from being accidentally eaten by the sharks) .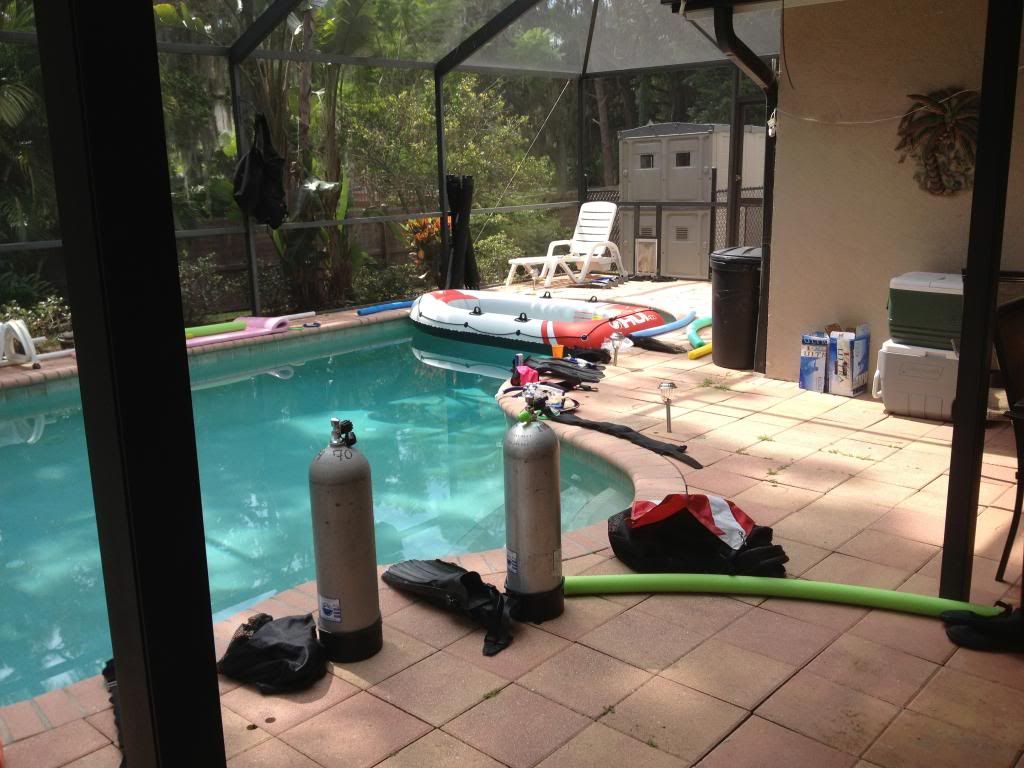 Of course the TI is all equipped with full lights, flares, large anchors with 150' of anchor line, GPS, offshore FM radio, charts, etc. and we have an emergency gas motor as backup and always carry at least 50 miles of fuel on board. With 265 sq ft of sail, even when towing the dingy the boats moves along surprisingly well, and if the wind dies I can just fire up the motor and powersail surprisingly fast (if the low winds are right (3-6mph), we can powersail 6-8 mph, which isn't bad ( under 6 when the boat is at weight capacity and pulling with the loaded down dingy obviously).
I am still amazed that there are virtually no aftermarket add-on's, for things like jib and spinnaker kits, motor mounts, performance kits, etc out on the market for such a popular boat (possibly the most popular sailboat on the market right now). If you look around you can get aftermarket stuff for nearly ever other brand of sailboat (even Hobie cats).
I've been using my TI as rigged in this picture for over 3 yrs now with no major difficulties, and trust me we use the heck out of our boats all year round. In a recent trip to Islamorada we parked the TI offshore for a whole week and went out every single day at least 2-3 times a day.
I'm just sayin, I really like the Adventure boats, and I can't think of much else Hobie can add or change to the boat itself ( I think they are near perfect), but do wish there was a better aftermarket for add on's (ie.. jibs, spinnakers, motor mounts, bigger AMA's, longer AKA's (TI should have been 12 ft wide from the beginning in my opinion), etc.
That's all I'll get off my soap box now
Bob