Here's the problem -- the higher seat produces a higher center of gravity. Even with its 36" beam, the PA 12 becomes unstable with the seat in the higher position in sudden turns. Paulwinkel posted this picture last year in his review of the PA 12 showing a near capsize in a sharp turn (his friend subsequently did capsize the boat):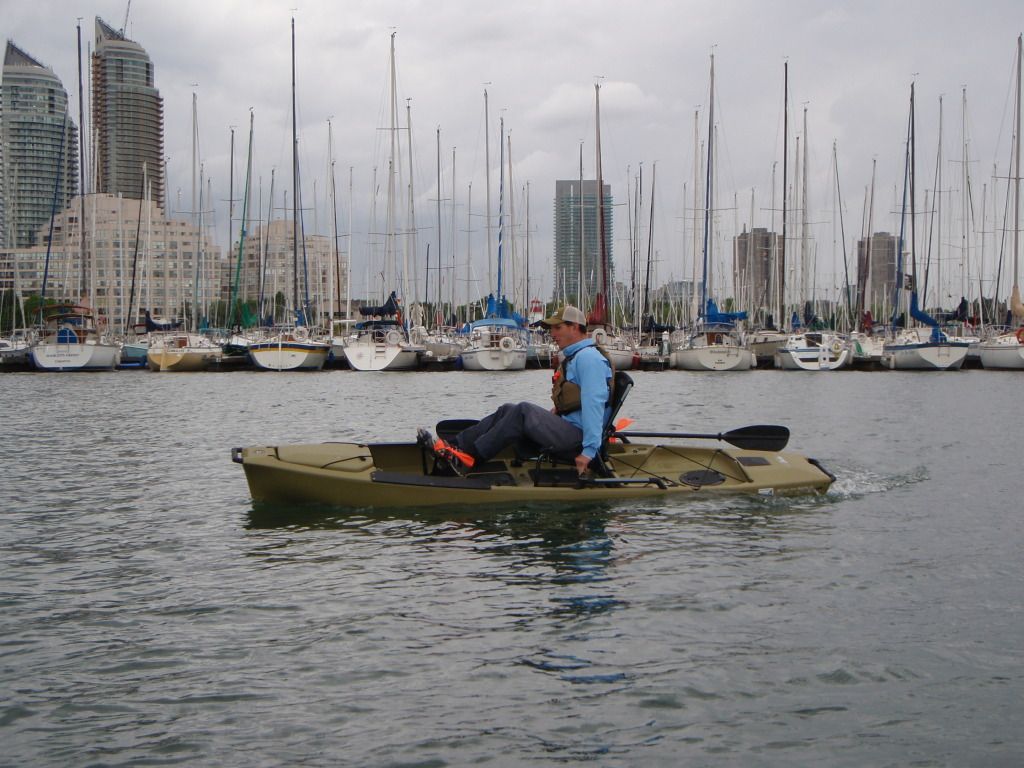 A modified version of the seat might be workable in the wider kayaks, but I doubt that Hobie is willing to compromise safety for comfort. Hopefully they can bring at least some elements of the seat into the kayak line.
In spite of its great reviews, the seat has one other potential problem for kayakers -- raised armrests. They would be hard to get rid of since they conveniently hold some of the seat adjustment controls that make the seat so comfortable. Yet with them, side entry into the boats would be difficult and sitting side saddle (useful for instance in accessing the rear cargo well) would be out of the question.
Overcoming these limitations would be quite an engineering challenge, But then, the seat itself is a remarkable engineering achievement, both in and out of the boat! For those who aren't familiar with it's capabilities, it has an adjustable seat bottom, adjustable seat back, adjustable lumbar support, adjustable height, breathable mesh fabric, flip up bottom for standing and leaning against and foldable top for compact transport. Best of all, it is easily removable to use as a beach or lawn chair. In that capacity, you can also rock back on it and use it as a rocker. Construction is anodized aluminum, stainless steel and double layered nylon mesh for maritime use, and has a 300lb. capacity (I think). It was designed by Hobie engineers and is built in the USA at the Hobie factory.
No doubt, the Vantage seat shows Hobie's commitment to our comfort. It will be interesting to see what they may be able to come up with!