Mingle:
I think I have one of the best anchor setups on my TI, which could also be used on an AI.
Here is a pic of my setup: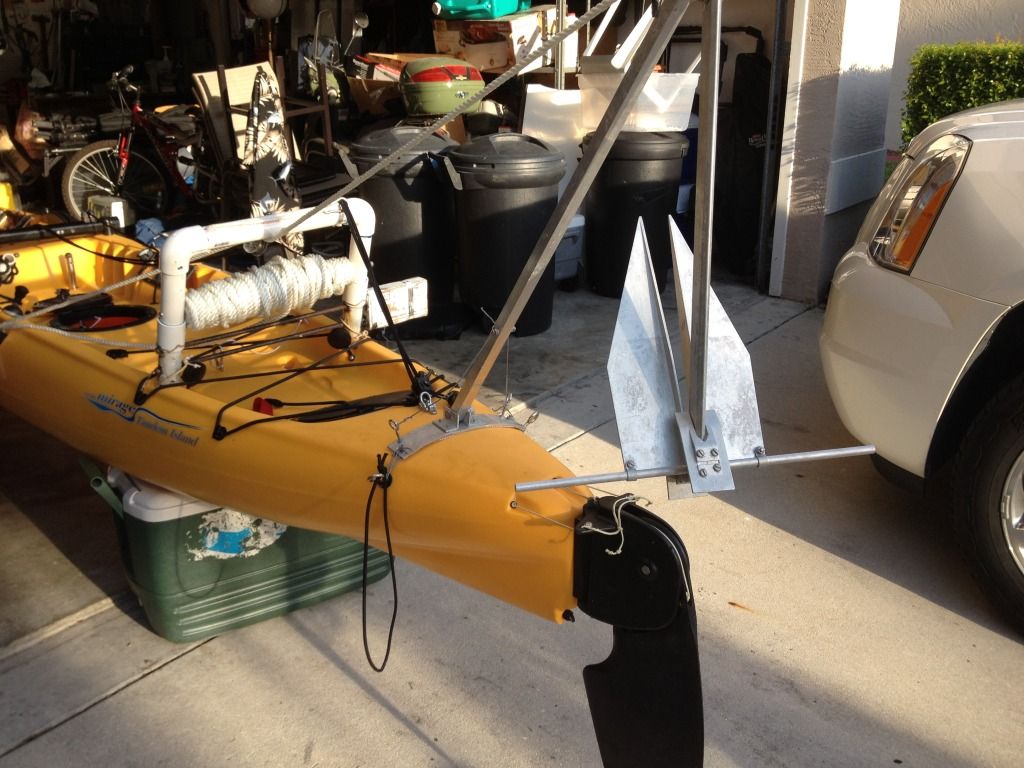 I made a small bracket that is lashed down to the rear deck in an out of the way area, I then put a 3 ft piece of sq aluminum that pivots up. The 150 ft of anchor line coils up on a spool on my motor mount to keep the anchor line tidy (150 ft of anchor line completely fills the cockpit area, and makes a huge mess if not organized).
I keep my boat on the trailer so the anchor setup is never removed. When not in use the anchor hangs harmlessly above and behind the boat, I have a bungy that I loop over it when on the trailer so it doesn't wave and swing back and forth. I keep the anchor line tied of to the rear lifting handle when not using the anchor. When I am using the anchor I grab the line and drop the anchor, spool out the line to the necessary depth, then tie a slip knot on the rear AKA bar to hold. The anchor is completely automatic, it drops and deploys automatically (just release the rope), and to retrieve I just pull the rope until the anchor bracket is tilted up, then tie it off. When we are out I just pile the excess anchor line on the tramp. It only take a couple seconds to deploy and retrieve so when I'm following my divers I might deploy and retrieve a half dozen times as I'm following them.
I'm using the 4 lb Fortress Guardian G7 aluminum anchor which works great down here in Florida (got it at West Marine). On the AI you could probably use the 2.5 lb Guardian G5 model.
We are scuba divers (and occasional spear fishing) and really need to have a good anchor system, (we have had the boat drag away from us using two Hobie grapple anchors).
We also land at a lot of beaches and surf zones. The anchor really comes in handy for that. Basically we get into the surf zone, then when in waist to chest deep water we drop the anchor and feed out anchor line to keep the boat straight (bow first). When we go back out we just haul on the anchor line to get us out of the surf (yes we sometimes pull the boat out backwards if the surf is very low, but usually we manually turn the boat around holding onto the anchor line then pull ourselves out bow first). Often instead of coming all the way into shore we will just anchor 50 ft off shore, we do that actually a lot when we meet up with out powerboating friends, down here the beaches are lined with boats anchored just off the beaches (we call em party barges). We have a second anchor that we deploy to hold the boat so it doesn't move side to side.
The guy at West Marine (where I bought my anchor) got really upset with me, he was insisting that I have to get this huge 15 ft heavy chain to go with the anchor. I said why make a 4 lb anchor if you have to have 50 lbs of chain rode on it. I said my boat is plastic and only 200 lbs and I don't want that chain chopping up my boat. I finally said I'll try it without your stupid chain and if I have problems I'll come back and buy the stupid chain (he was really mad by then LOL). That was a couple years ago now and as divers, that's the first thing we do is follow the anchor line down and check on the anchor, I've checked it a couple hundred times now in all kinds of bottoms, and have not had a problem with it not catching, and if it does slip a little on a rocky bottom is catches again quickly on the next rock, so I never got the stupid chain, but that's just my circumstances in Florida (where it's mostly sandy), as I'm sure every area is different.
Hope this helps you
Bob