Too bad you couldn't wait a few weeks for the nut with 2x AI's strapped to his roof to show up
.. Ok, the trip has now fermented to have an actual itinerary for where/when we'll be staying eliminating the trip west to Lake Champlaine NY to visit her Mom (Sorry Mom .. we'll be up in october)
Leave Long Island early Fri (Sept 20) morning Via Orient Pt -> New London (CT) Ferry .. First stop - Kennebunkport ME where we well stay at a nice Inn/B&B overnite ... then
Sat (Sept 21) - 1 hour north to Freeport ME for the day/nite at another nice Inn/ B&B .. so much for the turisty sightseeing part of the trip
Sun (Sept 22) - 3 hr drive to Acadia where we're staying at
http://www.MountDesertCampGround.com
for 3 nites
.. looks to be well protected in Somes Sound (A)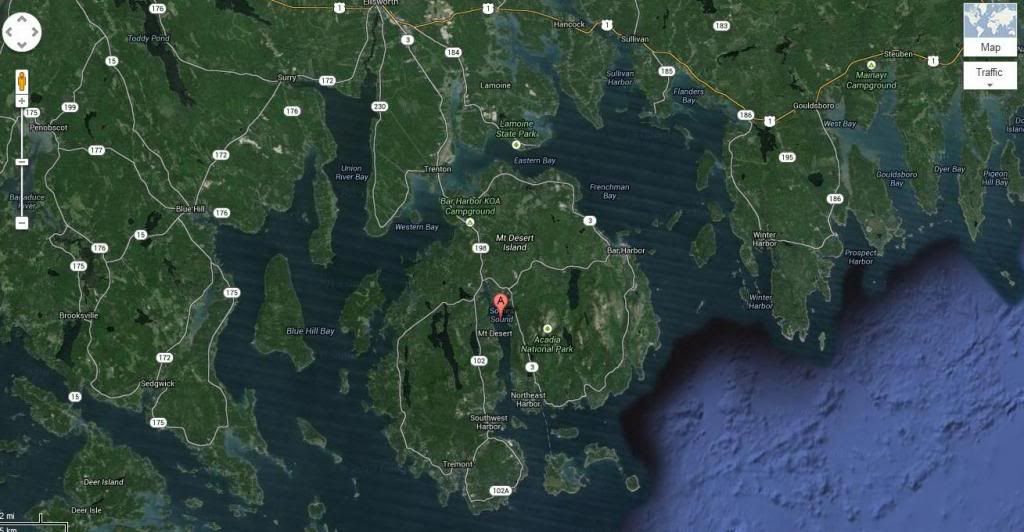 We'll either tent it or I've also got the tent kit for my XUV
Day sails .. bringing the bikes too for inside the park etc.
From there on Wed Sept 25 its 3 hours
further
north to Mooshead Lake ME area where we're back in side in a private cabin (and Bed and Fireplace !!) by the lake for 2 nites
From there on Fri sept 27 .. it'll be a 5.5 hr ride southwest to Lake Winnipesaukee NH where we'll spend 2 nites at a friends Lakehouse Retreat
and Sunday .. Sept 29th its back home to Long Island from there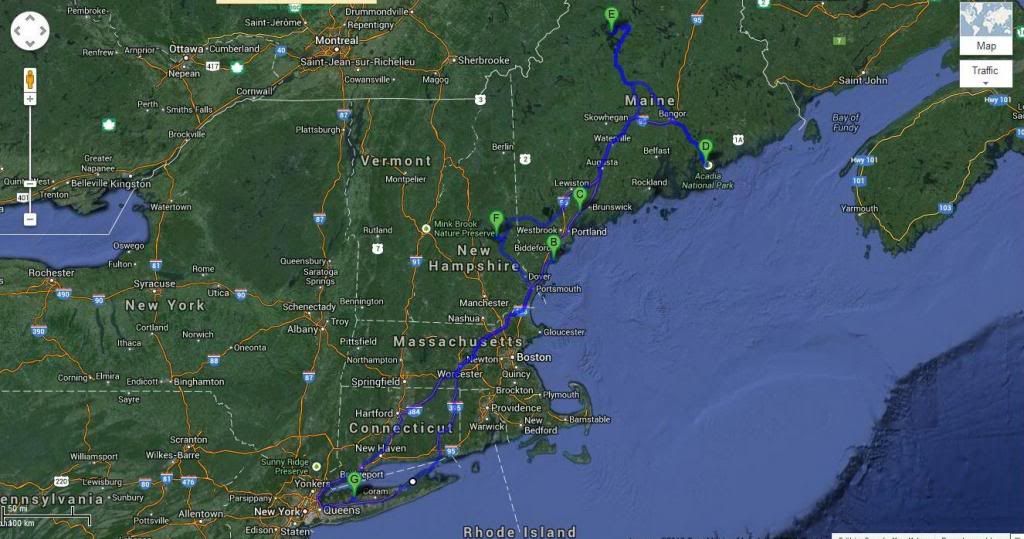 1,230 miles total .. and Im sure it'll be much more than that once completed.
... Fluids and general tune-up on truck - Check ! done this weekend
... new tires - next on list
Also looking to score some dry suits between now and departure but have breathable waders and gore-tex rain/hiking jackets on stand-by
... So, thats the plan but we're pretty fluid and will just go with the flow. The main idea is to get out of the rat race and enjoy the fall weather after a sweaty summer and before the snow flies. I just hope it is warm enough for us to spend some quality time on the waters
Anyone is welcome to join us in any of the area's we are staying at .. we don't bite (too hard anyways ..) but we do like have fun and live up to our last name - Wander(ers)