Hey I'm all set now for key west. I just rigged my TI to my wifes key west cruiser bike. It actually works pretty good.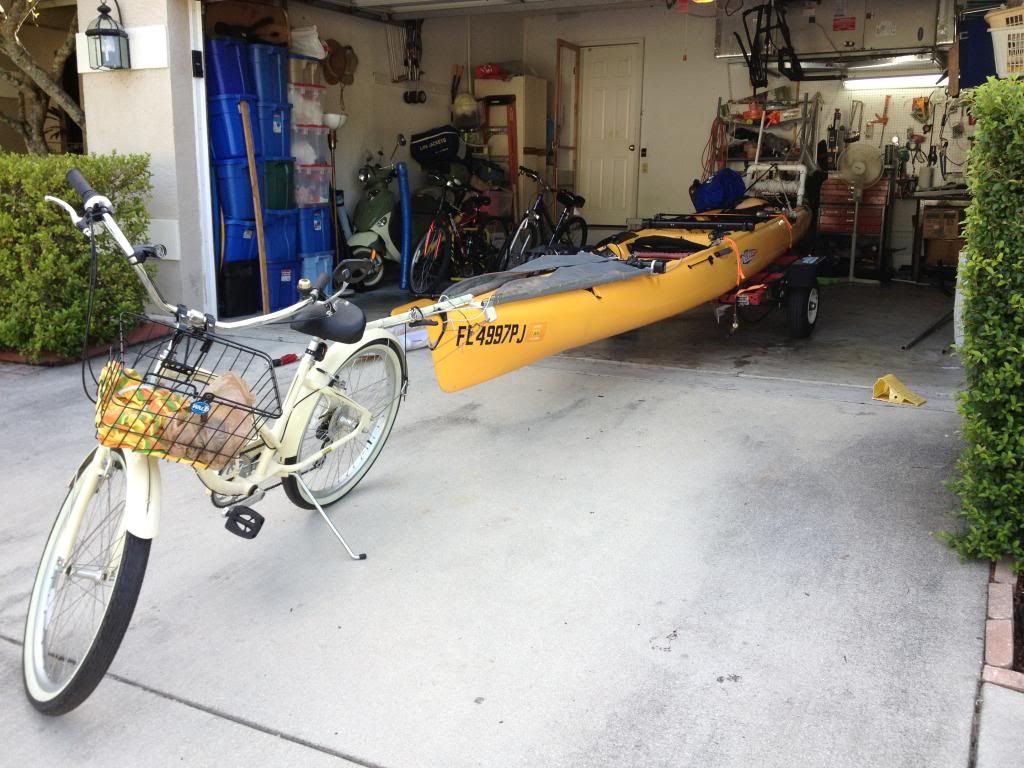 I just tied a rope around the seat frame (where it's solid) and put a clip in there. I already have the bow sprit on my TI so I just clipped to the end of the bow sprit.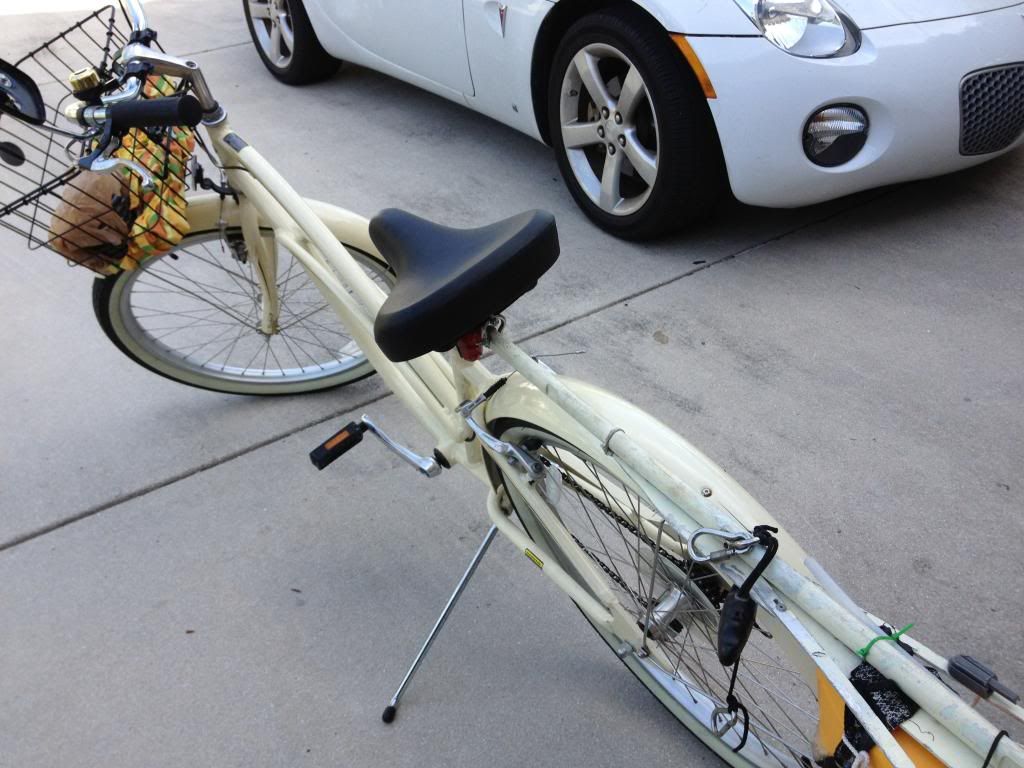 When I built my $140 dollar Harbor freight trailer, I designed it so the entire front of it (with the hitch receiver) can be removed with just two pins so I could use the rear portion of the trailer as a beach cart, never imagined that I would actually use it for that some day.
Next thing I will do is replace the steel frame on the trailer with 2 inch aluminum channel to get the weight of the cart down (currently it weighs about 75 lbs because of the steel, hoping to reduce that to 40 lbs or so).
I have the trailer mounted on the balance point of the boat so there is no weight on the bike. I took the boat for a ride around the block, and it actually rolls very easily, and had no difficulty taking off and stopping.
I can't imagine the same setup couldn't be done with a Hobie scupper cart with the HD wheels, but there are no bearings in those axles, so the rolling force might be higher.
So I thought about it some more and came up with an idea that Paul might be able to use on the Watertribe EC Ultimate challenge using 20 inch bicycle wheels mounted on U frames (1/8 x 2 inch aluminum bent into a U shape), then strapped to the TI. Since bike wheels have bearings, and the rolling force is very low. This would work well as a towing cart if you had to go 40 miles (whole works would be about 10 lbs, and breaks down very small).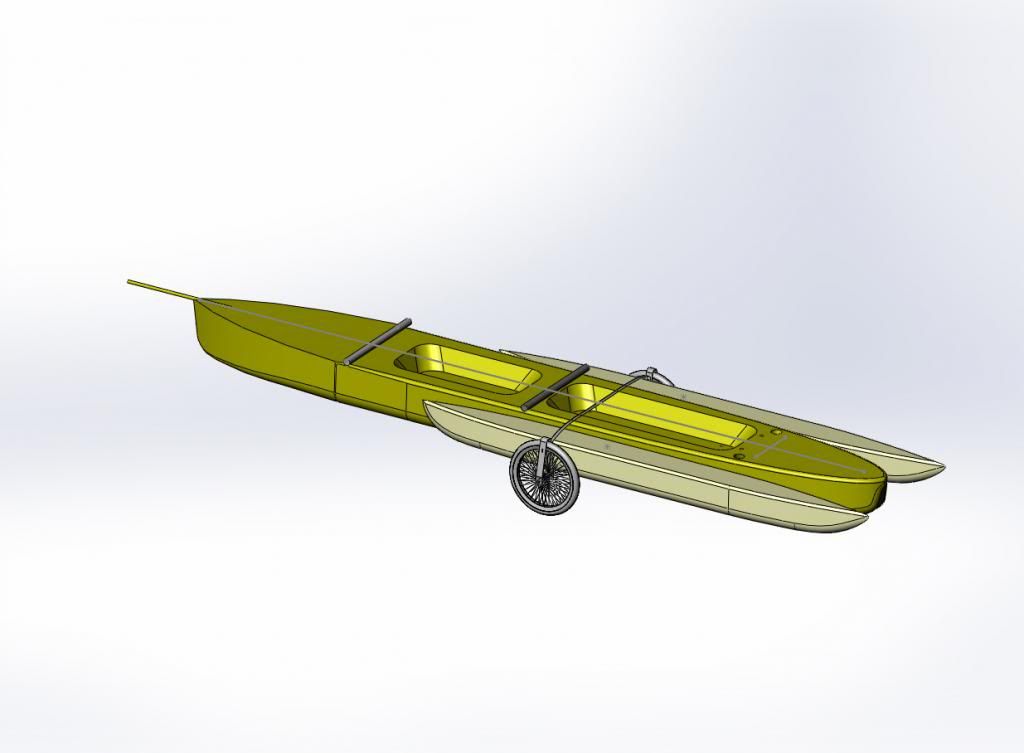 With the wheels on the balance point of the boat, it will actually pull and roll very easily. You could tow it walking (probably what I would do), or you can tow it with your folding bike (like my above setup), or you could build a third steerable drive-able wheel to go under the front mirage drive (a lot more work to make). The third wheel would have pedals, a steering bar and a chain that reaches up into the seating compartment above deck, you would have a hull fitting piece (like the new hobie TI 'special' bracket) that would be supporting all the weight, and that would be strapped to the hull similar to the rear wheel setup with cargo straps. You are only using the mirage drive opening as a thru-hole to pass the chain, and steering thru to the top side, nothing structural) For structural strength you would have two 5 ft PVC pipes strapped under the hull on 11 inch centers that would help brace and support everything. Then instead of carrying along the folding bike, just ride in the kayak and pedal and steer it from the front seat (ridin in style).
It would be no different from those crazy recumbent bicycles you see everywhere (
http://www.bicycleman.com/recumbents/recumbents.htm
) and should be perfectly legal to drive as long as it's human powered (no different from a bike, same rules), you will need bike lights if driving at night.
It's a pretty crazy idea, but it should work.
Bob
If it was me I would rig a bicycle derailer to the front system so you have multiple gears. I would also rig hand brakes to the rear wheels so you can stop (or you can throw the anchor out to stop, LOL). Hey it will look wild, but shouldn't weight more than 20-25 lbs, and can all be broken down very small.
You could also add a nice bimini for shade, and if you put a lace fringe around the bimini, you would have a 'surrey with a fringe on top'. (
http://en.wikipedia.org/wiki/The_Surrey ... nge_on_Top
) (sorry English humor).