I thought I would post my mods so far on my new 2013 PA14. As I've stated in some earlier posts, the move from the 2012 PA14 to the 2013 PA14 requires you to re-think where your gear goes and how you adjust to the new layout. The beauty of this forum is that folks share a lot of ideas on rigging the Pro Angler, So I'm sharing a few pictures in case others want to do something similar.
My first mod was changing out the strap under the seat to hold the Plano boxes for a easy to remove shock strap setup. I posted that in an earlier thread, but will include one shot here for reference. I had my Humminbird 385 CI Di mounted on the cutting board of the 2012 PA14. That's no longer an option. I wanted to mount it on the side mounting boards to reduce the amount of holes in the hull. I'm not a fan of Scotty mounts where you have to tighten a ball clamp down and was hoping to come up with a solution for the Humminbird "quick release" style mount that pivots and has the cable securely mounted inside.
The challenge was making it level when looking at it from the Vantage seat. It turns out that if you drill the four holes in the mounting board and use 2 of the Hobie "well nuts' inserted through the rear holes from the bottom of the mounting board, they are the perfect height for the outside screw holes and hold the base at the right angle. So as you can see by the picture, the inside screws are securely mounted against the board, but the outside mounting looks like 2 rubber pedestals holding the base up. Using a little "lock tight" ensures the screws do not turn and even if they came loose, the front screws are firmly secured.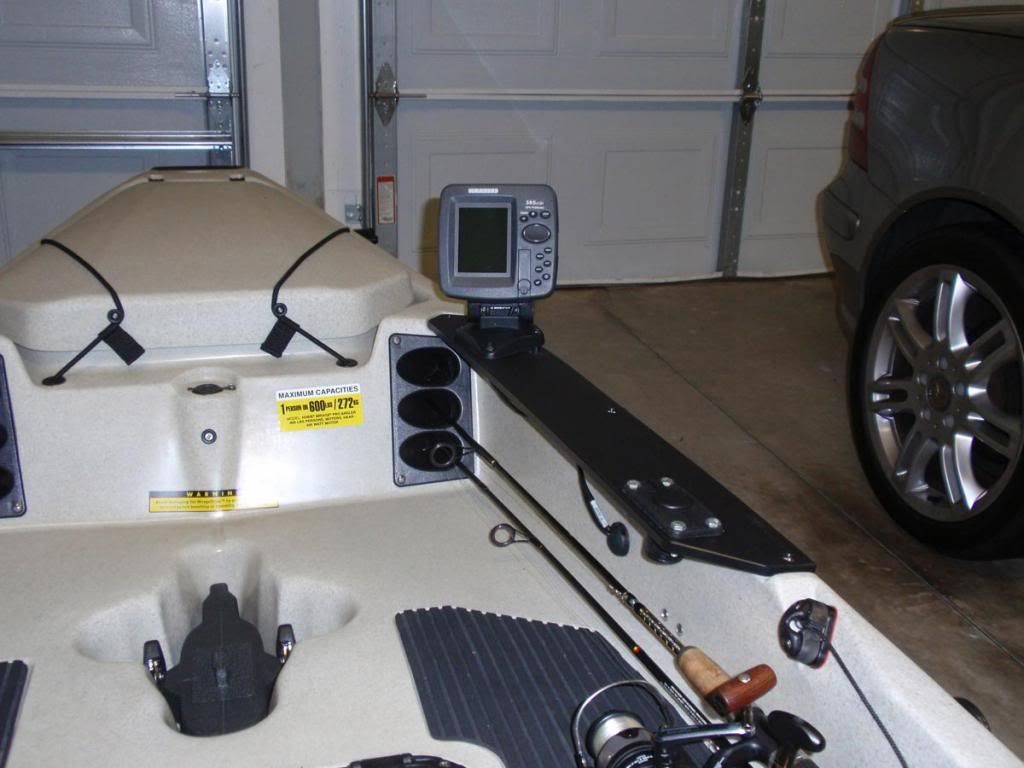 On the 2012 PA14 the side rails extended far enough forward so that you had the use of more than one of the retractable straps for securing your rods. The single rear cord the 2013 PA14 isn't far enough forward to really help. I wanted something simple to keep rods from shifting especially if you "turtle" the PA or tilt it on the side to insert the cart. I added a black nylon deck loop on each side above the 2 deck loops by the front seat mount. Being a fan of shock cord, I made 2 small straps with a retainer clip on one end and an open clip on the other. Works like a charm regardless of whether your reels are forward or behind the front seat mount.
Rods in back:
Rods in Front:
Tackle box mod under the Vantage seat:
Thant's all for now. If I make any more rigging mods, I will post some pictures.
_________________
Steve Stubbs
USAF (retired)
SeaDek Fishing Team
2012 Pro Angler 14 (owned now by a good friend)
2013 Pro Angler 14 - Dune
2015 Pro Angler 14 - Papaya