Let me first clarify exactly what I'm doing so it's clear to everyone.
I had to buy a new emergency backup motor anyway (to replace my old motor) because I often go offshore and I need a safe reliable motor and at least 50 miles of fuel as a safety backup. So I bought the Honda to serve that purpose. With no intentions of doing anything else with it.
While breaking in the motor I happened on this interesting ability of the wing sail to amplify the output of the Honda and my mirage drive system to an unbelievable scale (100 miles per gallon) and the ability of the wing sail/motor/mirage combination to propel my TI at decent sailing speeds (5-10 mph) quietly and using very little fuel in little to no wind conditions. So I thought I would share my accidental discovery, nothing more to it than that.
Before stumbling on this what I think to be a unique ability a couple days ago I had no idea or plans to do anything like that. I just bought the stupid motor as my emergency backup motor and was just breaking the stupid thing in and bored. You can view me trying to powersail with my old setup with just standard sails and my old motor in my response to Beebrain above, and to be honest that was a painful and noisy experience and hardly worth the effort.
I love to go out sailing every weekend but unfortunately the area I live in doesn't really have any good wind 300 days out of the year.
Here is a snapshot from my phone for todays forecast: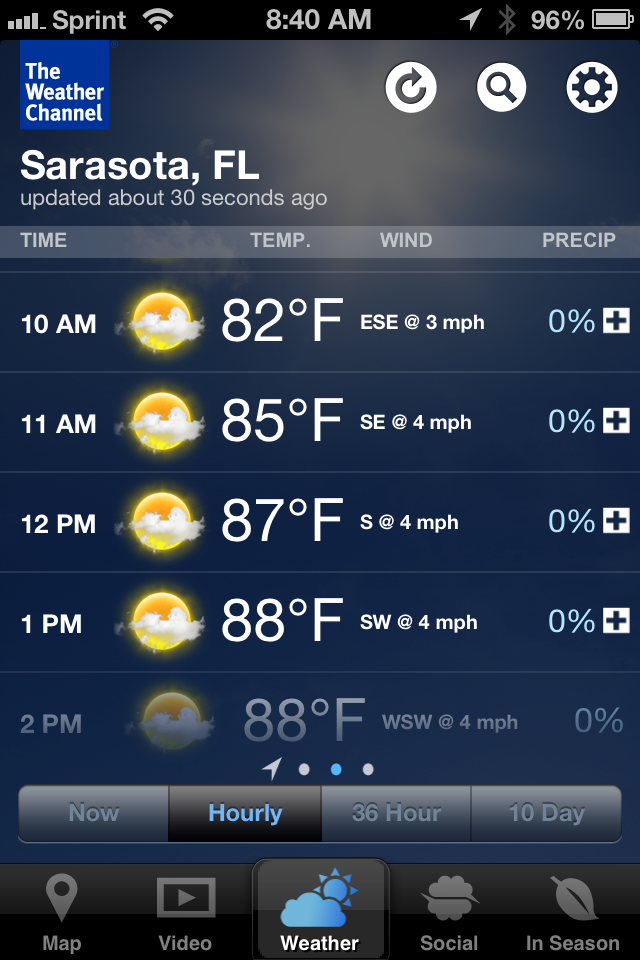 Since pedaling my TI is my exercise program, I always pedal 100% of the time and when we are not traveling to our Key West place or doing any family stuff, or going out scuba diving I typically have 3 routes that I take depending on wind and weather conditions every weekend (sometimes 2-3 times a week) all year round.
Route 1 launch from City Island, then circle Lido key (10 miles total)
Route 2 launch from City Island sail the length of Sarasota bay (20 miles total)
Route 3 launch from City Island sail up and around Egmont key (50 miles total)
The current thru all the passes is typically 5-6 mph so if there is not enough wind I cannot pedal thru the passes when the current is wrong (another reason for the motor).
My only reason for adding additional sails to my TI 3 yrs ago was to try and reduce my travel times around my routes because I found it boring traveling at 2-3 mph in the typical low winds around here with my stock TI.
To pass time (I'm an engineer/inventor) and to help occupy my mind I like to putz and mess around with my boat, designing, building, and try out new things, to help me learn and understanding all this stuff better is all part of my hobby.
Once all my TI mods are completed early next year(adding my main wing sail is all that is left to do) my goal is to make the 50 mile round trip around Egmont key in under 4 hrs without my hydrofoils, and not using more than 1 quart of fuel (about a bucks worth) in the typical 5-8 mph winds around here. Currently the trip takes around 6 hrs with winds around 10mph coming from the east or west and steady (and not using the motor at all), as long as the chop is not too bad.
I was asked by some of the forum members to start sharing and writing about some of the crap that I do (apparently it's interesting to some), so I do, if it becomes boring to everyone and nobody really cares, I will stop
Hope this helps to clarify what I like to do
Bob