Inspired by Tom Kirkman's rod-holder motor-mount, I made one for my Revo 13...
Put in place, it looked to be difficult to operate the trolling motor since the controls would be awkwardly placed behind my shoulder. So... I wondered if there was a way to re-locate the motor forward where it would be more convenient. The molded hand-hold seemed like a conveniently located strong point...
A 3/4-in PVC Tee fits nicely in the hand-hold, but a clamping arrangement is needed...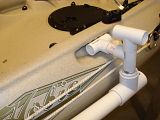 So, after a lot of trial-and-error fitting, bending and finally joining PVC fittings with a 3/8-in threaded rod...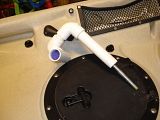 With the Tee in the inboard hand-hold, the clamp is complete...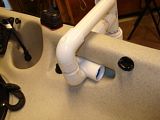 and it clamps tightly enough that no other support is required...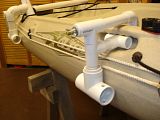 Using a PVC plug, sanded down a bit for a snug-but-not-tight fit, drilling a hole and inserting a spring-clip pin, the motor can be easily installed or removed when water depth is a factor or if paddling.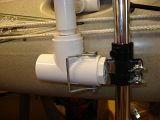 And, voila! A fully functional and conveniently located motor mount, proven on the water!!