I am the Hobie dealer from Singapore who have inspected this customer's kayak.
He had posted up an extremely close-up photo of the
pin holes
. They do look like big cuts here but in reality they are just tiny holes. It will take a minimum of 2-3hrs of usage before the owner could notice a loss in pressure.
They were potentially caused by the
sharp dorsal fins
from fishes that are common in our region. The usual culprits or suspects are barramundi, grunters, snappers, catfishes, groupers and many more.
Unlike a needle, the fish spikes are not in perfect cylindrical shape and the fishes are likely to be struggling thus resulting in these odd and irregular shaped damages.
Here is a close up photo of a Grunter's dorsal fins.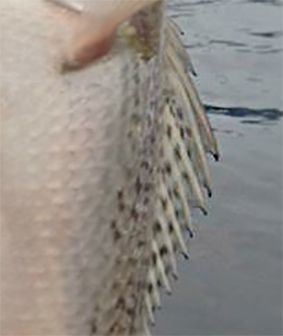 I have fished from inflatable kayaks for many and have similar heartbreaking experience.
- Snapper slipped from a lousy grip and landed onto the floorboard, resulted in a hole #1.
- Removing the hook from a small fish and it fell ... hole #2.
- Hooked onto my first big barramundi from a kayak and I forgotten to bring my landing net. Lifted it straight up as I really wanted to have a photo with it .... resulted in holes #3 & #4.
- Hanging onto a catfishes by the side of the kayak while waiting for my buddy to paddle over for a photo ... resulted in #5 & #6! We had a day of pussy frenzy. Didn't realize that a tap was all it needed to create a hole. I was flabbergasted.
Since then, I have systematically followed a fish landing routine whenever I am fishing from an inflatable kayak.
Rule #1:
Do not bring in the fish too early.
Especially for a barramundi. There is a potential of it jumping straight onto the kayak!
Can you picture this? A 12 lbs fighting barramundi jumped onto the deck, with a big lure hanging on the outside of her mouth and there is another triple hook swinging wildly! OMG.
Rule #2: Always use a landing net. No matter how small the fish is. Respect it.
Rule #3: Always use a good fish grip to firmly hold onto the fish while removing the hook. Keep the net directly below the fish as a safety net. Never hold a fish with bare hands. They are slippery and accidents do happen.
Decide immediately to release it or it goes straight into a cooler box. Avoid using keep nets or fish clips to secure your dinner.
From the photos, we would have noticed the keep net. This will expose the sharp dorsal fins to the kayak and potentially cause the damages.
A keep net full of fishes will create unnecessary drag and affect the performance of your kayak. And when the weather change for the worst, we will want to rush back, it is instinctive to bring in the keep net while making a mad dash for shelter. That will increase the possibility of damage.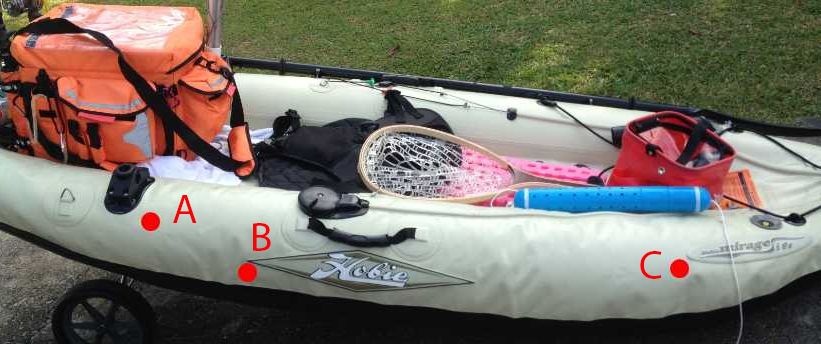 This photo shows the punctures were on the left side of the kayak, which is on the same side as the keep net.
Area A and B are likely to be the "loading" positions for the kayak angler to keep his fish in the net. Any "flip or flop" will likely to cause damage.
Area C: There is a possibility of pulling in a bag full of fishes from the back of the kayak. It is not difficult to imagine how it might have landed there, especially in choppy water condition.
Patching up pin-holes like these are easy. Just a droplet of Marine Goop over the area and let it dry for 24-48hrs, depending on climate and condition. Pump it up, check and we are ready to go for our next kayak fishing adventure.
What's interesting to note is that I have never experience any puncture from a fishing hook yet. We just need to be alert. My experience shows that as long as we do not "strike' or 'set" the hook, it will not punch through!